Working from his studio in the Blue Mountains, Peter Cooley is an Australian ceramic artist who draws on his natural environment as a major source of inspiration.
Highly respected by his peers and an acknowledged inspiration for the younger generation of ceramists, Cooley also enjoys an international reputation and his works can be found in museums and private collections across Australia and Europe. While clay has been at the centre of his artistic practice for some 15 years, Cooley was first renowned as a painter. Following his studies at the Brisbane College of Art and then at Sydney's City Art Institute until 1979, he created boldly-coloured paintings inspired by pop culture, some of which can be seen in the collections of the Australian National Gallery and the National Gallery of Victoria.  When asked in interviews about the reasons for eventually swapping canvas for clay, Cooley recollects his first encounters with the ceramic medium as a twelve-year-old: his mother agreed to enrol him in a local Saturday pottery course in Tweed Heads and he has never forgotten how much he enjoyed Mrs Helen Moffatt's classes.
Fast forward to the mid-1980s and a new artistic direction was triggered through the Phillip Morris Arts Grant for younger artists and the Director of the National Gallery of Australia, James Mollison. Mollison arranged with Melbourne potter Christopher Sanders for Cooley to try painting on ceramics. Modelling the clay, then painting and glazing it reminded Cooley how much he was thrilled by the directness of the medium. Subsequently, while he continued painting on canvas, from 2003 his practice has focused on ceramics exclusively.
The freedom that clay offered to "play" with space and time fascinated Cooley. He could extend his painting into the third dimension on forms that could be shaped and reshaped, that could stand while defying gravity or be reconstructed with a hammer. He could push the medium to its limits. Then there was the surface to explore: winding its way around the forms and through space, the thickly-applied and textured majolica glazes, splashed or painted with quick brushstrokes, so luscious, glowing, painterly. Like his earlier painting practice, Cooley's ceramic sculptures owe greatly to his interest in early twentieth century German expressionism and Die Brücke and Der Blaue Reiter artists. He particularly draws out Emil Nolde. Like the teenage Cooley drawn to artefacts from the Papua New Guinea Highlands and Sepik River displayed in Surfers Paradise galleries, Nolde sought inspiration for his art in the regions' distinctive imagery and aesthetic.
Alongside Cooley's admiration of Papua New Guinea's artistic heritage, his enchantment with the natural landscape and wildlife began in his early upbringing on Gold Coast in Queensland. After a brief period in the Blue Mountains in the mid-1990s, he returned there in 2003 after which his focus on native birds and marsupials was consolidated in his ceramic work. Initially focussing on the wildlife of his immediate habitat that he observed on his many walks in the mountains, he was "trying to get the feel of their movement and their idiosyncrasies". This later evolved to include more exotic examples from the tropics like the cassowary.
Two examples of Colley's sculptures have been acquired for the collection of Sydney's Museum of Applied Arts and Sciences. Resplendent in its black shiny coat with a magnificently painted tail, the life-size Lyrebird 2 has recently joined his earlier Black Tail Swamp Wallaby 9, which dazzles with golden lustres and a somewhat ethereal appearance. The stubby marsupial is hollow and appears to sport a carnival mask and a magician's coat that makes parts of the body and the entire tail completely disappear.
Lyrebird 2 is Cooley's second sculpture of the lyrebird, a ground-dwelling songbird from the Australian rainforest. The bird stands in an upright pose, its strong legs gripping a mound of twigs; we know it is an adult male as it has an ornate tail with fanned feathers that, when spread out in display in real life, resemble a lyre. While kangaroos (wallabies belong to the same taxonomic family as kangaroos) and emus are widely recognised as Australia's iconic animals, the superb lyrebird (Menura novaehollandiae) follows closely in Australia's collective imagination. As early as in 1865 John Gould stated in his Birds of Australia (1948, p. 298) that: "were I requested to suggest an emblem for Australia among its avifauna, I should without the slightest hesitation select the lyre bird."
Cooley's interpretations of Australia's fauna are a radical departure from the work of his Australian mid-century predecessors such as John Castle-Harris and Grace Seccombe. Bursting with inner energy, intriguing and unapologetically contemporary, they appear to be increasingly abstract in their modelling. As the sculptural forms evolve and transform, their raison d'être remains constant: it is the artist's desire to "play" with iconic images, his fondness for the unexpected, for exaggerated movement, for drama and theatre. These characteristics have prompted critics to suggest that Cooley's artworks are his "somewhat ironic Australian salute".
It seems, however, that playing with Australianness is of no more importance to Cooley than his admiration for the eighteenth-century baroque extravaganza, for the rococo bravura of the legendary Meissen porcelain modeller Johann Joachim Kändler. Just have a look at the gorgeous gold lustres sparkling on his wallabies: they are closer in spirit to the Mardi Gras carnival costumes and oversized jewels than to the sun reflected in the fur of a marsupial.
Cooley once said that when he makes his sculptures, he imagines them in ornate interiors of historic palaces. Reimagining the flamboyance and emotional intensity of the past eras, Colley's ceramics inhabit a world of their own. Fearless, showy and somewhat irreverent, they nod to the past but are firmly grounded in, and a celebration of, our own time.
References
MAAS Peter Cooley artist file; notes from a conversation with Paul Donnelly
John Gould, The Birds of Australia: in seven volumes, London, 1948, vol.1, p. 298
William Sturrock, Peter Cooley, artist profile
Author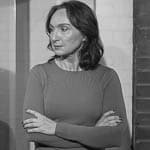 Eva Czernis-Ryl is an award-winning curator at the Museum of Applied Arts and Sciences in Sydney whose research interests focus on decorative arts, craft and design from the 18th century to the present. Her recent exhibitions include A Fine Possession: Jewellery and Identity, Recollect: Ceramics and the Fantastical Worlds. Eva is an Expert Examiner for the Australian Government's National Cultural Heritage Committee.
✿
Like the article? Make it a conversation by leaving a comment below.  If you believe in supporting a platform for culture-makers, consider becoming a subscriber.
Tags