Dress toggle made in China in shape of dog sitting on a roof tile, Unknown maker; circa 1700-1940; made of wood; 22 mm x 35 mm x 35 mm, Museum of Applied Arts & Sciences, https://ma.as/127678 Accessed 23 July 2021
Dress toggle made in China in shape of dog sitting on a roof tile, Unknown maker; circa 1700-1940; made of wood; 22 mm x 35 mm x 35 mm, Museum of Applied Arts & Sciences, https://ma.as/127678 Accessed 23 July 2021
Were netsuke originally from China? Helen Ting discovers an endearing collection of Chinese belt toggles.
Chinese belt toggles (zhuizi 墜子)—objects that fit into the palm of the hand—have influenced other cultures long after they were superseded by Western fashion. But as this story tells, Western collectors are helping to bring these little-known objects back into the light.
Toggles
Traditional Chinese dress had no pockets: think long tunics forming simple silhouettes. Zhuizi attached to a cord, and suspended from a belt, worked as a counterweight to a pouch. Tobacco, a pipe or money could then be conveniently carried.
The Japanese, with their more famous netsuke, are thought to have borrowed the idea in the seventeenth century.
Belt toggles were both practical and ornamental. Since they often took the form of good luck symbols, they were also believed to have healing or protective properties for the wearer.
Zhuizi were folk art. Hand-carved (sometimes by the wearer) they are usually made from wood, bone or stone. It is reported that they were mostly worn by lower and middle class men in Northern and Western China.
Zhuizi have been somewhat overlooked by researchers. Collections are few and studies are relatively recent, often undertaken by Westerners. Zhuizi rarely bear a maker's mark and they can be difficult to date.
When Western dress became the fashion in China from the 1940s, zhuizi became redundant. And while the Japanese netsuke continues to be made as an artwork, the zhuizi tradition survives only as a collectors' item.
A dog's tale
This diminutive dog has dark, widely separated eyes, a broad slightly scarred forehead and petal-like ears. He (let's call him "he") is reposing on the cupped half of a Chinese roof tile. Installed tiles would create a cylindrical rib, so it looks like this tile is discarded. He has a compact, stocky build to match his firm yet soft gaze. His curvilinear form is completed by his prominent hind leg.
Most of all, he looks "born to be caressed". Indeed, his smooth shiny form suggests he was held often. Perhaps holding him gave his wearer ease and repose. Dog toggles were, after all, thought to be protective. No one knows the maker or the wearer and the only dating assigned to him is vague: 1700-1940.
Smaller than many toggles, all of 3.5 cm wide and 2 cm high, he was owned by Hedda and Alistair Morrison.
East to West and back again
The Morrisons collected hundreds of toggles from local antique markets in Peking in the 1940s. Auspicious creatures (dragons, fish) and plants (gourds and lotus pods) often feature.
Hedda was a photographer who, in answer to a job ad, travelled alone from Germany to manage a photographic studio in Peking in the 1930s. In her spare time, she photographed every day and often humble street life and people. It was a time when Chinese dress was common and men still wore belt toggles.
And Hedda collected toggles. It was a habit she developed after working for an American collector, Ms C F Bieber. Hedda's photos of Ms Bieber's toggles helped form a seminal book on the subject. Alistair also collected toggles. When the two married, the collection was formed.
Hedda and Alistair described zhuizi as somewhat neglected compared to netsuke. They are more modest than netsuke and used by ordinary people.
The Morrisons eventually settled in Alistair's homeland of Australia in the 1960s, bringing their collection with them. The toggles now reside in Australia's Powerhouse Museum Sydney where this ordinary dog can be found with dragons, lions, serpents, monkeys and other toggles.
The story of the Morrison collection of toggles is one of an ongoing relationship of mutual admiration between East and West.
Morrison's collection of zhuizi will be exhibited in the Chau Chak Wing Museum, University of Sydney in early 2023 where it will continue to help even Chinese like me to better understand who we are and where we came from.
Further reading
Bellino, Franco (21 May 2010). Chui-tzu or Guajian, Chinese toggles. The Newest Frontier for Netsuke Collectors.  Accessed 25 July 2021.
Cammann, Schuyler (1960). Toggles and Toggle-Wearing. Southwestern Journal of Anthropology, Vol. 16, No. 4 (Winter, 1960), pp. 463-475
Cammann, Schuyler (2006). Substance and Symbol in Chinese Toggles: With a Catalogue of the C.F. Bieber Collection. University of Pennsylvania Press.
Duda, Margaret (2011). Traditional Chinese Toggles: Counterweights and Charms. Singapore: Editions Didier Millet.
Morrison, Hedda (1985). A Photographer in Old Peking. Hong Kong: Oxford University Press.
Morrison, Hedda and Morrison, Alistair (1986). Chinese Toggles: A Little Known Folk Art Arts of Asia – March/April 1986.
About Helen Ting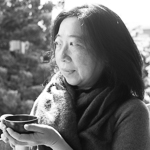 Helen (Siu Yi) Ting is an Australian born Chinese living in Sydney, Australia. She is a handweaver and freelance writer on handcraft.
.
✿
Like the article? Make it a conversation by leaving a comment below.  If you believe in supporting a platform for culture-makers, consider becoming a subscriber.
Tags