Remembering Oaxaca
As a kid I used to closely stare at the effigy engraved
on the ten pesos note of those days: a smiling woman
dressed up in the traditional women costume from
istmo de Tehuantepec, Oaxaca.  By then I didn't even dream
of going to Istmo, I was born in Chihuahua and Oaxaca
was so far away from there.
Until my early twenties I reached for the first time
el país de las nubes looking for the Enlightenment of
the Sacred Mushrooms, but scared of losing my identity  
I turned away from Huatla de Jiménez throwing
myself into the Atoyac river instead.
Then in January 1980, after spending a long season in the hills
beaches and parks of California, I went back again to Oaxaca
this time with more interest in archeological sites.
We used to go to Monte Albán at night climbing
rocky hills, walking around ruins and temples under the light
of bright stars, drinking Mezcal with no tourist around.
We spent the day eating black red green and yellow
moles with mountains of corn tortillas and always mezcal.
On the way to Chiapas we stopped in Istmo and finally
I saw Tehuanas, not in sepia motionless tones, like on
the ten pesos notes of my childhood, but in flesh and bones
full bright colours  smiling and dancing to marimba music
from the plaza to the market, the whole place was a huge wave.
Colours laughter and mixed aromas of fried fish and
ripe fruits every where,and all around us the shiny dark
faces of joyful Tehuanas: an extreme contrast with the
sombre aloof face of Virgen de la Soledad levitating
on her magnificent solid gold baroque altar.
Tehuanas are the women from Tehuantepec (a city in the southeast of Oaxaca, in the Istmo Region). They are known for their traditional dress, which was adopted by the most famous female Mexican artist Frida Kahlo."
Parks
Someone told me once
that more than three million
people go to Parque Chapultepec
every Sunday.
¡Tres millones de cabrones!
I thought straight away
what sellers make on
tacos-sopes-sodas-quesadillas.
¡Un pinche dineral!
I got trapped once at
calzada de los poetas
dizzy with the noise, colors
and the slow motion people
I couldn't find a place where
to rest my gaze.
I've never seen
more than twenty people
together at Centennial Park.
I name you
el parque de la soledad.
At the Domain
Soft fine fresh rain free
falling over the domain
the extended lawns and
Moreton Bay figs with
a silver liquid glaze, a bright
overlay to an overcast sky
green and black and just a bit of blue
My steps remembering those days in Hermosillo
crossing the Río de Sonora's long death bed
always longing for a gentle tree
shadow and some fresh rain drops
Almost impossible to believe that kind
of landscape: not a tree in miles and miles
only rows and rows of dwarf houses
and big black buckets on flat rooftops
No rain, no shadow only dust and  
a merciless sun blazing above us.
Author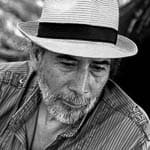 Mario Licón Cabrera is a Mexican poet and translator living in Sydney. His most recent work is Poems of Miail Lamas, Mario Bojórquez & Alí Calderón, translated from Spanish into English, published by Vagabond Press, 2017.
✿
Like the article? Make it a conversation by leaving a comment below.  If you believe in supporting a platform for culture-makers, consider becoming a subscriber.
Tags