In consultation with the Selkn'am community, Sol Contardo created ceramic works inspired by their mysterious culture, located in Tierra del Fuego.
(A message to the reader in Spanish.)
---
(A message to the reader in English.)
---
Chilean-Australian artist Sol Contardo's solo exhibition Te Hosek'en Harw – The Edge of the World is the culmination of a full year's artist residency at Gallery Lane Cove. The focus of this series of work is the story of the indigenous people of South America, the Selk'nam people, which hasn't been told in Sydney.
Mindful of her role in presenting a narrative not of her culture, Sol consulted with Hema'ny Molina Vargas, President of the Selk'nam Comunity Covadonga Ona in Chile and had their permission to present aspects of their story and aesthetics through this exhibition. In fact, the artist created a site-specific installation – a hut reminiscent of that used by the Selk'nam to house a series of short videos of Selk'nam in Chile relating about their culture.
How did you learn ceramics?
I started to do pottery many years ago and worked in a few different people's studios. It wasn't until I moved to Australia and started at Tafe doing intermediate studio work that I started to learn proper skills and so I decided to do the Diploma of Visual Arts in Ceramics that they offer. It was there and thanks to the guidance of my wonderful teachers that I gained most of my knowledge and confidence to become an independent ceramicist. Although, one never ceases to learn in this art form.
Can you describe your migration to Australia? Where did you come from and why did you migrate?
I was born in Chile but most of my life has been pretty nomadic. Growing up I lived in different parts of Chile and also in the UK and France. Then I married a Brit and the nomadic life continued as his work took us to Mexico, Hong Kong, Singapore, back to Chile and now Australia where we moved to almost seven years ago with our four children.
What made you interested in the Selk'nam culture?
Initially, it was many years ago I saw the photographs taken by Father Gusinde in the 1920s. He was a German priest who spent time with the Selkn'am people and took most of the few photographs available today and probably the only ones of their initiation ceremony called the Hain. It was because of these pictures that I was absolutely enthralled by the culture. The images are so compelling, almost magnetic: their bare painted bodies in the cold weather and snow of Tierra del Fuego.
Then, when I started to research more about them I was even more fascinated by their rich culture and story and was very saddened by the end of their culture as they knew it. With the arrival of colonisation, the Selkn'am people were killed following a policy of extermination and exile. The Catholic church did their best to try and save those escaping the killing by establishing missions where they would learn the Catholic faith and Western ways but, unfortunately, many would die from diseases brought by the white man. The survivors were mainly children and these were given out for adoption but mainly to work as domestic service and were forced to lose their language. Most were taken away from Tierra del Fuego and eventually dispersed into Chilean and Argentinean society.
How did you make contact with Hema'ny Molina Vargas? Did the community have any questions or issues with your work?
Most people believe that the Selkn'am people do not exist anymore because their descendants are mixed into our culture. However, in the past few years, a group of descendants gathered to form the Selkn'am Corporation and the Community Covadonga Ona, and are working hard towards being recognised as an indigenous community and being visible again by rescuing their culture and language as well their dignity. I found out about their organization and made contact with the president, Hema'ny Molina Vargas, to include them and invite them to participate as well as consult with them so that my work would be respectful and representative.
The main concern they have is the use of full images of their spirits which is something they would not approve of. Also, the fact that there is so much more to their culture than just the very visual initiation ceremony. In the case of my work, I was mainly working with masks and torsos, so it was not a problem. Also, my exhibition focuses on their story and culture as a whole and they were invited to participate it was a way of honouring them, telling their story and showing their very interesting and complex culture.
What Bauhaus work did their culture inspire?
When I was in the middle of working on the pieces for my exhibition I had an idea. I thought that if the Selkn'am people were still practising their ceremonies and had continued to live out their culture like before, they would most probably have introduced new colours available to them. So I wanted to create pieces that would represent my idea of the Selkn'am of the twenty-first century. When I suggested this to Hema'ny, she mentioned a study that suggests the link between the beginning of the Bauhaus movement and the photos brought back to Germany by father Gusinde. I took that idea and did a small search and although I didn't find anything about this, I found images of original Bauhaus posters that when you have this key in mind, you find clear links in some shapes and forms as well as the use of lines.
In my work I did this exercise in reverse, taking the Bauhaus movement and including it in my pieces of the Selkn'am culture. I would still like to research this further as this is a very interesting contemplation.
Do you plan to continue this work or do you have different future plans?
With my work on the Selknam, I feel that I have worked from my heart and soul. I did a lot of research and I think that there are still pieces that I could develop and expand. With this particular exhibition. I would like to take it to show it in Canberra with the help of the Chilean Embassy and hopefully show it in other cities too. With regards to new work for the future, I have some ideas that I would like to explore and see where they take me.
Author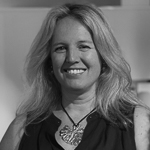 Sol Contardo is a Chilean born artist who after many years of globe-trotting has moved to Sydney where she currently lives with her husband and children. The exposure to many diverse countries has fed her creative imaginary and eagerness to know more about other cultures. She is currently finishing an artist residency at Gallery Lane Cove, where she has at the moment a solo ceramics exhibition based on the Selkn'am culture of Tierra del Fuego. After her show, she will continue teaching ceramics and is planning on working on continuing to work on some new pieces on the same subject but also developing new work based on new ideas for a future exhibition. You can follow her on Instagram @solceramic.com.
Tags