Sadia Salim and Arshad Faruqui created work for an exhibition of Koel Gallery, Pakistan, October 2016. Their objects transformed traditional forms into dysfunctional things in order to tell a political story.
dys|func¦tion¦al
Not operating normally or properly, or
Unable to deal adequately with normal social relations, or
The condition of having poor and unhealthy behaviors and attitudes within a group of people.
Sadia Salim
Three works were produced for the exhibition dys | functional objects, individually titled as "Intervention with the functional object I, II and III". The work arises from years of studio practice including production of both functional objects (primary medium being ceramics) and art, and the relationship between the two. The work is further informed by observations of how mass-produced objects are organized or stacked while in production process, for storage and sales, or when in use.
Using ordinary terracotta bricks and everyday porcelain tableware, the surfaces were manipulated and objects were installed inside the gallery space. Almost all objects are inscribed with the logo of the factory where they were produced.
Instead of creating socio-political associations such as the plight of the factory workers or references to events or places, the work meditates on the process of creating and displaying works of art in the gallery space. It particularly focuses on hierarchies within the art world and the relationship between a work of art and an ordinary object, both of which are commodities in the marketplace.
Author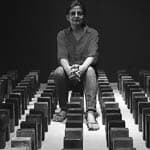 Sadia Salim studied Design at Indus Valley School of Art and Architecture (IVS), Karachi, and completed Ed.M. in Art and Art Education from Columbia University, New York. She is a recipient of the coveted Commonwealth Arts and Crafts Award and Fulbright Scholarship. She has been part of conferences, residencies and exhibitions in Pakistan as well as internationally. Salim has extensive experience in teaching art and design at the undergraduate level including coordinating the Department of Ceramics at IVS (2005 – 2010). Presently she is Associate Professor in the Department of Fine Art, and also writes on art and craft for newspapers, catalogues and journals. Her current multidisciplinary art practice revolves around the notion of place and personal experiences of place as an impetus to understand, absorb and create, whereby place could be "Home" or an entirely new location. The resulting work based on the narratives arising from everyday experiences often envelope larger social/political/historical concerns. See http://cargocollective.com/sadiasalim
Arshad Faruqui
There are so many objects which have redefined their own meaning when used in local context. They may be functional on their own but when used as symbols, these functional objects represent the dysfunctionality of our society either by their forms or their name. In this exhibition,  I work with these found objects and play with their dysfunctionalities. This exhibition looks at these everyday objects and their symbolic meanings in the society.
In this exhibition, the chair, on its own is functional, but the idea of the chair in a political scenario changes its meaning completely. There is also the suggestion of musical chairs where the politicians are taking turns or running after the chair. Whereas lotas, commonly used for cleansing and ablution purpose, when referred in political context means someone who is changing sides or someone without any backbone. This exhibition is a commentary on the political condition of the society.
I have been working with this family of copper craftsmen for years, developing and refining their skills and design intervention. Only few of his family members are still doing this craft. They work regularly on my shop products, which has a niche market. As copper tarnishes and is not food safe, I introduced steel to them and make them work on steel tableware for my shop.
As for this exhibition, I was looking for old existing forms, I had difficulties finding some of these forms in the market as most of the users are now using plastic or steel ones with modern forms (lotas and milk containers). so the challenge was to get hold of these objects. Also, these forms are very typical,  so when making the sample for these, getting the right proportion was very difficult. Also, the craftsmen never made furniture in metal before. Making them understand the forms, proportion and technique was also very challenging.
All the objects in the exhibition are for sale and there is market for such products. But I have to admit that the sales for this exhibition was not that great compared to my previous exhibitions.
Its meaning is left up to the viewer. They can interpret it how they like. It can tempt them to touch and try to see if the can still hold the pieces, or they can have second thoughts if they can touch it or not. It's a dialogue between the object and the viewer. Many of them wanted to hold it and see if it was possible to carry them or not.
Author
Arshad Faruqui graduated with a degree in architecture from the Dawood College of Engineering and Technology, Karachi, in 1988. and then went on to receive his Master's degree from the Illinois Institute of Technology in 1992. He is a practicing architect, landscape designer and adjunct faculty member at the Indus Valley School of Art and Architecture. He also designs tableware, fountains and furniture under the banner of Copper and Steel. He was the co-editor of the books K'ARCHITECTURE, 21 Chairs and 8. He edited and compiled the first book on Interiors of Pakistan. In 2012, he was the recipient of Institute of architects, Pakistan's design excellence award. He has curated and participated in several exhibitions as visual artist. Currently, he is working on an exhibition titled ' Pro-Duct' which will be in March.
Tags