Reflection pods is a contemporary project for crafting Sydney, within the corporate spaces of the CBD. This is the latest in a series of design projects managed by Koskela with Arnhem Land weavers. Previously, lamps made with traditional basket weaving techniques from Elcho Island were produced for an exhibition at Object Galleries in 2010. In 2015, their weaving formed an installation that featured in the Rigg Design Prize at the National Gallery of Victoria in 2015. We learn from the different perspectives of those involved in the Sydney Westpac fit-out: the designer, the design facilitators, the client, the art centre and the weavers.
Lucy Simpson – the designer
Basically, the process was a collaborative effort, but essentially I was approached by Westpac (whom I already had a working relationship with) to respond to the site and the brief, which centred around a bespoke installation/series of "pods" for their Kent Street Refurbishment based on First Nations perspective and local story.
My response spoke of the saltwater story and specifically the strong story of women of the region, combining research/historical information, memory/personal experience and cultural practice which was inspired by ideas of convergence and community (making), and in contrast "retreat" (end result). A place to connect, come together, acknowledge but also to hold a more intimate space in a very busy and often demanding work environment.
The installation looks out over the harbour and provides a beautiful place for contemplation and reflection as well as creating a quiet space for exchange. Thus was born the concept of dyalgala, the Sydney language word for "embrace".
I had hoped to workshop and oversee production with local/regional weavers, but as I was expecting my second child I had to hand over concept and renderings back to Westpac to continue the material investigations, in partnership with interior design company Geyer. Koskela was then engaged to manage the second phase of the project with communities that they had ties to.
I truly believe this is something that is tangible when embraced by these incredible pieces. It's a beautiful example of the ways in which design and made objects can embody ,represent and in fact be an extension of the people who made it, the place from which it is made and mark the time in which it was created.
In regards to the broader strategy of Westpac Weave, it was a concept design I was commissioned to create three or so years ago to embody the Reconciliation Action Plan and the various Indigenous programs relationships and initiatives championed by Westpac. My relationship with Westpac has grown and evolved over the years, from providing corporate gifts from my Gaawaa Miyay range to commissioned graphic design works and now quite major interior projects which have been really wonderful. It is a coincidence that both concepts spoke of weaving, but similar in the symbolism of togetherness and representation of many hands/strands forming a bigger picture or whole.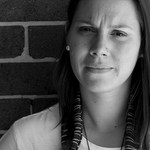 Lucy Simpson is a Sydney-based artist / designer with a focus on storytelling and narrative; sharing aspects of country and contemporary South Eastern Aboriginal culture. She is a Yuwaalaraay woman belonging to the freshwater country of the Walgett Lightning Ridge and Angledool areas of North West New South Wales, an area from which she draws inspiration for much of her work. She graduated from UNSW Art and Design with a Bachelor of Design and founded design studio and textiles label 'Gaawaa Miyay' in 2009 and continues as the Artistic Director and Principal Designer today (operating as sole trader). in 2011 Lucy launched the Gaawaa Miyay label and first range of textiles prints and products. In 2013 Lucy's practice was documented on the National Indigenous Television series Colour Theory with Richard Bell and in 2014 Lucy was named one of the four recipients of the British Council's Indigenous Creative Leadership Program Accelerate. In 2015 Lucy was recognised by Object: Australian Design Centre as an honouree of Australian Design. Lucy has exhibited works in group shows at Object Australian Design Centre, Blacktown Arts Centre, Casula Powerhouse, as part of the London Design Festival and at the National Institute of Design in Ahmedabad India and the Museum of Contemporary Art's Primavera.
Koskela – design facilitator
The project was initiated by Westpac who had an ongoing relationship with Lucy. We were asked to get involved to help realise her concepts as we were known by the Interior Designers on the project, Geyer, to have the ability to deliver woven projects with Yolŋu artists having worked with these artists for close to a decade.
We had two hats—one was to use our industrial design skills to work out how all the technical aspects of the concepts would work and our other hat was managing the artists and working with the art centres. There was a considerable amount to resolve in the design of the frames which needed to be in separate leaves to allow the women to work with them and in the way they were fixed together. We brought together (with help from ANKAAA and the fantastic Art Centre managers at Milingimbi) the artists from Elcho and Milingimbi and ran a workshop at Milingimbi to exchange knowledge about how to work with the frames, develop new dye colour pallets and to discuss stitch techniques.
This project was different from previous projects because we were working with two different groups of weavers (who did have some close family connections) and we also had a client that was more prescriptive in terms of colour pallet and to a lesser extent stitch types. When we usually work with the weavers we give them full artistic licence to weave whatever they like on a frame.
We did have some great success in developing new colour variants. These were much softer versions of the traditional dyed colours, such as soft greys and soft peach colours.
I always get a surprise from the women when they are given full artistic licence to weave what they want on the frames. The two pods where they were given this were the most beautiful, in my opinion.
Sasha Titchkosky is co-founder of Koskela
Westpac – the client
Enjoying northerly views of the harbour and accessible to all Westpac staff, the Reflection Pods are a highlight of the Kent Street overhaul, representing the bank's strong commitment to their Reconciliation Action Plan (RAP). Westpac's RAP is rated as "elevate" (the highest tier), deeply strategic and connected to business. It's all about driving greater economic participation for Indigenous Australians, through business, banking and employment.
As well as offering shelter, Westpac wanted to incorporate natural materials and a human touch, values that were part of the original vision for the new floors. Geyer worked on the interior design for Kent Street and worked with Lucy to interpret her designs into structures. Each pod is made up of a series of handwoven panels, which are like petals extending outwards. Joinery underneath mirrors the shape, and some panels extend downwards to further create a sense of being cocooned.
The Rapunzel chair was selected as the woven frame connected with the overhead structure. Supplied through Ke-Zu. Organic "pebble" shaped ottomans also inhabit the space and small recycled timber stools serve as side tables. The chairs and ottomans are in a variety of heavily textured fabrics, replicating and complimenting the various textures of the weavings.
Nicole Howard is Manager of Major Property Projects on the Kent Street Refurbishment
Milingimbi Art and Culture – the art centre
Milingimbi island (Yurrwi) is part of the Crocodile islands located between Maningrida and Ramingining, off the coast of Arnhem Land. In 1923 the Methodists established one of the first missions in Arnhem land, which became an early collecting point for anthropologists. The mission encouraged Yolŋu to make art and purchased works from artists that were then sold on to anthropologists, institutions and collectors. The art centre was incorporated in 2001, however contemporary art had been produced for the commercial market since the 1920s
Milingimbi artists have been active in a number of projects. They have recently participated in the Asia Pacific Triennial at QAGOMA (Brisbane) and are currently working towards exhibitions with RAFT artspace (Alice Springs), FORM Gallery (Perth) and IMA (Brisbane). Last year two weavers artists, Helen Ganalmirriwuy and Ruth Nalmakarra, travelled to Geneva, Basel Germany and Paris. There is zero tourism here, so artists aren't rushing to finish things for the next tourist bus. They can take their time in a grounded way.
The centre was initially contacted by Koskela in May 2017. Funding from ANKAA helped bring the Koskela team to Milingimbi, where they were joined by three weavers from Elcho. The women enjoyed an opportunity to work together and get to know each other. This weaving supports the Yolŋu gurrutu (Yolŋu kinship system). Gurrutu is key to the strong intricate fabric of Yolŋu culture.
The collection, preparation and weaving together are all labour intensive processes that set the rhythm of the artist and their community's life. It is incredibly hard to keep a continual rhythm unless there are many hands helping to harvest the plants, to drive the boat, to make the fire, to strip the leaves, to dig up and peel the roots, to add the colour, to soak the leaves, to stir the pot, to dry the fibres and repeat.
Pandanus and balgurr kurrajong fibres were gathered from Milingimbi island and other surrounding homelands. The senior weavers were able to adapt their skills quickly and the pods were finished at the beginning of 2018. The pods were sent off to Darwin on the barge, that services Yurrwi once a week. Because of the media embargo, they weren't able to know who the client was. They were very curious to know where they were going and remain interested in how their work has been received.
Rosita Holmes is Coordinator at Milingimbi Art and Culture, a not-for-profit organisation that is locally owned and governed by its artists. 
The weavers
Weaving has a long history in Yurrwi (Milingimbi) and the recent large-scale project in collaboration with Koskela brought dharrwa yolgnu (lots of people) together. Some of us are family and some Yolŋu (people) we didn't know, some of us have been weaving for a long time and a few are just starting to learn, we are from different clans and live in different camps but all of us are working together.
We work together at the Milingimbi Art and Culture—every day harvesting gunga ga bulgurr (pandanus and kurrajong), peeling the gunga, twining balgurr raki (string) and weaving together. We learnt together to put our weaving onto the frames – Mavis Ganambarr, Margaret Dhorrpuy and Judy Manany, from Galiwin'ku (Elcho Island) helped us to learn.
We come to the art centre every morning doing djama (weaving work). Going home keep doing djama 5, 6, 7 o'clock lights on now. 8, 9 o'clock. At the wanga (home) the grandchildren are helping, collecting firewood and roots, bark and leaves (used for dying natural fibres). This is how they learn their culture and law.
At the art centre, we were thinking together how to put the gunga ga bulgurr onto the frame but we all use our own miny'tji (design). We all know different ways of weaving and knotting. Putting our work side-by-side with all our different miny'tji together to make one yindi (big) artwork makes it really latju (beautiful).
The djamarrkuli (kids) came from the school (as part of the Junior Crocodile Rangers program). They are looking at what we are doing and walking around to see the new weaving.
Today we keep coming to the art centre every morning, sometimes working on yindi project together and also doing our own djama. Weaving is dharrwa djama (lots of work) but we are happy to keep going.
Materials used in the project were Gunga (pandanus) and Balgurr (kurrajong) and plant dyes. All materials harvested from the Crocodile Islands (including Milingimbi) and Galiwin'ku.
Statement by Helen Ganalmirriwuy, Susan Balbunga, Helen Milminydjarrk, Zelda Wuigir, Elizabeth Rukarriwuy and Abigail Mundjala
See a video of the weaving process Gunga'puy Dhäwu here. 
Tags