Pink Terraces came about when I was looking for new directions in my work, with ceramic and photography.
Something more sculptural with different surfaces, more experimental. I wanted the work to relate to nature's beauty and vulnerability, something I connect with in a personal, human way. But I also wanted the work to be ethereal. It also relates to death and to my Māori ancestry.
I became familiar with the Pink Terraces after researching volcanoes and the eruption of Mount Tarawera in New Zealand. I was specifically interested in volcanic ashes and their compositions which I have a desire to synthesise myself. I was looking for clues to use in my own special effect glazes. I also use rare earth oxides in my clays and glazes, with the primary colour being a delicate pink, so in a way the ideas, the materials and concepts just came together.  
With this body of work, I also included two large photographic prints, Cascades, a somewhat surreal natural landscape, which highlights the changeability of the natural world. The other photograph, Inclusion, is of a surreal metallic object in the landscape, which relates to the embellishments I make in my ceramic work.
I find the story of the Pink Terraces, fascinating—how it was destroyed or concealed, entombed by nature…something that is there but not really there.
I  was first introduced to ceramics in Brisbane at age 16 by my parents. They were friends with Ted Secombe, an established ceramic artist. I received some training from him over a few years. My mother is an artist, who at the time liked to collect pottery, South Pacific artefacts and other objects, which activated my interest in ceramics. Once I got started I just couldn't stop. I really enjoyed the process of wheel work, the fire, the pyrotechnics of it all. At around age twenty, I started making work full time and was primarily influenced by Ted's work. It took a number of years to find my own style. It was something I had to work on, a process of unlearning. Other early influences in my work were American metal worker and enamelist, June Schwarcz and Chinese Sung Dynasty ceramics.
What interests me about death are the rituals of burial, the art of making funerary objects, vessels, tombs and other beautiful things that have meaning to the deceased—things they take into the afterlife. Although I am not religious—an atheist really—I find the idea of a mythical paradise quite interesting—that idea of perfection. Perfection to me is completely unattainable—just a desire driven by fear. On the other hand, I like the reverie, the fantasy of an ethereal world to feed into my work, as an escape from the day to day and the anxiety in my life.
In regards to my Māori ancestry, that is something fairly new to me. Although my family has always known of our Māori past, it was more recently that my mother investigated our family tree, that we now know more about our family history, and feel there is some connection there. Personally, I feel a strong connection with the country and its natural environment as I spent most of my early childhood living in rural New Zealand.
This body of work is thrown and hand-built from fine white stoneware clay. Some are slab constructed from a coarse stoneware clay. The glaze and surfaces are all some form of matt crystalline or reflective metallic glaze. These are formulas that I have developed over several years, but in a lot of ways they are quite variable and can yield many different results, depending on changes that I make to the formula and firing, something I do quite often. The firing schedule is long, pieces are fired up to three or four times, around 32-40 hrs in total, using a manual gas kiln, so the process is slow.
All of the matt crystalline pieces have a fine glass enamel applied to the surface. The enamel is mixed with oxides and fired to the surface. I am quite guarded about the formula and technique, but the result is a fine translucent surface which evens out colour. It's something that I will keep developing.
The pink terraces were destroyed, by the eruption of Mount Tarawera in 1886. I do have a photo of my mother and grandmother in the Lake Taupo area. Not sure where exactly, but they used to visit the area quite often, even roaming around on Mount Tarawera, in the 1950's.
Castlemaine is a nice place to live. There are plenty of things going on for a country town. There are many like-minded people here to engage with and it is quite cosmopolitan. I currently live with my partner and son, in our 1860's miners cottage, on the fringe of Castlemaine. It is surrounded in part by the Castlemaine Diggings National Heritage Park.
Mostly I make ceramics full time from a home studio. If I'm not making ceramics, this time of year I can be found roaming landscape, collecting field mushrooms (if you know where to look) with my son, or shooting images with a medium format film camera. I also like riding my bike from place to place. If I'm feeling inclined it's a 3 km bike ride to town and the train station, which links to Melbourne. So it's not that isolated, which is something I value, and like about this place.
Artist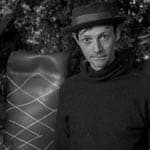 Dean Smith iis represented by Alcaston Gallery, Melbourne.
✿
Like the article? Make it a conversation by leaving a comment below.  If you believe in supporting a platform for culture-makers, consider becoming a subscriber.
Tags