Jacqui Stockdale's photographic series for the Adelaide Biennial is a homage to the anti-hero, Ned Kelly and the folkloric narrative  surrounding 19th century Australia. It features a group of bushrangers led by Ned Kelly, who confronted police for his land stand in the northern Victorian town of Glenrowan, 1880. Kelly is often rendered very simply by a slit through which his eyes could see out of a hand-made iron helmet. As a homage to one of Australia's most famous icons, this heroic act, Stockdale creates her own version, inventing a surreal slitted mask adorned with flowers. adorns his helmet with flowers. She tells the story of how the work was made.
When I was first inspired to make a series based on the legend of Ned Kelly I wanted to create something symbolic that triggered the idea of him (in his famous helmet) on a subconscious level. One day I made a paper collage of a character with a floral headdress that had a slit for the eyes. I asked my son, "Who is this?", and he said, "Ned Kelly", so I knew it had worked. The process then began to bring the collage to life. At the same time, I had been invited to participate in Lisa Slade's exhibition titled, Magic Object, for the 2016 Adelaide Biennial.
I was interested in the language and symbolic meaning of flowers as a metaphor for love, loss and longing, as such themes come up often in that particular time in Australian colonial history. I chose Australian species combined with English, such as Waratah, Banksia, Ranunculi, Peonies and Rhododendron.
For this work, I wanted to experiment with creating a magical object that was both inanimate and living: the human subject. In this case, I chose Australian singer/songwriter Missy Higgins, who is known for her enigmatic ballads often about love loss and longing. I had met Missy a few times and was struck by her calm presence and finesse. I discovered one of her songs, Where I Stood, was a fitting title for this work and Missy liked it too. In the photograph she is depicted standing in the middle of the road (a hand-painted backdrop), the road being a path on the Ned Kelly Touring Route near Stringy Bark Creek in Tatong, North East Victoria where the infamous shootout between police and the Kelly Gang took place.
The assortment of beads and shells around her neck, the rainbow dusted body and her tattoo make up the playful hybridity of the character. Perhaps she is like a mythological bunyip, once from Gondwanaland or Glenrowan, calling the spirit of anti-heroes, new natives and lamenting a garden of love lost and longed for.
Author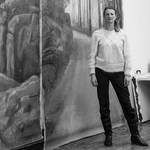 Melbourne based artist, Jacqui Stockdale is highly regarded for her practice as a photographer, painter and drawer. She has been recognised in major awards, prizes and international exhibitions. She sets up theatrical scenes, using costumes and props. to comment on the complexity of human emotions and cultural lineage. In 2016, Stockdale will be featured in the Adelaide Biennial, Magic Object, and will be honoured with a survey show at Benalla Art Gallery. In 2013 Stockdale's photographs were curated into the exhibition, Living Rooms, at the Louvre Museum, Paris and her work was acquired by the National Gallery of Australia. See also website jacquistockdale.com.
✿
Like the article? Make it a conversation by leaving a comment below.  If you believe in supporting a platform for culture-makers, consider becoming a subscriber.
Tags