Grace Pundyk re-creates a traditional Polish wianek headdress to sustain a matrilineal thread across generations and continents.
(A message to the reader.)
---
"Along with the woolen fabrics, of great importance to the evolution of modern Polish textile art were weavings of flax. They were woven on Jacquard looms and intended for wall hangings, tablecloths, bedspreads, curtains, and furniture upholstery. Strongly inspired by hand-woven peasant linens, they allowed the color of the flax to show up among threads dyed in many hues that sparkle amid the predominating shades of grey. Beautifully stylized floral and animal motifs, such as birds and fish, were rhythmically scattered throughout the fabric, in spite of all convention, creating an atmosphere of enchanted gardens. Their creators knew how to derive inspiration both from the relics of the past and from the still flourishing peasant art production that rooted back to times immemorial."
Irena Piotrowska, 1944
Some may argue it's a bit of a stretch comparing the linen that Irena Piotrowska so exalted in 1944 with the mass-produced industrial-era souvenir linen tea towels that I use for my project Heirloom. But I don't think so. Both speak to a long history of flax production and weaving in Poland; both incorporate the domestic and natural worlds in design and function; both were clearly gendered industries of "women's work"; and both confront us with the physical traces and geographies of lives past. For while these linens, as material objects, may have no capacity themselves for memory, when you start working so intimately with a material, handling, cutting, marveling at, collecting, and, yes, obsessing over, you can't help but go deeper into the stories that start to unfold.
My journey with Polish linen began with Heirloom, a textile-based project that takes inspiration from the traditional Eastern European flower headdress, in Polish called wianek (which translates as "wreath"). Wianki have long played an important role in women's rituals and divinations for fertility, beauty, vitality and love. Traditionally made with flowers, grasses and herbs (often believed to hold potent healing energies), they adorned the heads of young girls or brides. Over time, headpieces were also made to last. They were created with materials such as paper and wax, linen threads and glass baubles, and then passed on from one generation to the next.
Heirloom honours these traditions. Each piece uses vintage linen Australiana souvenir textiles specifically "Made in Poland", Japanese linen and/or silk thread, and materials/objects from the "natural' and "wild" world to produce a kind of hybrid wianek that, in their makings has become a true celebration: of herstories and inheritance, of grandmothers and the ephemeral wild, and of those invisible threads that move and shape us no matter how seemingly distant and unknown.
But I didn't always view the project in this way. In fact, the origins of Heirloom are far darker and steeped in tragedy.
A found mourning photograph
I never knew my Polish grandmother. My refugee father rarely spoke about her or his life in Poland and it wasn't until his death in 2003, when I found a handful of letters and as many photographs hidden tightly away in his belongings that I was able to finally, slowly build a relationship with her. The items, all narratives of trauma, recounted her deportation to and death in a Soviet workcamp in Siberia some time in the 1940s.  One of these inherited items is a mourning photograph.
In the image, my grandmother lies in a coffin. Flowers adorn her shroud; mourners (all are women, except one) gaze upon her. This woman-centric image provokes ideas relating to woman's place and placelessness. The majority of people Stalin deported from Poland were women (and children) and in their exile, they became entrapped in two parallel worlds: one determined by men, and the world of women created as a consequence – women lived and worked together; they grieved and hungered together, and those women who survived took responsibility for burying the dead.
When this photograph is looked at more closely, though, it becomes obvious that the flowers adorning my grandmother's body are not fresh but of paper and in the shape of wreaths. A large one is placed over her body and a smaller one, as per the traditional wianek, surrounds her head. I'd had this photo in my possession for many years before I noticed this detail.
Despite the tragedy of what befell her, I found it strangely comforting to imagine women making these spectral blooms during a time of such violence, upheaval and loss. So, too, to understand their provenance, the role they played in my grandmother's funeral, and their generous display upon her casket.
Connecting threads and textiles
Not long after this realisation, I "found" my first Australiana/Polish linen tablecloth in a secondhand shop. I was only vaguely aware before finding this piece that there were Australiana textiles "Made in Poland". The design is beautiful with boldly coloured and hand-printed native fauna and flora adorning thick, coarse linen. In some way, still not fully understood by me, the piece seemed to connect me more deeply with my grandmother, and my Polish heritage which, until my father's death and "finding" my grandmother, I'd been largely estranged from.
As I began to research and appreciate further the significance of these objects, the collection and my curiosity grew. I only collect designs with native flora and fauna. But I think it's worth taking a moment here to talk more broadly about the Australiana souvenir textile, which is often tacky and inappropriate.
Although the printed designs that appear on souvenir textiles may be familiar it is worth reminding ourselves that they are also "highly fabricated, fictive constructions of place". They speak more to the dominant, largely masculine narrative of colonisation that has and in many ways continues to shape the myth of Australian identity. Even the pieces I work with, which are of native flora and fauna, are representative of colonisation; they are inscribed (quite literally) with the names of the animals and plants, the places on Country, as if this then affords a legitimacy to and a taming of this wildness.
In working with these objects, though, I've come to view them more as being steeped in obscurity and mystery than serving any purpose of place-making. The printed designs locate them as uniquely Australian, while the place of manufacture and the materials' origins are not only not Australian but also consistently overlooked.
The small and varying "Made in Poland"  labels, stitched on the underside, the "Pure Linen, Hand Printed, Fast Colours"  labels stuck on the front, and, I attest, the quality of the linen, the palette of colours used on the designs, and the overall production, undeniably locates them within a Polish milieu that speaks at once to a rich textile heritage as well as to the country's decades-long changing fortunes (and misfortunes) from the post-war period, through to communist control and its downfall.
In this way, Heirloom, while most definitely a celebration of herstories, is also a process of de/reconstructing the material vocabularies of these textile objects in order to heal further a haunted women's wound of historical containment.
Textiles as material objects can be seen as a means to preserving and accessing women's "histories". Textile objects are often associated with the home, with a woman's work and her containment within the domestic space and thus, in many ways, her identity. Elizabeth Grosz describes this space as "the affirmation and replenishment of others at the expense and erasure of the self". The plight of the predominantly women deportee demographic can be aligned with this erasure of self, where, in being separated from and deprived of place, they were at once placeless and contained, beyond home and beyond an identity so intrinsically tied to home.
The Australiana textile souvenir and the traditional wianek headdress can also be located within the paradigm of the domestic and contained. Even so, the unique cultural signifiers with which both these objects are inscribed also locate them Outside in nature, with the wild, the exotic, and the Other that refuses containment.
Each wianek I make is unique, but the choice of materials is specific. Polish linen is in homage to my Polish grandmother; Japanese linen and silk threads connect me to my Japanese grandson; beeswax, silk cocoons and handmade parchment incorporate the natural world; and the Australiana designs printed on the fabric? Well, I guess that's me, the in-between, the weaver of the past into the present and a hoped-for future.
Heirloom is an ongoing and evolving project. It is at Wyreena Arts Lounge, 26 May – 26 July 2021
Further reading
Elizabeth Grosz. "Women, Chora, Dwelling" in Space, Time, and Perversion: Essays on the Politics of Bodies, Routledge: New York, 1995
Luce Irigaray. An Ethics of Sexual Difference, Trans. Carolyn Burke and Gillian C. Gill. Cornell University Press: Ithaca, New York, 1993
Irena Piowtrowska. 'Polish textiles, old and new', Bulletin of the Polish Institute of Arts and Sciences in America, vol. 3, no. 1 (October, 1944), pp. 131-144
Margaret Woodward. "Souvenirs as Agents of National Image Space Formation." Fusion Journal, no. 4, 2014
About Grace Pundyk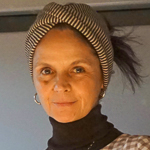 Grace Pundyk is an artist, curator, author, playwright and scholar based in Melbourne and living on the lands of the Boon wurrung and Woi wurrung. Her practice is interdisciplinary, often journey-inspired, and seeks to blur the boundaries of identity, belonging, death and the beyond through ritual and an honouring of the natural environment. Visit www.gracepundyk.com
✿
Like the article? Make it a conversation by leaving a comment below.  If you believe in supporting a platform for culture-makers, consider becoming a subscriber.
Tags