From the twenty-second of August to the ninth of September 2017, Areta Wilkinson's Moa Hunter Fashions and collaborative exhibition with Mark Adams, Repatriation, were displayed at Christchurch contemporary jewellery space, The National. The two exhibitions, which fit seamlessly together in the space of The National—almost as one—were grounded in kaupapa Māori (principles and themes based on Māori understandings) and respond directly to the contemporary context of Aotearoa New Zealand. In this way, Moa Hunter Fashions and Repatriation invited me to consider Māori worldviews through a framework of contemporary jewellery and photography. I believe that Wilkinson and Adams highlighted Māori understandings of the world, of how deeply we can connect with objects, their history and our own. Wilkinson has acknowledged the importance of improving bicultural relations in Aotearoa New Zealand, and embraces her jewellery practice as a vehicle to bring Pākehā value systems and visual culture alongside kaupapa Māori imagery and culture. The projects provide a gateway for understanding and communication in a nation which is founded upon notions of biculturalism.
The practice of Adams and Wilkinson found a meeting point in museum storerooms, investigating Māori taonga (prized or valued possessions, resources or ideas) and its positioning within collections across the world, not only engaging with issues of repatriation—as one exhibition title suggests—but also embracing the value that these objects may hold even in the process of reproduction. Through the media of contemporary jewellery and photograms, both Wilkinson and Adams have captured the spirit of taonga, their meaning and connections, in ways which go beyond their physical entities. In doing so, the pair has explored ways of communicating Māori values in a vernacular which also comments on the history of Pākehā value systems.
Repatriation, the collaborative exhibition between Wilkinson and Adams, is focused around large silver bromide photograms and a photograph of a Canterbury Museum diorama. In addressing the diorama, and the problematic undertones which that piece of museological tradition implies, Adams and Wilkinson prefaced the "historicization" and "traditionalizing" of Māori which has been prevalent in museological history. Despite, and because of, this history Wilkinson and Adams have their sights firmly set on encouraging the possibilities of contemporary bicultural relationships.
The collaborative images of Repatriation held more than their physical presence in the exhibition space of The National. The moa bone photograms were impressive and ghostly. As 'x-rays' of birds long since extinct, their scale gave a hint as to the size and power of the birds. Moa bones are of particular value in an Ōtautahi Christchurch context, as they were used as objects of colonial trade during the establishment and development of the collection of Canterbury Museum. Many precious bones were sent overseas in the hopes of trading for other objects and building an international scale collection. Due to this history, moa bones can be seen as significant in the foundation of Māori and Pākehā relations. The bones used in these photograms were sought from the museum collection, then placed on top of silver bromide paper, and exposed to light. What we see is not an x-ray, but a "shadow" left behind by the object. An imprint of taonga, encapsulating the conceptual space of the thing, the non-physical representation of an object which goes beyond traditional Pākehā understandings of physical value. While inherently commenting on museological "ownership" of taonga, these photograms also capture the immaterial value, the essence that is left behind even once an object has moved on, or been removed. Damian Skinner has aptly summarised this concept: in Māori worldviews, objects exceed the material realm and can perform roles that would be considered impossible under Pākehā perspective.
Areta Wilkinson, Mau kaki, Neckpiece, 2013, oxidised sterling silver, flax bailing twine, 300 x 220 x 5mm
Areta Wilkinson, Moa Hunter Fashions, Vertebra I, II, III, pendants, 2017, Otago 24ct gold, flax bailing twine, mixed sizes
Though the two exhibitions worked seamlessly together, Moa Hunter Fashions focused specifically on Wilkinson's practice in contemporary jewellery. Embracing the contemporary climate within which she practices, the artist produces her work in attempts to understand the world around her, offering us an opportunity to ponder the same. The form and material of works such as Hei Tiki and Moa Hunter Fashions: Vertebra I, II, III respond to histories of Māori taonga and material culture, while also embracing Pākehā practices of adornment. Hei Tiki is made of oxidized sterling silver, Moa Hunter Fashions: Vertebra I, II, III of twenty-four carat Otago gold. These objects are made of precious metals, materials which answer to European value systems, introduced to Aotearoa. Similar to the process of the photograms, each piece of jewellery is made from the form of taonga; pounamu tiki (carved abstracted human figure, made of greenstone) and moa vertebra found in the collections of Canterbury Museum. It appeared to me that Wilkinson had seamlessly crafted an engagement between value systems of Māori and Pākehā. In the hopes of creating an entry point for understanding such perspectives, Wilkinson has claimed space for Māori perspectives in a contemporary art context. This space offers the opportunity to reinterpret values, revealing new ways of seeing and experiencing for the viewer.
Wilkinson's jewellery pieces reflect the histories of taonga and their contexts, simultaneously, the works go on to create their own "histories". As pieces are sold and received, they become taonga, and are valued beyond their material cost. These objects become a part of other people's lives and continue to grow and evolve in response to their own contexts, just as moa bones in a community or in a museum. They are both physical objects, and also become the sum of the ideas and values attached to them.
Adams and Wilkinson have crafted works which speak to their audience on countless levels. Their work engages with a bicultural, contemporary context, speaking to the histories of Aotearoa New Zealand and the possibilities of open dialogue and the embrace of culture beyond one's own. While their works comment on the past, both Adams and Wilkinson have made efforts to look to what the future of Aotearoa might hold. What can we learn from one another, how can we grow in strength and compassion as a bicultural nation?
Further reading
Damian Skinner, "Taonga and Photography in the Post-Treaty Settlement Era: A Case Study of Photograms by Mark Adams and Areta Wilkinson", Repatriation, Moa Hunter Fashions catalogue, The National, 2017
Nigel Borell and Benjamin Lignel, "In Conversation with Areta Wilkinson, Art Jewelry Forum, 09/23/2015, https://artjewelryforum.org/node/7135, accessed 14/10/2017
Author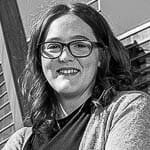 Harriet Litten has completed a BA(Hons) in Art History at the University of Canterbury and is continuing to begin a Master's degree in 2018. Located in Christchurch, her key areas of interest are in the social implications and possibilities of contemporary art practice in Aotearoa New Zealand.

✿
Like the article? Make it a conversation by leaving a comment below.  If you believe in supporting a platform for culture-makers, consider becoming a subscriber.
Tags