fragrant yellow snake
woven with careful hands
menginpeh mwahu
enfolded in tehn pahini
for safe keeping
sold at the airport
for $6 a piece
precious cargo
green wands
hand-carried to Chuuk
reserved for a wedding in Majuro
precious elinpwur
seiren Pohnpei
a welcome
a goodbye
mwaren Lasialap
fragrant yellow snake
beloved by all
placed atop your head
with love
sometimes
these snakes slither onto
and around urohs
becoming love songs
that hug our waists
tying us to home
where the fragrance waits.
Words
seiren Pohnpei – Another name for the flower that makes elinpwur; puakenikeni (Hawaiian); Fagraea berteroana
mwaren Lasialap – Garland belonging to Lasialap, members of the kemisik (fresh water eel) clan
urohs – Pohnpeian skirts
Author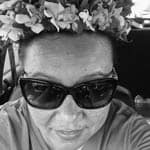 Emelihter Kihleng completed her PhD in Va'aomanū Pasifika, Pacific Studies from Victoria University of Wellington in Aotearoa New Zealand in 2015. Emelihter was the Fall 2015 Distinguished Writer in Residence in the English Department at the University of Hawaiʻi at Mānoa. Most recently, she served as the Cultural Anthropologist for the Pohnpei Historic Preservation Program in Pohnpei Island, Micronesia. Her collection of poetry, My Urohs, was published in 2008.
✿
Like the article? Make it a conversation by leaving a comment below.  If you believe in supporting a platform for culture-makers, consider becoming a subscriber.
Tags