Taurangi: (verb) (-hia,-tia) to guarantee, assure, promise, pledge; (verb) (-hia,-tia) to grieve for; (noun) promise (often in the phrases kī taurangi and kupu taurangi); (verb) to be unsettled, changing, changeable
Ko Taranaki te maunga Taranaki is my mountain
Ko Whanganui-a-Tara toku Moana Wellington harbour is my ocean
Ko te Awakairangi te Awa Awakairangi is my river
Ko Aotea te waka Aotea is my boat
Ko Te Ati Awa te Iwi Te Ati Awa is my tribe
Ko Te Tatau o te Po Te Tatau o Te Po is my meeting house
Ko Moanaroa Keri-mei Zagrobelna ahau I am Moanaroa Keri-mei Zagrobelna.
I whakapapa back to a long line of knowledgeable and strong Tipuna (ancestors). The words in which you have just read is my mihi or "speech". It is customary practice in Māori culture to introduce yourself in this way so that family ties can be recognised and acknowledged. It keeps us connected and grounded to our family and wairua (spirit). I was raised in museums and art galleries. Growing up in this rich environment gave me a passion to work in a career field that acknowledges my heritage and culture.
I have chosen to take the pathway of contemporary jewellery. I currently work out of my Wellington-based studio making and exploring object/jewellery art as a means of understanding cultural uniqueness and diversity. I predominantly work with metal-based materials and stone, but I have been exploring other materials and means of visual language.
Many of my pieces relate to traditional objects through the choice of materials and the context behind them, by using traditional and non-traditional materials and having a Māori philosophy and cultural narrative. I seek to help and challenge the audience to make their own connections to my work. If they make a cultural connection to Māori Tikanga through my work, then I achieved in building a connection. If they just enjoy the work for the craftsmanship and aesthetics, then that is great, too. They are made for everyone.
This piece Taurangi was made for Voveo exhibition which was held in Melbourne as a part of the Radiant Pavilion contemporary jewellery festival 2017.
It comes from and is an advancement of a series of works that I first started creating in 2012. The basis and name of this series is Moko Kauae, although many of the pieces also come with their own individual names and context. The mouth is a contemporary representation of Moko Kauae (Māori female chin tattoo), which represents whakapapa (genealogy), status, ritual, achievements gained and beautification/adornment. It is an ongoing series that is exploring ritual, femininity, materiality, colonisation, neo-colonisation, cultural assimilation and cultural appropriation.
I first presented this to the public in my graduate show titled memento Māori, which was in honour of my late grandmother and mother. This particular piece, Taurangi and its context, seeks to honour indigenous culture with respect and dignity, to remember the teachings of those that have come before and to remind us that we are all inter-connected. The words "taurangi" are written on the inside of the mouth to remind us that promises are kept within and are sacred. They are written in red to represent our blood and genetic ties, globally. According to the "out of Africa" theory, modern humans evolved in Africa and gradually replaced all other ancient humans. As a result, we are all globally connected through DNA.
The colour red is also a significant colour in Māori culture. Traditionally the hei tiki pounamu (tiki pendants) is often seen with red paint in their eyes, sealing wax also was used in the eyes of pendants. Māori wooden carvings used red clay (ochre) and shark oil in the decoration of wooden carvings and the adornment of meeting houses.
For those not familiar with the hei tiki, it has become a strong symbol of Māoridom and has been used by a number of artists in regards to Māori identity, culture and also as a platform to discuss or address indigenous issues. Bob Jahnke of Ngati Porou used a range of hei tiki forms in his 2001 work Top Forged Artefacts, as a political statement about the commodification of Māori art and its impact upon one cultural form in particular.
I have chosen in my practice to use the mouth, not only to acknowledge moko kauae, but also Māori language, Te Reo. In Māori culture, there was no written language. Stories, traditions and whakapapa ( genealogy) were passed down from generation to generation orally. It is the first language of Aotearoa (New Zealand). As a result of colonisation, Te Reo had a turbulent history: many stories and information were lost. In the 1860s, it became a minority language shadowed by the English speaking of traders, gold miners and missionaries. In the 1980s, many Māori saw that it there was a serious chance that our native language, Te Reo, would be lost forever and there was revitalisation to have it reestablished. So it was brought back from the brink of extinction. This revitalisation is still current today and Te Reo is now being heard more often in public, homes and within schools.
On a material basis, the mouthpiece is made to be likened to stone representing some of the materials of the first man-made tools and jewellery. These artefacts are seen as the first signs of purposeful, planned out adornment and technological advancement by the human species.
Stone is also a traditional significant material for the Māori with the most precious being that of pounamu (jade). Carvings in this stone were highly prized and often used for trade. Traditional stone was carved using an abrasion technique of cutting and grinding. Grooves were made by sawing with hard sandstone or greywacke saws and rubbing abrasive quartz mica schist into this cavity. Fragments of jade could be snapped off from the block with a wooden hammer. The stone was smoothed by rubbing it against a sandstone, and sand/water hand drills were used to create holes in the piece for flax cords. This was a long process, and often pieces took weeks to carve. When we have an understanding of this, we can appreciate those objects of the past and understand another reason why pounamu stone was so precious and valuable to Māori.
I have used European techniques and a range of mixed materials. In this way, I feel that I can connect with cultures other than my own, in a visual and technical sense drawing them into my work. I feel that I can help enhance and grow my culture by applying the use of different techniques and aesthetics and appeal to a broader audience. At the moment, I see a gap in the contemporary jewellery field for Māori jewellers, despite the presence of some notable jewellers who use and reference taha Māori. This offers an opportunity for a Māori jeweller to contribute to the field.
I hope that through my actions as a new emerging artist, I can create a new way and another means of understanding cultural uniqueness and diversity. I seek to build cross-cultural communications and interpersonal relationships through the language of object and jewellery art.
Author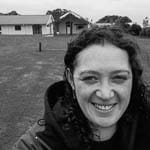 Keri-Mei Zagrobelna is a Wellington-born artist that still currently resides in her hometown working from her studio on a daily basis. She graduated from Whitireia Polytech New Zealand in 2012 where she gained a BaPPa in Applied Art and Design specializing in contemporary jewellery. Her last two years of study were made possible by receiving a scholarship from The New Zealand Federation of Graduate Women. Keri-Mei was the recipient of the QUOIL mentorship and Award program upon graduation 2013 which offered her support to continue her studies within the contemporary jewellery field and was interviewed by Art Jewellery Forum. In 2015 she travelled to Slovakia to represent New Zealand in the World Art Games and continued on afterwards to exhibit and speak in Prague and in Hungary at the Eastern Europe University on her practice. She was selected by Creative New Zealand to represent New Zealand in the Aotearoa Delegation that travelled to Guam for the Pacific Arts Festival 2016. Keri-Mei is currently a part of the Handshake#4 Mentor and Mentee project. Last year as a part of the project she was mentored by Jasmine Matzakow (Germany) and in 2018 she will be mentored by New Zealand artist Lisa Reihana. Later this year she will be speaking at JEWELspeak 2017.She is also a co-founder of The Hine-Pae-Kura Collective, a support group formed to offer opportunities to new emerging Maori female artists and guidance through exhibition and contact. Her biggest aspiration in life is to be able to set up a scholarship program for young Indigenous Māori jewellers in the hopes to offer encouragement and development within this field. This will be named in honour of her late mother and grandmother "Moanaroa".

✿
Like the article? Make it a conversation by leaving a comment below.  If you believe in supporting a platform for culture-makers, consider becoming a subscriber.
Tags