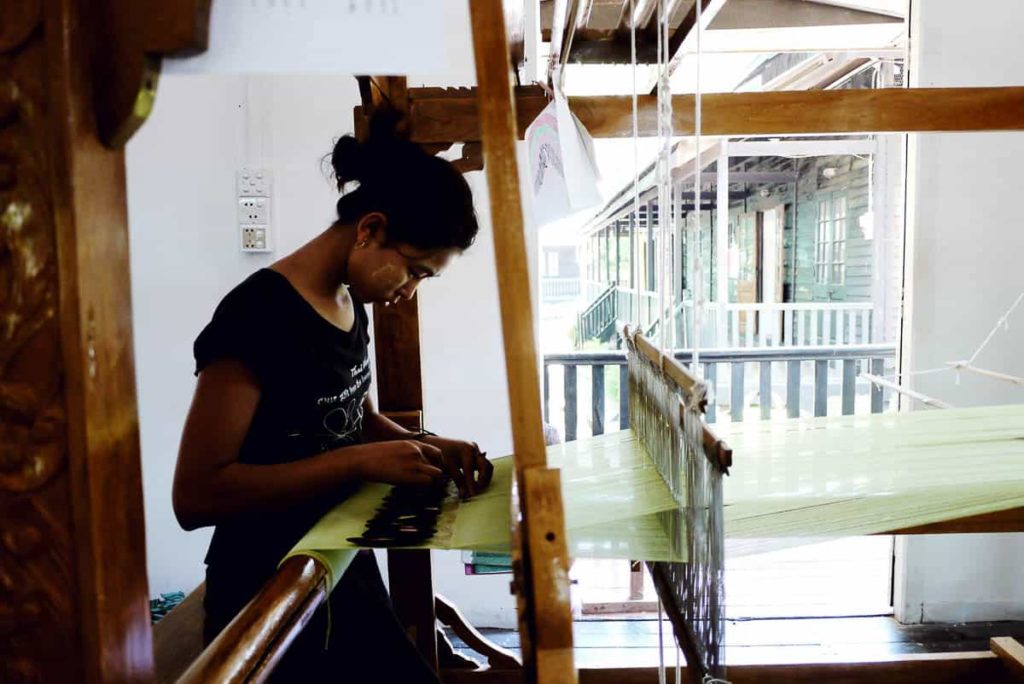 Last year, I took this picture of a young girl weaving at the Saunders Vocational Institute in Amarapura, Myanmar. I was touched by her concentration… Now, as I look at this picture again, my concern is not whether the weaving tradition will keep on living… The question is whether this girl will find a true passion in what she does and within the right context.
At a defining time of social and cultural transformations, the possibility of developing creative education based on local cultural knowledge and resources remains a challenge in southeast Asia. In many parts of the world, traditional practices are frozen in time or confined within stereotypes whenever accessorised as an "ethical" element to preserve or to incorporate within contemporary design.
To this day, there have not been enough efforts made toward the development of a design education that fully integrates local knowledge and assets. A framework that would "enable individuals and groups to become the agents of their own development, even when resources are limited by building the means of awareness-building based on their own assets and emphasizing the development of open-mindedness and cooperation." (UNESCO World Report on Cultural Diversity, 2009)
Art and design education in southeast Asia are commonly divided into three distinctive categories. First, the fine art schools that offer programmes on "traditional arts", often linked to objects and places of worship (i.e. murals, woodcarving, gold-leaf plating, lacquerware, etc.) Secondly, design programmes which are built around Western thought and content – not always adequate for local contexts. Vocational schools that focus mainly on technical capacity (i.e. textile and weaving, ceramics, lacquerware) are the third kind.
Even if Western and Asian mindsets are not incompatible, it is the sense of balance and connection between the two that is currently lacking. Also, schools do not seek to integrate the participation of artisan communities that produce key cultural assets—a missed opportunity for the development of local potential. With their current approach, the existing educational models seem to reinforce the social and economic hierarchies that hinder the development of folk crafts.
"The Western model of development, conceived as a linear process involving largely economic factors, is often incompatible with the complex social, cultural and political dimensions of societies pursuing different goals (…) A culturally sensitive approach to development is the key to addressing the interlinked social, economic, and environmental problems facing the planet as a whole."
The better integration of a local cultural dimension to creative education – both in formal and non-formal contexts thus remains imperative. In this article, I would like to highlight several issues in relationship to the development a more relevant design education framework in southeast Asia.
Understanding local abilities
Over centuries, southeast Asia has nurtured its creative landscape through the diversity of its peoples, the movements of migration, colonisation, and globalisation. Today, the broad spectrum of cultural expressions is struggling to find its place in the modern world. But if one scratches the surface, it is not difficult to dive back into an incredible sea of cultural diversity.
I have noticed over the years that this cultural wealth is often underappreciated by locals, including young designers. The majority of them are attracted by "new designs", and the lack of documentation on intangible cultures means that they also lack exposure and awareness about the cultures nearest to them. In an age of sprouting condominiums and shopping malls, traditional knowledge is depicted with nostalgia, but is rarely presented as being creative or innovative. It is perceived as something requiring "modern improvements" even if artisan communities behind such practices have been living sustainably over centuries and have produced original designs, which hold tremendous value for the generations ahead.
I was recently in Chiang Mai, Thailand, to interview Chatchawan Thongdeelert, Founder of the Lanna Wisdom School. He shared a story from 35 years ago when he went from Bangkok to villages in northern Thailand to introduce new technologies and equipment to farmers. This government-led initiative was to increase income-generation for farmers and train locals on the notion of "economic development". A year after his intervention, he went back to the area only to realise that farmers had fallen into debt by procuring too much equipment. "What had I done? I created unnecessary problems to communities that used to be completely sustainable on their own." His own mistake inspired him to create the Lanna Wisdom School, a place to restore the respect for humanity through the cultural assets and knowledge of villagers, a place for learning where "old and new flow together".
"One must understand the roots, before introducing new ways."
"For the most part, people talk about economic crisis as a serious matter. They talk about political crisis as a serious matter. From my point of view, a crisis of culture is even more serious. Culture reflects the very roots of our lives; it reflects who we are and where we come from. It reflects the very soul of a people. When a way of life or the spirit of a people disappear, its value and meaning go with it. This is an important point." (C. Thongdeelert)
There is an increasing tendency to teach and introduce market-driven urban solutions in connection to traditional content or contexts, including handicrafts. Instead of forcing inadequate change, schools and institutions should develop a better understanding of local assets, and play a role in documenting and replenishing the fundamental roots and local essence of cultures in peril.
Strengthening the source
"Creativity flows between the past and the future. There is a great accumulation of knowledge from where we can take our inspiration." K. Hara
The design process, if used intelligently, is an invisible thread to link one thing to the next, one person to the next, one place to the next, weaving through the past to the present and the future. However, global expectations and influence have largely contributed to a damaging one-sided and vertical system where designers and companies always have the economic advantage.
"It is very easy to spend a week in a tiny village, have access to local materials and technologies, and leave with a collection of gorgeous objects. It is also relatively easy to publish beautiful pictures with these objects and with the faces of people who took part in the workshop in specialized magazines, labeling the initiative as 'social responsibility'. The difficult part is to ensure this work is meaningful and relevant for the local community, so that it can be continued." (Adelia Borges)
In many craft-design collaborations, the process of connecting past to future is reduced to an aesthetic modernisation of traditional content without looking further into its cultural depth. Even in the context of "ethical trade", the articulation between past and future is often missing. I find this approach problematic over the long term.
First, it can lead to the superficial interpretation of cultural assets, which limits the development of local capacities. Secondly, it associates cultures with "commodity-centered development" dictated by market demand and with the risk of severely altering local community values. In the case of "ethical products", the notion of "ethical" is a branding construct, the integrity of which is not always possible to verify. This approach can perpetuate a socio-economic hierarchy (i.e. "rich" countries assisting the "poor") unless the target communities are able to grow the adequate capacity to manage their own assets and develop real self-confidence.
To foster dynamic local cultures in southeast Asia, artisans need to strengthen their creative abilities and cultural awareness in order to educate and support their communities, across generations. They also need better awareness, access and channels to collaborate with groups, institutions (e.g. universities, museums), the private sector and learn to recognize their own assets as distinctively unique and relevant for the world we live in. Genuine efforts must be directed toward the development of deeper self-knowledge and cultural pride at a local community level.
An opportunity to do better
"To create is to give form to one's destiny" (Albert Camus, Myth of Sisyphus, 1942)
There are important questions to ask about the cultural approach of design programmes in southeast Asia, and whether it will manage to carve a relevant path to educate the next generations beyond global trends. How can schools connect aspiring makers and designers to local essence, aesthetics, skills and resources?
There are many opportunities to do better: by opening up more dialogue and exchanges between various groups to identify common grounds. By developing a horizontal structure that engage various experts and practitioners in order to develop an inclusive learning model that reconnects old and new, past and future, local and global. Design schools must acquire a flexibility of approach (i.e. modular curricula, on-site learning with communities), open-mindedness, and stronger cultural awareness in their programmes.
To revitalise the intangible wealth of endangered cultures through education, assumptions and social hierarchies must be overcome. Established ways need to be dismantled and un-learnt, and as a new path opens up, creativity based on distinctive cultures will have a real possibility to flourish, through perseverance, effort, measure and strength.
Further reading
Borges, Adélia. 2012. Design and Craft. The Brazilian Path. Artes e Cultura edition. Sao Paulo: TERCEIRO NOME.
Hara, Kenya. 2015. Designing Design. 4 edition. Baden: Lars Müller.
Thipmanee, Chamni. 2012. The Travelling Soul: In search of northern Thai spirit. Tamarind Village
Thongdeelert, Chatchawan. 2012. excerpt from The Travelling Soul' 2012
Author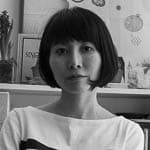 Sali Sasaki is a creative consultant working at the intersection of design, culture and social development. She started her career as a freelance illustrator and designer but left the design world to work as a UN staff over a period of 4 years. Since 2011, she has been exploring the potential of creative development in various countries of Southeast Asia by providing workshops, lectures and cultural research work. A native of Japan, she currently divides her time between Paris and Bangkok. See www.salisasaki.com
✿
Like the article? Make it a conversation by leaving a comment below.  If you believe in supporting a platform for culture-makers, consider becoming a subscriber.
Tags