There are fifteen expressions of welcome (nau mai) in Māori, variations of Kia ora koutou (greetings or hello to three or more people) and Tēnā koutou (greetings, hello to you to three or more people).
Yet, it is not simply the details of the words and phrases that define their usage, but how they are formulated and given to another party. A smile, a hongi (a pressing of the nose and forehead at the same time with another), or a straight-faced stare, each carry their own agenda, authenticating, or otherwise, the sincerity of the greeting.
Michael Parekowhai (Ngā Ariki Kaiputahi, Ngāti Whakarongo and Pākehā) is an artist whose work has shifted, not only this Pākehā's perceptions about the appearance of contemporary Māori art over the past two decades, but also its potential to connect important conversations between indigenous and settler communities and cultures. Often this has been revealed in works that seem conscious of the subtleties and complexities that accompany any message of welcome. Amenable and implicit greetings in his sculpture are far more than they might initially appear to be—as generous and sincere as they are political and confronting.
Separated by almost two decades, Parekowhai's Ten Guitars, (1999) and The Lighthouse (2017) both proposition a greeting as central to their experience. Yet, to attend a performance of Ten Guitars at an exhibition opening, or walk the length of the harbour wharf in central Auckland to view The Lighthouse, is also to enter into an encounter with racial and cultural differences.
Ten Guitars was first exhibited at Artspace in Auckland in 1999. Its ten customised guitars with paua inlays of kowhaiwhai patterns, kauri fixtures and rewarewa bindings were crafted by guitar-maker, Manganui luthier, Laurie Williams. Their title was taken from a 1967 pop song by British singer Engelbert Humperdinck. However, Parekowhai comments that they are "specifically Pacific." In the mid-1960s, Ten Guitars was released as the B-side to the popular singer's number-one hit song, Release Me, but for the past fifty years it has been Ten Guitars that has sustained Humperdinck's nation-wide popularity in Aotearoa.
Ten Guitars became an anthem for Māori, (and also for many Pākehā), expressing evidence of an assertion of popular cultural identity, distinct from, yet also belonging to, the pervasive international influence of British and American pop music.
It is this song that is the immediate reference for Parekowhai's sculpture, but historically, there are also other important sources. In Aotearoa, pop music initially found its voice in the 1960s through the distinctive rhythms of the guitar as played by Māori show bands like the Quin-Tikis. Their version of the instrumental Guitar Boogie Shuffle is the visual and musical highlight of local film-maker John O'Shea's 1966 pop musical, Don't let it Get You.
Appropriately, the exhibition openings for Parekowhai's Ten Guitars have featured ten musicians, collectively playing his ten guitars in the gallery, a welcoming gesture to join the party, but equally, one that also shifts perceptions about the assumed control of such public spaces. Ten Guitars disarmingly transforms the art gallery into a specific community space for Māori, and for Māori art. Joyful in its delivery of such an agenda and serious about its politics, Ten Guitars is a greeting that is sincerely made.
It is also the dualities of such a gesture that Parekowhai brings to The Lighthouse. Sited at the edge of Queen's Wharf, his recreation of a 1950s State House was commissioned by Auckland Real Estate firm, Barfoot & Thompson in 2013 to mark the success of their ninety years business. The Lighthouse is sited on a location that represents and showcases the corporate wealth of Auckland.
The socio-economic paradox of the commission and the source for Parekowhai's subject could not be greater. The state house has its origins in the reforming social measures of the country's first Labour government led by Prime Minister Michael Joseph Savage who opened the first such government-funded home in Wellington in 1937. As affordable rental accommodation for thousands of families unable to buy their own home, the State House embodied the principles of a government that cared for the welfare and well-being of its people, Māori and Pākehā.
Undoubtedly, like all lighthouses, Parekowhai's work is there to welcome visitors to Auckland's waterfront, and he directly acknowledges the social and cultural history that The Lighthouse symbolises in its associations with Māori in the tukutuku panels (decorative wall panels) bordering its windows.
The Lighthouse is also about navigation, discovery and guidance by the Southern Hemisphere stars, and the promise of a safe harbour. In particular, the interior's lights and fireplace implies the "notion of ahi kā; that home fires are burning and the house is warm with people."
In describing The Lighthouse as a "small house that holds the cosmos," Parekowhai 's welcoming, recognises the significance of the preciousness of home, whānau (family) and community, shaped by, and located within a wider universe of place and time.
Yet, this lighthouse is also occupied by a giant stainless steel sculpture of navigator and Pacific explorer, Captain James Cook (1728 – 1779). It is a surprising inclusion, not just because of the figure's scale extending from the floor to the height of the second level ceiling, but also because of the introspective nature of the figure. Publicly, Parekowhai has suggested "maybe he's trying to figure out what to do next." (Dionne Christian)
It is an open-ended proposition and one that implies even more questions. If Cook's presence in The Lighthouse touches upon any certainties, they are that the English navigator has lost or misplaced the purpose for his actions, doubting or not knowing where to go.
The Lighthouse is welcoming us all into the same home. Yet, this is also a greeting that implicitly questions the nature of our ambitions, agendas and beliefs and the priorities that they may assume and represent in our lives and within the lives of others, our whānau and the communities we all belong to.
Author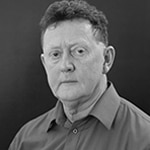 A specialist in research, documentation and valuation of historical and contemporary New Zealand art, Dr. Warren Feeney has worked in a range of over the past 30 years, including gallery management, art valuation services, research and documentation, art education and community arts programmes.
He was the Director of the Centre of Contemporary Art in Christchurch from 1999 to 2010, nominator for New Zealand's representation at the inaugural Singapore Art Prize at the Singapore Art Museum in 2008, and adjudicator for a Doctor of Philosophy thesis for the Art History Department at the University of Queensland in 2009. Warren is the author of several books on art and art history and lectures regularly on New Zealand art in academic and media publications.
In 2010, he established Art Content, a service for the research, documentation and valuation of New Zealand art and in addition to valuing the extensive collection of the Canterbury Society of Arts and numerous public and private collections.

✿
Like the article? Make it a conversation by leaving a comment below.  If you believe in supporting a platform for culture-makers, consider becoming a subscriber.
Tags