Ilona Topolcsanyi collaborates with two chefs, demonstrating the creative role of the ceramicist in specialist dining.
Cone Eleven Ceramics is a bespoke pottery that produces tableware for some of the most particular restaurants and bars in Melbourne. It was established by married couple Ilona Topolcsanyi and Colin Hopkins in 2007, after their graduation from Box Hill Institute. Ilona and Colin also run the ceramics school, Melbourne Clay. At a time when there are no apprenticeships in production ceramics, the school provides a valuable source of staff for their workshop. Today Ilona and Colin are assisted by two technicians, who are graduates of the school.
Over time, Cone Eleven has been commissioned by legendary restaurants across Australia, including Brae (Birregurrra, Victoria), Aria (Sydney, New South Wales), The Wolfe (East Brisbane, Queensland) and Wills Domain (Margaret River, Western Australia).
More recently, Cone Eleven partnered with Bendigo Pottery on the Good Plate, an ethical tableware initiative that combines local production with support for Scarf Community, an organisation supporting young refugees. Bendigo Pottery produces the plates and Cone Eleven supplies the glaze, featuring pod brown (satin) and eucalyptus green. The Good Plate is available at Chef's Hat suppliers.
The COVID lockdown saw a growth of interest in ceramics. According to Ilona, "People were forced to stay at home and focused on what they were using every day." During that time, there was much discussion among clients about which pieces worked best with which takeaway. There was a trend towards a greater number of smaller dishes in the middle of the table, rather than the pre-plated individual dinnerware.
But now people are going out, Cone Eleven is meeting the demand of Melbourne's most specialist bars.
Bar Liberty – the Crème Brûlée cup
Zackary Leon Furst began as a chef at Beechworth's Provenance Restaurant in regional Victoria. He then trained under a French chef, before working at Attica and Peter Gun restaurants. He is now with Bar Liberty, an inner-city bar restaurant with carefree decor but a beautifully crafted menu.
Zackary has been working with Ilona since he was an apprentice chef, in 2016.  He likes her seamless methods:
It seems to cut through all the things that get in the way and strip it all back to a beautifully simple yet practical design, allowing for whatever I create to go on that piece of tableware to shine as an equal to complement the design.
The commissioning process has no time constraints. Zackary brings a rough idea and Ilona tries out different solutions. He is particularly interested in the kinds of glazes she is currently working on.
For the Fennel Seed Crème Brûlée, Zackery has practical issues: "The cup itself had to be thick enough to be able to bake in and also withstand a blow torch caramelising the sugar." He originally thought of a "smooth cup with a simple cream glaze", but they settled on something with rougher edges and a darker glaze that complements the texture and colour of the dish.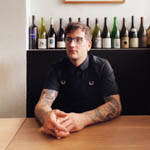 Follow @zackaryleon at @bar.liberty


Byrdi – the tiki cup
Luke Whearty had owned the Singapore bar Operation Dagger, which was regularly listed among the world's best bars. He moved to Melbourne and set up Byrdi with his partner Aki Nishikura. It was a chance to do something unique. The bar is situated in the Melbourne Central shopping centre. Visitors are often bemused by the absence of the conventional back bar, featuring all the familiar labels. Instead, there's a focus on native and local ingredients. This is complemented by their in-house laboratory using the latest in food technologies.
Luke is committed to a local aesthetic. The commission for Cone Eleven involved a tiki cup for a drink called Tropical Fuckstorm, named after his favourite Melbourne band. Ingredients include orgeat from bunya and macadamia; forager from Queensland; rum agricole from Queensland; spiced agricole native wattleseed, tropical fruit, blood lime, passionfruit and marigold leaves.
While powerful to taste, visually the drink has a muddy appearance, so it is best not served in a glass. Luke wanted a ceramic cup "to add an element of mystery to the drink."  The design challenge was to signal the right vibe. "Tiki can be gaudy and tacky. I wanted to refine it and still have fun with it. It needed to fit with our vibe textures."
It needed to be overt about "rum, slave trade and cultural appropriation." "I wanted to reimagine tiki as it feels in Australia, related to the raw colours of our landscape. Rather than borrowing ideas that have come before, like the Negroni and Manhattan, we need to work out our own drinking culture."
Ilona brought her own vision, albeit a crooked one, to the commission. The tiki cups are irregular. For Ilona, they reflect an Australian aesthetic: they are tall and lean. "We're big lazy slouches."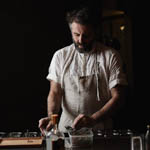 Follow Luke Whearty @lukewookie at @byrdimelb


Tableware
Ilona is attuned to the differences between tableware for domestic and hospitality settings. In the home setting, how the plate feels to the hand is important. "You rarely pick up a plate in a restaurant". On the other hand, marks and patinas are also more acceptable at home. Tableware needs to be stronger in restaurants to survive intense use.
Despite the value that locally produced tableware adds to the story of dining, it is hard to find Australian producers at the kind of scale demanded by the restaurant industry.
The dialogues between Ilona and chefs like Zackery and Luke demonstrate that tableware is more than a functional background to eating and drinking. Together they transform the table into a theatre. The tableware becomes a proscenium arch for the idiosyncratic narratives crafted by curious chefs.
About Cone Eleven
Visit www.cone11.com.au and follow @cone11ceramics


Plating up with Ilona Topolcsanyi: Production pottery - Object: stories of design and craft
Season 2 is all about ceramics - production pottery, teaching and learning with clay, museum collections, personal collecting, working with galleries, and ceramics writing and photography. Hear from Ilona Topolcsanyi, Brett Stone, Jane Sawyer, Robyn Phela…
✿
Like the article? Make it a conversation by leaving a comment below.  If you believe in supporting a platform for culture-makers, consider becoming a subscriber.
Tags