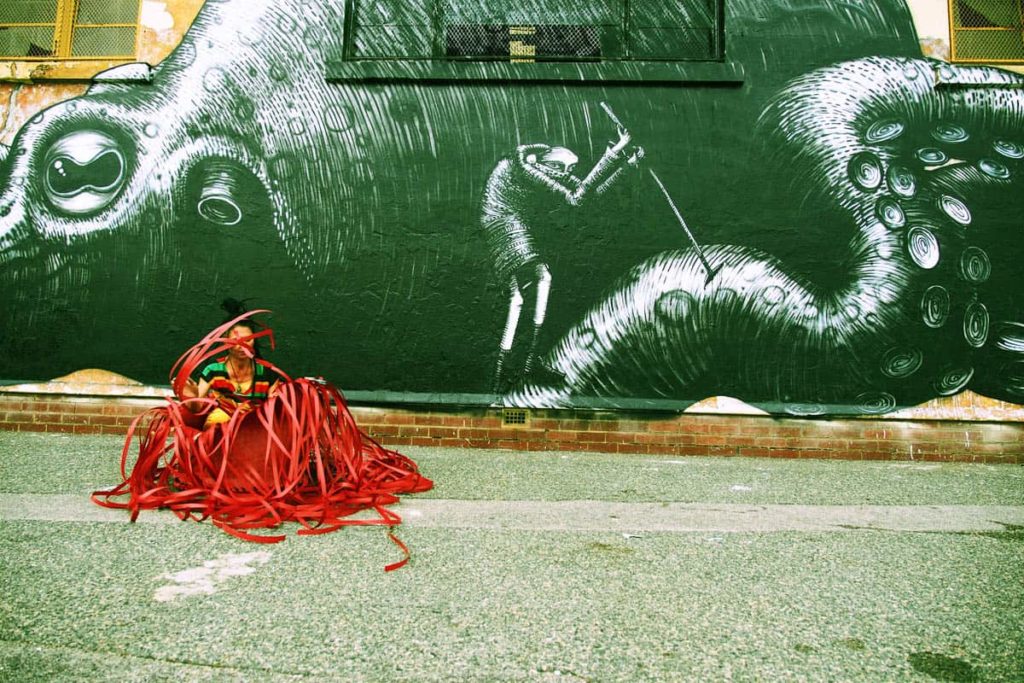 I met Australian artist Fiona Gavino when she was a resident artist of 98B COLLABoratory under the AsiaLink grants program. Naturally, our initial conversations revolved around art: she was particularly keen to learn about postcolonial identity in Philippine art.
It seemed an ambitious topic of choice. I thought, in three months, she would be panning too much sand just to find a nugget of gold.
Our first meeting was also the day I received an artist from Thailand for a residency project I was curating. My artist, before coming to Manila, already had ideas on what to expect and how he would spend his research and studio days here. We had already plotted it out. This was in strong contrast to Fiona's residency, which was self-curated. And this made me more curious about her approach to her own residency.
Fiona was trained in fine arts at Charles Darwin University. She recognised that her choice of material and technique—weaving rattan and other natural fibres—was on the border between crafts and fine arts. Though it was a constant struggle, it was nonetheless productive.
For two decades she has been exhibiting in curated shows in Australia, Japan, and Indonesia mostly with art museums and galleries. Her works oppose the usual case of "crafty art" falling under the grace of commercial galleries as it is deemed more decorative than academically discursive.
Several times in different conversations, Fiona mentioned that in her homecoming, she would want to try to reach out to commercial galleries. It was not an issue of profit or a new avenue to exhibit her work. I feel that as an artist who is conscious of her work's faring, this is like the exploration of new paths.
This same meandering spirit brought Fiona to Manila. The way she puts it: "My 19 year relationship with rattan and weaving brought me to the Philippines." When she was living in the Northern Territory in Australia early in her practice, she had to go out bush and harvest her materials. Then she had to process them before working with them in her studio. So the process began with the gathering of raw materials.
When she moved to Fremantle, this process changed and she used imported materials instead. It was a shift that gave her more time to test the capabilities of the fibre and question its materiality. Fiona wanted to discover more techniques with rattan. Believing that Australia is part of the Asia Pacific region, she chose to travel to rattan furniture workshops in the Philippines.
While in Manila, Fiona's home was Cubao, Quezon City—the commercial downtown area in the '80s, located in the northern part of Metro Manila. Her studio, meanwhile, was in Escolta, the postwar commercial downtown area in Manila City, in the southern part of Metro Manila. It was also where her host, 98B COLLABoratory, holds office. I thought that her art, aside from being located in two "old commercial downtown areas" placed this stranger in a very interesting circumstance.
About her living situation, she shared: "My first reaction was, there is no window! Compared to my bedroom back home where I can lie in bed and look out and see trees in my garden it was a bit of a shock." She continued, "But I wasn't in Australia anymore and comparing things between Fremantle and Manila, I realised, was easy to fall into but also a very non-productive thing to do. After a couple of days I liked my little room in the hostel where I could shut out the world and process my thoughts. I also made a great friend there!"
A week later, two of 98B members departed to do research and their apartment was left to Fiona. This gave her more space. For some time, she did not need to go to Escolta just so she could work. It was more comfortable and gave her more time to explore the neighborhood—like going to the "artists hub," Cubao X, where she could meet friends and take restful nightcaps.
Fiona admitted that the difficult part of residency is living alone and perhaps, missing home. But being alone can also be considered a benefit of residency. One can establish a new routine with only three things to consider—herself, her art, and time. It allows the artist to evolve and break down barriers.
My interactions with Fiona were mostly during studio days in Escolta. So I witnessed how she managed herself in that place. In a matter of weeks, she was able to adjust, get to know the place, understand the goings and leavings and even learn bits and pieces of verbal and physical expressions that allowed her to somehow "blend in." Perhaps a bit faster than myself, with both of us being strangers to Escolta.
It was an aspect of her residency that I did not need to ask much about, because I saw it unfold. Fiona viewed Manila as an old lady that has fallen on hard times. Maybe this is why, unlike many others who have taken offense at the city's filth, Fiona was kinder to her. She understood and accommodated the city's imperfections. And I felt that this kindness was reciprocated by the dwellers of Escolta when Fiona was installing her work.
Fiona's final project for the residency was an exhibit at Pan Space. Pan Space used to be a storefront of Panpisco Building in Escolta. It used to showcase safety wear and gadgets—the main business of the Dy family who owned the building. With the Escolta business community's innovative ideas and its partnership with 98B, spaces along the street are now being reinvigorated, spawning creativity and artistry. Fiona's project was the launching exhibit for this new program.
Her exhibit, entitled, BAHALANA: The Journey of an Empty Cup documented Fiona's three significant encounters—materials, technique, and people.
In her encounter with materials, she featured works made of plastic strips and rattan. The use of plastic in basket-making was one of the first things that caught Fiona's attention earlier in her residency. Her exhibit featured a flat mat, a mirror frame, and little folded leaves made out of this synthetic material. The pink/coral color against the white space and the beige of the two other pieces was an interesting contrast, whether viewed in the morning or at night.
Second was her encounter with technique. On her visit to Kenneth Cobunpue's workshop in Cebu, Fiona was exposed to how armatures or frames for rattan furniture were created. This gave her a new skill in making forms for her work when she returned to the studio. This skill was evident in the two large pieces she exhibited—a huge cocoon-like object on rattan pokes and a circular floor piece modelled from Filipino pre-Hispanic gold jewellery.
Third was her encounter with people that also reflected on her own family's history documented in a slot video projected onto a traditional sawahli (woven wall). More than the exhibited works themselves, the process of moving them from 98B's studio at the First United Building to Pan Space, preparing and installing her work at the Pan Space, and until the show's launch, beautifully captured how the people of Escolta took her in. Most stopped and stared. Some offered to carry her things. Some asked about her work. Some even gave suggestions on how her installation would be more effective. And these were regular people on the street.
As I left the exhibit on opening day, I had the feeling her journey of an empty cup might have already been filled, even to point of overflowing. And there was also that feeling that we were not ready for her to say goodbye. She became more than just the foreigner with the big hair and tattoos. So I asked if she would be coming back. To this, she answered, "Yes, definitely."
She wanted to come back so she could learn more about the techniques in building frames for rattan materials, because there was a lot more to be discovered. She wanted to further enhance the connections that have been made. She was admittedly a transcultural person—the state of belonging that led her to become an artist in the first place. And for her, residency was a significant cultural transaction, where the only possible way to "wing it" was to have a genuine approach to relationships that would be built along the way.
The first time I met Fiona in April, my mind was surrounded by the idea of the Southeast Asian region. But then she brought me back home by sharing with us the adventures and misadventures in the streets of Manila. Three months later, in a blog that concluded her journey, she made this declaration: "If you take the time and have the courage of adventure, Manila is a city with many different layers to be peeled back and be discovered." It was perhaps the best takeaway this local got from the Australian artist, Fiona Gavino.
Author
Dayang Yraola received Bachelor of Arts degree in Philippine Studies and Master of Arts degree in Museum Studies from the University of the Philippines. She is a PhD candidate in Cultural Studies at the Lingnan University in Hong Kong. Dayang is Assistant Professor at the College of Fine Arts Theory Department and at the College of Music Department of Musicology, both in University of the Philippines, Diliman. Her independent curatorial practice is focused on process-based art projects. She is the founder and lead curator of Project Glocal and Composite Series.
✿
Like the article? Make it a conversation by leaving a comment below.  If you believe in supporting a platform for culture-makers, consider becoming a subscriber.
Tags