Lena Emediato designs candles that use smell, touch and sight to tap into the emotions.

(A message to the reader.)
---
The smell. I am a person highly influenced by aromas. One of the first scents I remember is the floral cleaning product my mother used. Even today, when I come across that smell, my soul fills and my heart calms. I relax. The other scent that still warms my heart is the aroma of my grandmother's seasoning. In Brazilian cuisine, almost all dishes start with a good sauté of garlic, onion, and a homemade seasoning. My grandmother's had a base of garlic (lots of garlic), salt, and fresh herbs from the garden. She would fill dozens of jars with her dense, green, and fragrant paste, which she would give to the whole family, neighbors, and friends. When we left her house in Minas Gerais at the end of our vacations, the longing would lessen when I smelled the sauté prepared by my mother using grandma's secret ingredient.
When I visited the Jequitinhonha Valley for the first time, we were welcomed to artisan Deuzani Gomes' house for dinner. She cooked like my grandmother, on a wood-burning stove with pots emitting an aroma that caressed my soul and reminded me of my childhood, when I would sit on the little stool in the kitchen and watch grandma prepare her magical and secret recipe, which still seasons our meals with her love and memory. That's how I became enchanted by the story of the artisans of Jequitinhonha, and reconnected with my own family's history by sitting at a table, surrounded by women, savoring food made of affection and tradition that nourishes much more than the body. It is the essence of life.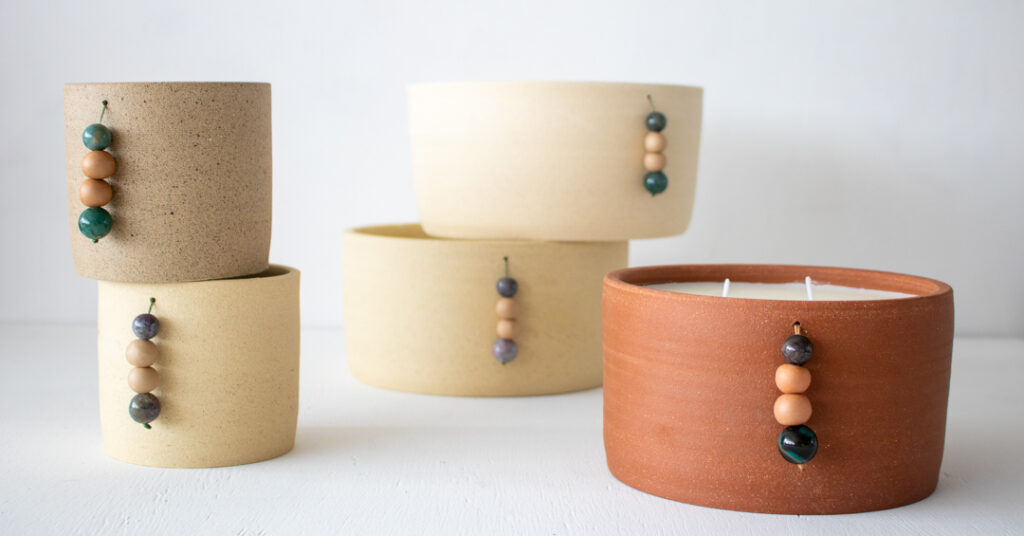 Today, I seek to incorporate all of this into my work, obviously without as much onion and garlic. All my works are created to celebrate the senses. I believe that objects can and should be designed in a way that we can delight in their charms. I want their touch to be like a caress on the skin, where the contrasts between shine and opacity, softness and hardness surprise us. I want the story contained in the creation and construction of each piece to evoke emotions and connect different worldviews. And what about smell? This sense can have so many therapeutic purposes, from medicinal properties for the body to the sensations that can be awakened in the soul. All my ceramic pieces can be diffusers of perfumes and essential oils. Just drop or spray the essence of your preference and the ceramic or wooden beads can disperse its aroma for some time.
I have also developed a line of candles infused with essential oils. These candles, akin to crystals, can be used in alternative and healing therapies for the body and spirit. The limited edition featured four scents: herbal tea, white tea, orchid flower, and lemongrass. The aromas create a herbal and natural ambience, drawing inspiration from the popular practice of scent baths in Brazil, which incorporate fresh herbs, plants, spices, and flowers.
The herbal tea-scented candle is the most popular. This refreshing and revitalizing aroma transports us to a state of healing and well-being. It is made with a blend of essential oils of rosemary and eucalyptus. Rosemary is the herb that brings joy, awakens our inner child, and helps us bring more lightness to our daily lives. Eucalyptus, in addition to its benefits for the respiratory system—helping with the treatment of rhinitis, allergies, and sinusitis—is known for energetically cleansing our aura, thus helping to clear the mind, dissipate feelings of sadness, and allow us to be more confident and free to be whoever we want to be.
The candles are produced in small batches and poured into containers made of natural clay without the use of glazes. Each vessel features a pendant made of ceramic beads, from the Jequitinhonha Valley (Minas Gerais, Brazil), and finished with a small Pyrite crystal, well known as a protective and abundance amulet.
The containers can be refilled with candles or reused as plant pots for succulents, orchids, and other flowers, thus continuing their purpose of awakening our body through scents.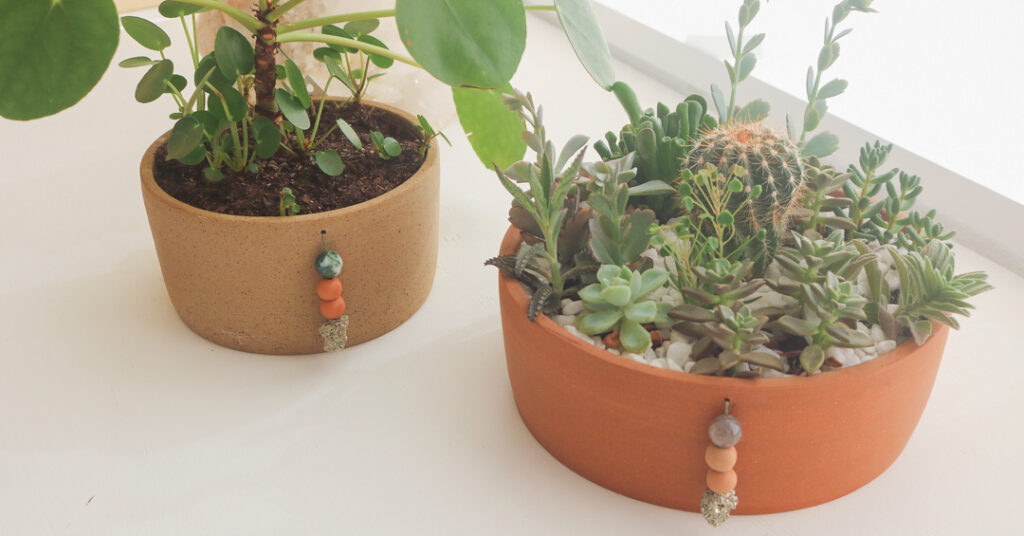 About LEH – Lena Emediato
My name is Lena Emediato, I am a designer, architect, and creative director of Studio LEH. LEH is a Brazilian brand located in Sao Paulo, that specializes in crafting unique pieces. My work revolves around three primary materials: ceramics, particularly traditional Brazilian ceramics from the Jequitinhonha Valley in the state of Minas Gerais, Brazil; Brazilian crystals; and reclaimed wood. Although I am not a ceramist, my family hails from the Jequitinhonha Valley region in Minas Gerais. I have a deep appreciation for the traditions of Minas Gerais, particularly the ceramics of the Valley, which have transformed the lives of many women who have embraced this craft. With a deep appreciation for symbology, concept, and Brazilian culture, we create personalized works that embody our commitment to listening and sensitivity. Our brand not only showcases the beauty of the Jequitinhonha Valley, but also places great value on craftsmanship, female connections, and the fluidity of time. We offer a range of developed works, including art installations, made-to-order pieces, candles and vases, unique creations, limited editions, and delicate gifts. For a more comprehensive look at our collection, please visit our website. Join us in celebrating the beauty of Brazilian craftsmanship and the timeless connections we create through our art. Visit www.leh.art.br and follow @estudioleh @lenaemediato
✿
Like the article? Make it a conversation by leaving a comment below.  If you believe in supporting a platform for culture-makers, consider becoming a subscriber.
Tags