We ask Vipun Chanchlani about the challenge of making your own chopsticks and how we should bring our own to restaurants.
✿ How did you come to be making chopsticks?
A few years back, I started watching a lot of Japanese cartoons, and from then I was always intrigued by their cuisine and style of eating. This was when I was still in India, when I started researching different styles of cooking. After moving to Australia, I got the chance to eat some Japanese cuisine. Up until then, I had never used chopsticks. During COVID, due to being stuck at home and also wanting to avoid the chopsticks that came from restaurants, I revisited my research into the cuisine. I was intrigued by chopsticks (ha-shi, Japanese for chopsticks) the styles and the types of chopsticks. The more I read and found out the more I wanted to just make my own. Also I just simply dislike bamboo chopsticks. If you have ever used one you will know they leave splinters and are very generic for Japanese or Korean or Chinese food. I thought about having one's own chopsticks like carrying a pocket watch or a gold-plated pen. In today's day and age and with everything to do with hygiene, it just made sense to carry your chopsticks.
✿ How did your experience as an architect reflect on this process?
Well, that would have to go back to the time I was still doing my undergrad, where I was exposed to other cultures and places, and studying architecture. And a lot of times we don't realise but the food we eat can determine the way we design our interiors architecturally and visa-versa.
✿ What wood do you find particularly good for making chopsticks?
A couple of my favourites are Victorian ash or also known as Tassie oak and Blackwood. The wood grain in them is very tightly packed together, making them last longer for repeatable use.
✿ What are some of the challenges?
No two timbers are the same, so adjusting the hand plane for the grain direction is very important. getting the tapper right so as to not take too much off on one side, which would give it a bow and make the chopstick fragile. But you do want to give it a little bit of a bow so the user has a firm grip at the tip.
Working with broken skateboards is the toughest up until now, as some of the layers can be extremely temperamental. The grain direction is different in each layer and on each side, making it the slowest to make as well.
✿ In what way might chopsticks be used in Indian cuisine?
This is a very difficult question to answer. Traditionally Indian food is eaten using hands, and a mouthful is made into a sort of a ball before eating it. When thinking about chopsticks in Indian cuisine, you can think of them as an extension of the hand. One is like the index finger and the other is the thumb. So I could imagine eating some of the desserts, and some of the nibbles and snacks.
Indian cuisine over the years has seen a lot of influence from neighbouring countries, like China, which in spite of different styles of chopsticks have a similar style of cuisine to that of the Japanese. Many parts of India serve a fusion of India-China cuisine, locally called Indo-Chinese cuisine. I could imagine that maybe it is consumed using chopsticks. But it would be difficult to imagine "traditional" food eaten using chopsticks. Having said that chopsticks are such versatile utensils that they can be used in many ways, it is really up to the user and their imagination.
✿ What other items are part of a set of chopsticks?
Typically the things are a part serving food are chopsticks(ha-shi), a stand (ha-shi-o-ki), a rice bowl (cha-wan), a soup bowl (o-wan), a spoon (spūn) and a side plate(ko-za-ra)
Above are typically the items one would have in front of us when sitting down for a meal. One day I hope to learn and make them all. However, at this stage what I make are chopsticks, a stand, and a carrying bag for them. I hope also to make a serving tray, specially designed with divets or a bowl so as to serve food like sushi with a dip or a sauce.
✿ What gave you the idea of recycling skateboards as chopsticks?
After I saw a few people use skateboards for furniture and or other small products, I knew the way I make my chopsticks would expose the different colours and patterns inside it. Skateboards themselves are made from gluing layers of coloured veneer (thin sheets of wood, typically 1mm to 1.5mm thick). Due to the multiple layers of wood in it, they tend to be unstable when I give it a tapper. Tapper is the size reduction on the chopstick. The thicker side of the chopstick is 7mm and the thinner, tip side is 2mm. As the layers are so thin and there isn't much holding it together I add a thin layer of super glue to give added strength. This also gives a waterproof coating, as the layers of the timber are exposed when I plane them.
✿ What kind of processing is required to turn them into chopsticks?
After the clean-up, I mill down the chopsticks to the sizes I need them at. Once that's done I start shaping them. After getting the tapper I add a little layer of thin super glue to give a light rigidity and that also gives it a little bit of waterproofing.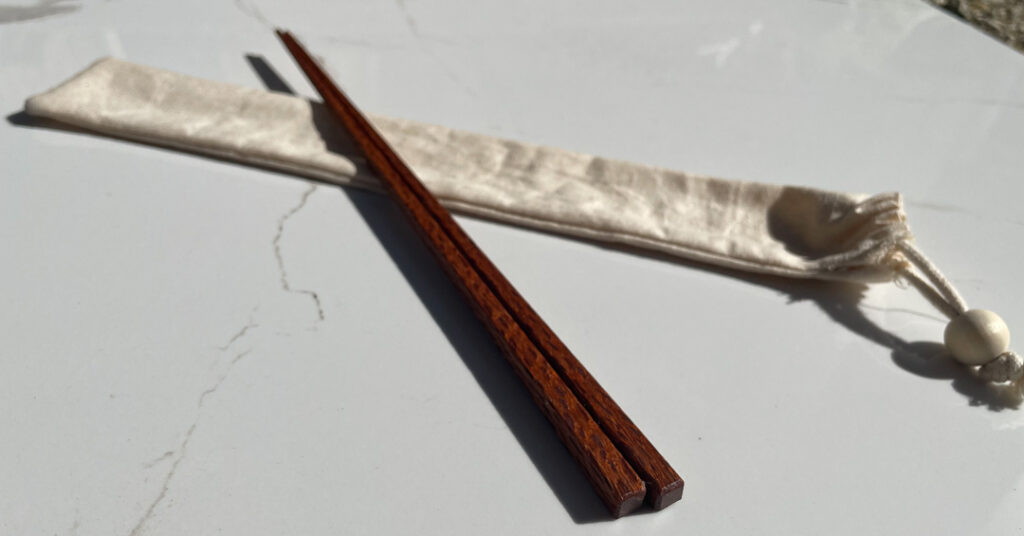 ✿ What do you use to carry your own chopsticks?
My wife makes these washable cloth bags. These are an important part of their sustainability as items we keep with us between meals, rather than throwing away. At the moment we get our material from Spotlight, but in the future, we would like to locally source them.
About Vipun Chanchlani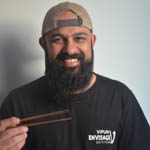 I currently live in Black Hill, a suburb of the regional town of Ballarat. I am a landscape architect for a town planning company, but in my free time, I like to make things, mainly with timber and glass. I am what some may call an amateur/hobbyist woodworker. I take my many years of design experience to my hobby and design my own furniture, such as serving boards, and keepsake boxes. I am a self-taught woodworker so there are a lot of mistakes and a lot of learning. Currently, I am working on a couple of small hand tools (marking squares and marking knives), a side table and a storage cabinet. Follow @vipun_envisage_designs
✿
Like the article? Make it a conversation by leaving a comment below.  If you believe in supporting a platform for culture-makers, consider becoming a subscriber.
Tags