Sigrid van Roode discovers redolent objects of wearable fragrance in the cultures of the Middle East.

(A message to the reader.)
---
Out of the blue, I smelled something. My nostrils tingled as they caught a whiff of a warm, spicy fragrance. What was that, clove? I was sitting on the floor in a living room somewhere in the outskirts of Amman, where a collector of Palestinian jewellery had just opened another bag of silver. As a heap of silver bracelets spilled over the floor, glinting in the TL-light, a small necklace fell out. Dozens of cloves, closely strung together, formed a simple necklace with added bone spacers, glass beads and red fluffy tassels. It still oozed that recognizable scent. And after having travelled with me to The Netherlands many years ago, it still does.
That small necklace set me on the trail of fragrant adornment. I am a jewellery historian, working with personal adornment from North Africa and Southwest Asia. That is also how I ended up in that living room in Amman: I was thrilled to have the opportunity to see and study Palestinian jewellery. And as I sat there, listening to the story of that clove necklace being shared with me while its scent rubbed off on my fingers, I could not help but wonder if I had not been missing half the story of adornment in my studies in general: its smell.
Silently, evocatively, and very much present.
Because smell, as I soon found out, was much more than just a form of beautification for the wearer. The clove necklace for example played an important role in Palestinian weddings. In one tradition, they would be strung by the female relatives of the bride. To soften the cloves, so that they may be pierced easier, they were first soaked in water. That fragrant water in turn would be part of the bathing ritual of the bride. Another tradition has it that these necklaces were ordered and paid for by the father of the bride, and presented to her female relatives and childhood friends as an acknowledgement of their bond. I think either way, wearing these aromatic pieces is an intensely profound way of expressing the bond between women. As the bride celebrated the start of a new bond as a married woman and entered a new social setting as head of her own household, the continued presence of her social network thus far was communicated and honoured through smell. Silently, evocatively, and very much present.
Wearing fragrance was associated with the intimacy of married life throughout North Africa and Southwest Asia. The ornament shown here is from Tunisia and would have been worn by a married woman. The dark beads are made of scented paste, a form of fragrant adornment known throughout the Maghreb. Every household had its own recipe, that was passed from mother to daughter, who in turn might give it her own tweak. Creating and blending one's own signature scent was as much a family tradition as it was an expression of personal taste, not just in the Maghreb but throughout North Africa and Southwest Asia. Wearing these scented beads was the prerogative of married women exclusively, but creating them formed one of those beautiful, intangible conduits that link generations, as they were made at home.
That process started with grinding aromatics to a fine powder. The scent of dried flowers such as rose petals, jasmine and lavender mingled with the woody notes of sandalwood, cedarwood or, for the most expensive varieties, oudh. Adding the powder to a heated binding agent, like gum arabic or frankincense, slowly stirring it in and adding rosewater or orange blossom water brought out the bouquet, its warm scent filling the room. When the mix had gained enough coherence and elasticity, it needed to cool down until it was warm to the touch, and the beads could be formed.
Two to three generations of hands, from the tiny to the wrinkled, then shaped the beads from small lumps of paste, sticking a needle through to form the perforation, and putting them on a large tray to dry. Imagine that unfolding fragrance drifting through the room, permeating the hands and clothes of those present, and the chatter and laughter that would fly back and forth….through all of this, girls would not only learn how to blend their own fragrances but hear about the world of women from their mothers and grandmothers: a gathering of generations and knowledge transmission, enveloped in scent.
The more I looked, the more I found that pieces of adornment were in one way or another associated with fragrance. Besides adornment created of aromatic substances, there is also jewellery designed to hold these. An example is the pendant from Morocco shown above, which was filled with wool or textile. Through the openings, perfumed oil could be drizzled onto the fabric until it was soaked. The ornament was worn braided into the hair or attached to the headdress: with every move the wearer made, she would be dispersing its perfume. Delicate, open-worked containers served to hold more precious aromatics such as ambergris and musk.
Musk is said to have been the favourite scent of the Prophet, and observing cleanliness and a well-groomed appearance is indeed recommended behaviour for Muslims. As such, fragrance has another important capacity: it kept evil at a distance. Fragrant jewellery worked like an amulet through that association, another capacity that made it so much more meaningful to its wearer than just an embellishment.
Such is the power of fragrance, that in some cases it is not even present itself, but only alluded to. That is for example the case with the Omani pendants of glass bottle stoppers shown here, which have been set in silver. Bottle stoppers were worn as amulets strung in with other beads in necklaces, and I like to think these wrap up all of the intertwined elements of fragrance: they evoke the intimacy of married life as well as the purity of faith and religion.
…she would be wrapped in the scent of the household for many hours, sometimes even days, after her visit
The use of these bottle stoppers makes even more sense when you consider the role of perfume in hospitality rituals on the Arab Peninsula. At the end of a visit, the hostess would pass around glass bottles just like these, filled with perfume. Each guest applied a little of the scent with swift strokes of an applicator. A dab on her wrists, behind her ears, in her neck…there is no more profound way to extend one's hospitality even after a guest had taken her leave: she would be wrapped in the scent of the household for many hours, sometimes even days, after her visit. Here again, fragrance expresses connections and underlines social values. Taking the trouble to set a bottle stopper in silver and adding that to personal appearance in my view expresses the value attached to these customs.
So you see, fragrance and personal adornment are intertwined on so many levels that I cannot consider the one without the other. Wearing fragrance extended beyond jewellery and formed the invisible aspect of body aesthetic and dress as well. It expressed and honoured blood ties and bonds of friendship. It spoke of faith, personality and intimacy. Fragrance could create a personal space for women, and the other way around, social values expressed by scent found their way into personal adornment. But while fragrance itself, fleeting and evanescent, eventually dissipates from adornment, our awareness that jewellery always smelled of something, hopefully lingers on for a long time to come.
About Sigrid van Roode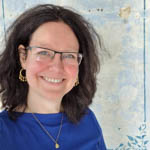 Sigrid van Roode is an archaeologist, ethnographer and jewellery historian. She lives in Leiden, The Netherlands, and works with personal adornment from North Africa and Southwest Asia. Sigrid is the author of Silver & Frankincense. Scent and personal adornment in the Arab world. She also teaches courses and runs a jewellery blog devoted to North Africa and Southwest Asia on www.bedouinsilver.com, and is the founder and director of the Qilada Foundation [www.qilada.org]
✿
Like the article? Make it a conversation by leaving a comment below.  If you believe in supporting a platform for culture-makers, consider becoming a subscriber.
Tags