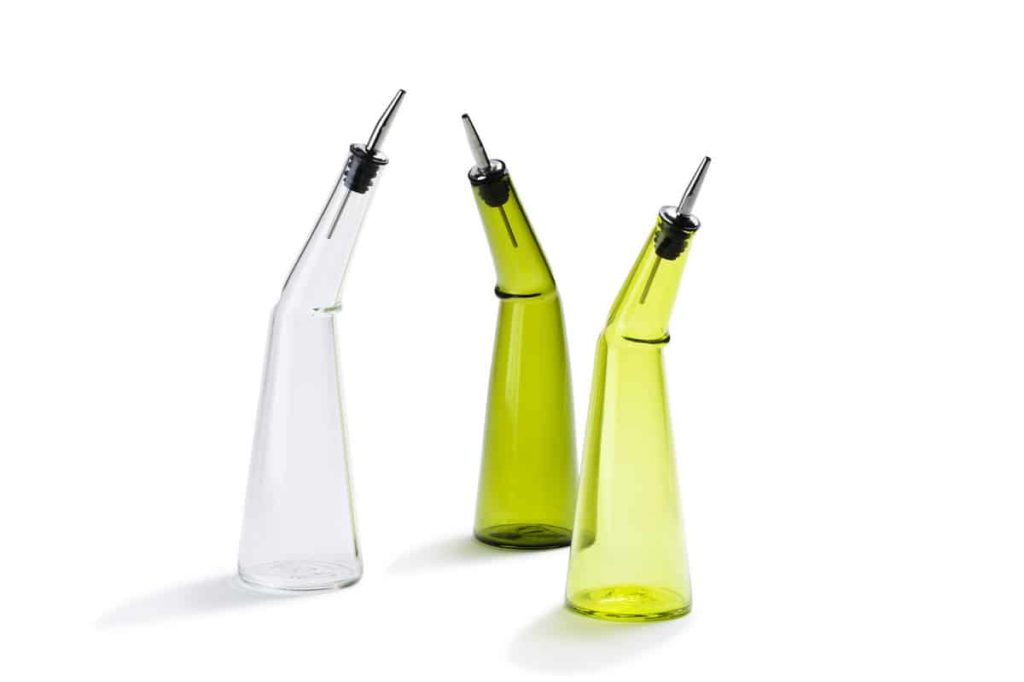 Craft classics have evolved as products that successfully embody creativity, skill and need. They are often conceived by a maker, who is attuned to the materials and their possibilities. Key to the successful production is an intrinsically handmade component. Craft products can become victims of their own success, as others seek to capitalise on their demand by reverse engineering their design for industrial production. This handmade quality then provides the user with a local story which he or she will continue to support. Not only will they purchase it for their own use, telling the story to guests, they will also favour it as a gift that supports local culture as well as pleasing its owner.
The first Craft Classic is the Kink, an oil bottle that is distinguished by a bend in its middle. The nature of this bend is critical. The precise angle depends on an intimate understanding of the properties of glass. The bend is such that is it almost impossible to be reproduced by machine. Also critically, the JamFactory provides a hotshop with trainees who can apply themselves to the demands of production. The skill is passed on as different individuals come to work there. And finally, the pride of South Australians in their homemade product creates a demand that sustains the whole cycle.
Let's hear from those three perspectives: the designer who conceived it as a one-off birthday gift, the glass-blowers who master its production, and the user who has adopted it as her signature gift. Kink is an object whose craftedness sustains the ecology that underpins what we enjoy of the local.
The designer: Deb Jones
Deb Jones studied glass under mentorship of Klaus Moje in Canberra. She started a traineeship at the JamFactory in 1993. Founded Blue Pony studio, followed by Gate 8. Deb Jones left the JamFactory at the end of 2012.
I've always liked folds or dints in glass.  I made a series of tubes that had kinks in them, but I wondered what they were for. A few years later, in 2009, I was working at the Jam with Tom Moore and Christine Cholewa and we were going to Sue Lorraine's birthday or farewell and we wanted to make her a present (Sue is a jeweller who was head of the metal studio at the time). So I drew up the kink, Tom made it and we gave it to her. She liked it and I forgot about it.
At the beginning of the following year the Jam team were designing  some new products for the glass studio. We needed something that would be good training tool as well as saleable of course.  Christine remembered the kink and put it back on the table as a design worth following up.
Tom and the crew made a small run. We thought they were good and without much fuss we were up and running. It wasn't, however, until Brian Parkes joined the Jam with new ideas of how product would be made and marketed from the Jam that the kink got bigger backing than just the glass studio. The kink became the first product of many that the Jamfactory now has in its product line.
Were there any missteps in early design or production?
The basic cone wasn't a problem, especially not for Tom. After all, when new blowers came on board and wanted to make a masterpiece he would always suggest mastering a sphere, cone and a cylinder first!
What we had to get right was the position and amount of kink. That took a little bit and there are probably a few early Kinks out there that are a little droopy.
Have you noticed any changes with the design since you left the JamFactory?
I'm sure if I looked at a few of those early ones now, it would show that they have become a lot more streamlined! The team make them very carefully and efficiently these days.
Have you made other products?
I had designed other products. Often the products I liked the most weren't suitable to go into production. I still love my half full/half empty glasses and my dint vases.
What does your work involve now?
I know work out of Gate8 workshop with 5 of my comrades. Lauren Simeoni and Katrina Freene are contemporary jewellers. Rachel Harris is a photographer and graphic designer. Jessica Loughlin, Christine Cholewa and I use glass. I use many other materials as well as glass these days. Christine and I  (CHEB) work on larger scale public projects and I love designing and making furniture with Andrew Bartlett.
What does stay are the preoccupations and design sensibility that I can see in the Kink and I continue to carry with me.
What works for the Kink is form and function in a good balanced measure.
It would be great to get some images associated with the birth of Kink. Do you have any sketches, photos in the hotshop, etc?
I have attached a drawing I did at the beginning of the 23 steps required to make a Kink . We had thought it might be fun to sell them wrapped in a tea towel using this drawing, but that went by the by.
The Makers: JamFactory
Who makes the Kink bottles at the JamFactory?
The Kink bottles are made by our training associates. We select between two and four graduates (or equivalent experienced) applicants from all over the world to undertake our two-year intensive training program in glass blowing. Part of their training is to work on the various commissions and studio products. The rest of their time is devoted to developing their own work under the guidance of the skilled staff in our studio.
Are they paid per bottle or per hour?
They are paid per piece, which rewards working efficiently as a team to increase the number of bottles they produce.
How long does it take to make the average Kink?
With a production team of five, one bottle in a production run will take about 12 minutes. This production method increases the efficiency as each member of the team is responsible for one part of the process. If you were to work solo, but with one assistant (as is 'normal' studio practice), it would take about 20-25mins to produce one kink.
Are there particular challenges in production?
Production is usually slowed when we are first teaching the associates their particular role on the team—or if they move to another role in the team, there is a bit of a learning curve. This is an important part of the product, because it teaches a lot of basic glassblowing processes, and encourages the team to work efficiently and communicate well with each other.   Some challenges in production are surrounding the quality of glass. We strive to make bottles that have few imperfections and bubbles in the glass, and this can be challenging if the day's molten glass isn't perfect. Challenges are also around achieving the correct dimensions (within a tolerance) and in performing the 'kink' process—aesthetically pleasing angle and placement.
What's the seconds or breakage rate?
On average, the team may lose 4 or 5 bottles a session. It does depend on the glass quality being to standard, and if the team making them is experienced in each of their roles. When we are training, we tend to have more breakages and seconds, but that is part of the learning process.
Trainees
Laure Fradin (Paris, France)
Alice Mahoney (Adelaide, SA)
Lewis Batchelar (Whanganui, New Zealand)
Cole Johnson (North Carolina, USA)
Thomas Pearson (Canberra, ACT)
Emma Young (Adelaide, SA)
the User: Denise George
I have purchased a number of the Kink bottle for myself friends and family.They are quintessentially South Australian and make great gifts for interstate and overseas visitors.
I love the fact the Kinks are handmade here in Adelaide, where there is a burgeoning glass art community. They are cleverly crafted and utilitarian and as such fit  beautifully in contemporary settings.
The oil and vinegar contents look superb in any of the earthy  colours of olive, grey, clear and brown.
I have two bottles which take pride of place on my kitchen bench and I use them on a daily basis. The design and shape makes them easy to grasp and hold and  the metal spout pours perfectly every time. They look and work fantastic.
I  bought two of the Kink bottles for my son who returned to Australia after studying filmmaking  in Chicago for six years. They were a combined birthday and welcome home present. I thought they were the perfect gift as they are South Australian designed and crafted and he appreciates art. They're also practical objects and he was setting up his own place and enjoys cooking. A few months later my son was groomsman at his mate's wedding and he asked me what I thought would make a great wedding present.  I suggested he have a look around the Jamfactory and guided him in the direction of the Kink bottles. He ended up buying two for his friends to use in their new home and from all accounts they love them. I recently mentioned to a dear friend  that I had bought the bottles for gifts and this year she very generously gave me one for my birthday and a second for xmas.
Denise George recently completed a Doctorate in Creative Writing and lives on the seafront at Largs Bay in Adelaide.
Tags