I met the notable Swiss jeweller, Professor Johanna Dahm, for the first time in 2006, at Salzburg International Summer Academy of Fine Arts. Dahm had dedicated several years researching the lost wax casting of Ashanti and Dokra. In an evening, over a dinner with other students, she talked about this very special casting technique that is practised in very few places in the world; one of them is in Africa and another in India.
I remembered that I have seen it in Thailand, so I told her that. She was surprised and explained the technique to me very clearly to make sure that I did not misunderstand the uniqueness of this technique—the closed cycle—which makes it different from others around the world. She explained that, instead of melting the metal in a separate crucible and pouring it into the mould, the mould is made with the crucible included inside—it looks like a Matryoshka. Once it reaches a certain temperature, the mould is flipped and the melted metal flows from a chamber on one side of the mould into the cavity where the wax model was melted away on the other side. I was quite certain that I had seen it in Thailand, but could not be too certain without any proof. After that evening I tried to find more information on the internet about places in Thailand that practice this technique, but found nothing.
Three years later, I returned home and started searching about the existence of this casting technique in Thailand. It was like following a thread. Finally, from one clue to another, I arrived at Ban Pa Ao, a little village in the north east of Thailand.
Ban Pa Ao is one of the oldest villages in Ubon Ratchathani. It is older than 200 years. According to history, the villagers migrated from Vientiane during the reign of King Siri Bunsan and settled here. They do rice farming, silk weaving, and metal casting. The casting technique was handed down from generation to generation. Poh Tong Kum, one of the two leading casters of the village, who are considered Thai Wisdom Scholars, is the fifth generation. "Thai Wisdom Scholars" or "Thai Wisdom Teachers" is a status awarded by The Ministry of Education of Thailand. The status is given to selected people who are known to the community and society to be knowledgeable and skillful, and still practice continuously in different fields of traditional work such as craft, folklore songs and dances, art, medical and agriculture. They are expected to help the country in passing on their knowledge to the younger generations.
However, it is believed that the casting technique was practiced by their ancestors long before the settlement in Ban Pa Ao. Probably they learnt it from Nong Bua Lum Poo people who lived close to Ban Chiang, the ancient community in Udon Thani, about 360 kilometres from Ban Pa Ao, around 3,000 years ago, which could be the centre of lost wax casting practice in this region. Even though there is no proof of a direct connection between the casting technique in Ban Pa Ao and those ancient civilisation, the cast bronze works found at Ban Chiang archeological site clearly show that they were made by the same method. About 120 kilometres from Ban Pa Ao is Pha Taem National Park, numerous prehistoric cave paintings dated back 3,000-4,000 years ago were found on the surface of a cliff. This revealed that Pha Taem was one of the world's oldest agrarian communities. The site recently discovered more archaeological evidence suggesting that human settled in this area between 14,000-6,000 years ago. This could be another reason to believe the technique was handed down a long time ago in this region.
Excavated artefacts and antique objects donated by the villagers, which are exhibited in the Wat Burapa Pa-Ao Nuea Museum, a local museum in Ban Pa Ao, show cast metal objects people used here in the past. The collections consisted of jewellery such as rings, bracelets, and necklaces, sets of trays and receptacles for betel, spittoons, ewers, water bowls, temple bells, and animal bells. Nowadays, because of changing lifestyle and development of casting technology, demand of their products are greatly decreased. Only some products are still saleable as souvenirs or for religious purpose. Even though they try to come up with new products, sales are still very limited.
In the past, several families in the village were casters. They cast their work at home. Women breastfed their children while coiling wax on the veranda. Poh Tong Kum told us that smoke from the kilns were seen all over the village. But being a caster is hard work and yields little money, he said. His father quit doing it and moved away. He, too, abandoned it to become a tuk tuk driver in Bangkok, while Mea Toi, his wife, continued working as a caster in Ban Pa Ao and raised their three sons. Same as other men in his family, he tried to run away from this tough career several times.
Everyone went to Bangkok at a certain age to seek their fortune and a better life, but at the end they all came back to Ban Pa Ao. These days there are only three small groups of casters in Ban Pa Ao. From the three groups, only two persons are Thai Wisdom Scholars who are skilful in each and every step of this ancient casting process.
Now Kam, Pho Tong Kum's oldest son, the sixth generation is learning the skill from his father. I noticed that in the six years over which I visited the place, worked with them, and observed them, Pho Tong Kum gradually allowed Kam to take charge of critical processes. Even though Mea Toi kept saying that Kam is not ready, it seems they has no other choice since their second and third sons do not want to walk the path.
I visited Ban Pa Ao in 2011 and have been organising Ancient Casting trips to Ban Pa Ao twice a year since 2013. It is not only the casting that attracts me, but the charm of the place surrounded by rice fields. Life here is like traveling back through time. At the beginning, the villagers were curious to see visitors who come not only for a few hours sightseeing, but to stay several days and learn from them.
Everyone in the casting group give us full attention. They like to show us, teach us, and give us lots of suggestions. Even people from another group (family) would call us to see what they are doing.
They told me that our visit makes them feel happy and proud.  I think the trips not only bring money to the community, but also give them a pride which helps motivate their hard work—the work of preserving Thai wisdom. I also heard them talk proudly to each other saying that, "Look, these people travel all the way here to see and learn what we're doing!"
Author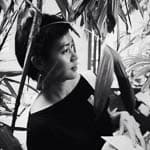 Rudee Tancharoen lives and works in Bangkok, Thailand. She is a contemporary jeweller and a director of Atelier Rudee, an international academy of contemporary jewellery in Bangkok. See her website.
✿
Like the article? Make it a conversation by leaving a comment below.  If you believe in supporting a platform for culture-makers, consider becoming a subscriber.
Tags