The COVID pandemic prompted Priyanka Kochar to explore the curious objects made redundant by modernity.
The pandemic not only halted my life and work but also opened new doors to look into my ancestral home and open trunks from yesteryears preserved by the members of my family.  As a design professional, I am always drawn towards vintage finds be it a book, an old perfume bottle or a piece of clothing. Huge metal trunks were neatly kept for years in the store room without touching them for decades. On opening these boxes, I took a  journey down memory lane,  where I could relive a family wedding or study an old document or smell the blouse from the 1950s.  I soon got in touch with a few friends who work in the art sector and understood the authenticity and value of these things which could be more than a hundred-year-old.
Some were useful pieces back then but hold no place in our lives anymore. Some were just easily replaced by the advancement of science and technology. A few hand-crafted pieces gave way to machine-made objects. Our inbuilt genetics are drawn towards the art of collecting, preserving and holding onto objects that have some story attached to them. With the passage of time, these objects could be obsolete but still hold value after years.  My observation is that time adds value, value adds importance, importance adds character and character adds meaning to any heirloom product. The story lies in the hands that hold it and the way it is nurtured from one owner to another. The eye to detail and craftsmanship is still visible in these heirloom pieces, even though they are replaced by their digital counterparts.
With the invention of electricity, fans, lights and air conditioners have replaced the old manual means of providing light and ventilation in the house. Hand-held fans and oil-filled lamps were common in each and every Indian household in the bygone era. Hand-held fans in Rajasthan were made with great precision and in different sizes. They were often embroidered by the women in the family with pure silver Zari (thread) on silk, satin or mashru fabrics. Embroideries would vary from region, class and caste. The handle of the fan was made in silver or gold depending on the preference. Contrast colour border or frills with small silver edging was preferred to make it more attractive. It had a rotating mechanism that would throw air in all directions. A special person was employed to rotate this fan to the kings and emperors.
Similarly, an oil lantern was used to light up the houses at night, unlike the bulbs and Leds of today's times. These differed in size and had a glass case with a door to shut them so that the wind does not blow them away. Made in brass or copper these lanterns could be refilled as and when required, keeping the same cotton wick intact. Oil was poured into these generously to light them up. Multiple lamps would be lit in a room or a corridor. Sometimes people would carry these lamps with them to venture out in the dark.
An air purifier is the most sought-after purchase these days after the increasing climate change effects on the environment. But before the electrical appliance came into being, somewhere around the 1920s was a hand-held manual air purifier that could make your room smell fresh and clean. A handheld air purifier was a heavy appliance with a tank of about half a litre wherein one could fill water with herbal oils or infusers. A small knob was placed to pull it up and down so that it could throw mist in the air. It even has screws to control the flow of the mist. The whole piece is beautified by filigree work on top of the purifier in gold and silver.
Working on a project during the pandemic made me notice how other people also have held onto their family heirlooms which are of no use in today's age. Pune-based photographer Chaitanya Shete found an eighty-year-old world radio owned by his grandfather who was a freedom fighter based in Ahmednagar. This huge circular EKCO radio which worked on a superheterodyne receiver was bought from the army in the 1940s. It has radio stations from Madras ( now Chennai) to Auckland. The chain of ownership goes from the army to the Indian freedom fighter and now to the photographer. What was once used as a means of communication and information now stands as a beautiful artifact on Chaitanya's tabletop.
These heirlooms dated at least eighty years old were not just functional but also aesthetically beautiful. Hours of craftsmanship were spent on making it a distinct piece. Every house had a different fan and a different lamp. It was this personal touch that made each piece unique and personal. Unlike today where we find almost similar gadgets in everyone's house, these heirloom pieces differ from person to person and infuse art and life into a basic object. Since times immemorial, stories and objects still remain immortal.
About Priyanka Kochar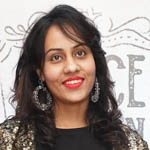 Priyanka Kochar is a fashion writer, stylist and design academician based in India. With over fifteen years of work experience across various disciplines related to design, she has published works in some of the prestigious fashion magazines across the globe. Apart from styling for campaigns and brands, she also teaches fashion communication at some of the most prestigious fashion colleges in India. With a keen interest in sustainability, she spearheads various events and partnerships for sustainable fashion.
✿
Like the article? Make it a conversation by leaving a comment below.  If you believe in supporting a platform for culture-makers, consider becoming a subscriber.
Tags