"Everyone can shine if there is permission to shine"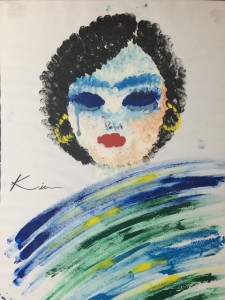 I'm Zohreh from Tehran, Iran. I came by boat and I have been in Australia for over two years. Since I am an artist and there are a lot of limitations as an artist in Iran, I had to leave. It was dangerous for me in Iran especially when I want to work outside the frame set by the Government. I was very proactive about not having to wear the hijab in Iran and this caused problems for me.
I studied translation at the university and I became a flight attendant for Iran Air for seven years. I was fired from this job when a minister on our flight saw some of my hair was showing from under my hijab. I became depressed. I also did an exhibition that showed the female nude and this got me into trouble with the government. I had to leave to Iran.
I was in detention for 18 months. I painted on the walls in the detention centre and this helped to pass the time and keep me happy.
I was not very good or interested in art when I was young. I got good marks in all other subjects except art. One day my mum gave me a picture of some flowers and said I could copy them for my exam and I got a good mark. It was after this I started to love painting.
Painting makes me feel great. It is everything for me.
✿
Like the article? Make it a conversation by leaving a comment below.  If you believe in supporting a platform for culture-makers, consider becoming a subscriber.
Tags