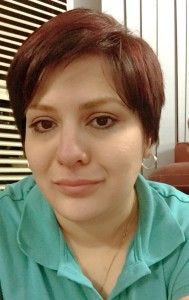 I'm Samaneh Malekshahi. I'm 29 years old.
I came to Australia about 4 years ago. I currently live with my husband.
I love everything about art and I love creating art with my hand. I love the act of creating, from anything.
When I was 10 years old, I became interested in my surrounding and the social problems that people have. I started writing about social issues of my country. I also explored the world of poem and short stories.
Last year, a friend of mine informed me about Melbourne artists for Asylum Seekers, and that they are holding an exhibition called the Simorgh, an Iranian-inspired mythology.
Since then I've started again to paint. I was so excited for that exhibition. Now I'm trying to get better at my painting, and I also love having plenty of good friends, thank God. I wish to be a successful person in this new world of mine.
✿
Like the article? Make it a conversation by leaving a comment below.  If you believe in supporting a platform for culture-makers, consider becoming a subscriber.
Tags