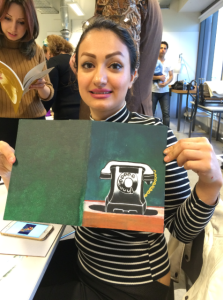 My name is Sahar Seyedi.
and I'm from Mashhad, Iran
I came to Australia 2 years ago. I came to Australia for a better life for my two children. My daughter was born here and my son was born in Iran, he is 4 years old and my daughter is 17 months.
I painted in Iran, I painted on canvas and did drawing sketches. I love painting it is my favourite thing to do. I would like to practice and improve my skill so I can have an exhibition one day.
I paint everything I see everyday around me as well as people´s stories. Painting makes me feel very good. It calms my minds and it is relaxing.
✿
Like the article? Make it a conversation by leaving a comment below.  If you believe in supporting a platform for culture-makers, consider becoming a subscriber.
Tags