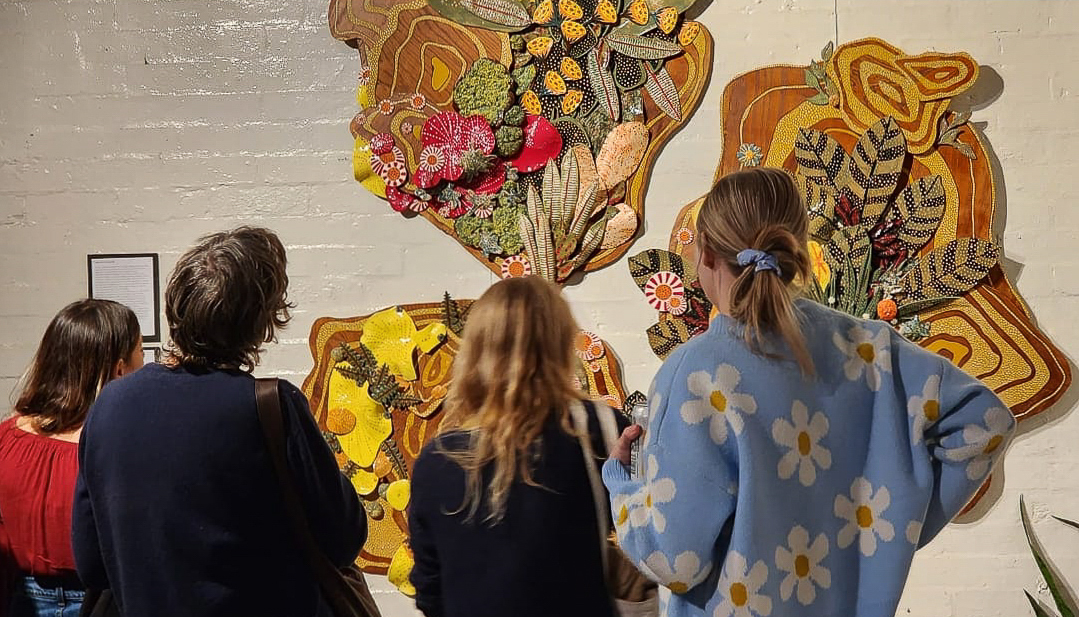 Saskia Gilmour finds nature bursting through the cracks in a Brisbane exhibition.
In the deepest depths of a concrete jungle, a shift in settling concrete creates space for the smallest of cracks to surface. Over time, this propagating crevice becomes the most unlikely of habitats for an abundance of plant life. Defying all odds, leaf after leaf begins to unfurl, before a burst of perennials is brought to life, reclaiming the alien, artificial realm of the city.
Embodying much the same inextinguishable spirit of defiance as these plants, Ground – Thinking and Feeling with the Earth is an exhibition that seeks to reveal the stark reality of our contemporary urban world, where human thought and actions are marked by a distinct disassociation from nature. At the same time, the exhibition proposes alternative pathways for making that redefine how we relate to the natural world. Through the philosophy of "thinking and feeling with the Earth", a diverse group of artists examine how an inherent connection with the natural world informs and expands their personal practice.
In the Woolloongabba Substation No.5, a place once dedicated to the conversion and distribution of electricity, artists Paula de la Rua Cordoba, Man&Wah, Georgia Walsh and Sean Williams work to reclaim the space. The industrial building, originally designed to mirror the domestic architecture of the twentieth century, sees its interior returned to its original domestic inspiration. Pot plants cuddle corners and entrances and fill the gaps between an array of carefully created sculptures, ceramic and digital media installations, large-format photography and works on paper.
In one corner of the room, household plants gather against a TV screen, from which a vision of brightly-coloured blooms surfaces from a background of black. Part of an installation by twin artist duo, Man&Wah, the artwork sits alongside large format cosmic botanical portraits and a pairing of nature-inspired sandscape installations that stand slightly elevated above the floor in the centre of the exhibition space. In isolating botanical specimens and flora, Man&Wah allow these seemingly commonplace objects of our world to occupy new and almost alien dimensions – a seemingly cosmic exploration of the otherworldliness of nature that is characterised by a sense of awe and appreciation for its inexplicable beauty.
The large cone-like geometry of a banksia flower emerges from the depths of one of their images, echoing the form of Sean Williams's Constrained, a spherical sculpture on a bed of branches which sits on the floor adjacent. While at first glance the artwork appears to take on the form of a pine cone, closer inspection reveals a more layered conception. The scales of the pine cone, rusty and metal in appearance, reveal themselves to be in fact assembled from a careful arrangement of axe heads. Like many of Williams's works, which are largely industrial in appearance, Constrained is imbued with layers of subtle meanings, activated by the careful use of materials and symbols. For Williams, the artwork tells a greater story about early European settlement in South East Queensland, where the European practice of clear felling for farming led to the destruction of native Hoop Pine Forests.
Williams continues to engage with place-based narratives and colonial issues through the other works presented in the exhibition, including A Pauper's Crown, Mutable, 3 Pillars and Slough. Reminiscent of a snake skeleton, but assembled primarily from a collection of found plough shares combine harvester header knives, Slough references the ongoing issue of environmental degradation and habitat destruction that is both a legacy of early colonisation, and a pervasive and further escalating issue today.
Slough sits side-by-side with Georgia Walsh's Golden Girls life drawing and self-portraiture series, which lend a First Nations perspective to the legacies of colonialism. A Badtjala woman and descendant of the Wondunna family of K'Gari, with German heritage on her mother's side, Walsh's work explores the complexities and nuances of her identity through the hand-made processes of printmaking and drawing. Intended as an interrogation of class, privilege and agency, Golden Girls brings a tender hand and trembling lines to the act of figure drawing. It is here through these glistening and golden paper works of varying sizes, that Walsh renders the human form in its most private, emotive and revealing.
Yet it is the works of Paula de la Rua Cordoba that are by far the most celebratory of nature. The Pillars of the Earth, a triptych of three, large and exploratory ceramic and wood sculptures present a burst of colour from the far rear corner of the exhibition space. The layered and complex, maximalist works are not so much a portrait of nature, but an embodiment of all that entails our natural environment. Examining the way that ecosystems are entangled with "ecologies of knowledge", de la Rua Cordoba's expansive installation grows only from an evident dedication of time and physical engagement in the act of making through the artist's hand.
The Pillars of the Earth emphasises the artist's own philosophy and approach to making, where an extended engagement with natural materials and the physical act of making allows pathways for extended cognition that ground the maker and audience in place. It is through this notion, thinking and feeling with the Earth, popularised in literature by Colombian-American anthropologist, Arturo Escobar, that we can hope to encounter a new human future where society acts in solidarity with nature.
Much like the stubborn plants that reclaim our urban spaces, Ground – Thinking and Feeling with the Earth is an act of defiance. Outside the common realms that art occupies, the exhibition offers audiences to consider a new future of making that is in and for our communities, and which makes an effort to engage with the places and ecologies we inhabit. The first volume of a three-part exhibition series featuring this artist group, Ground paves the way for a resurgence of human action and art that reconnects us to our earthly roots.
Sarah Gilmour is an independent curator, writer and artist.
Ground – Thinking And Feeling With The Earth (Volume. 1), Woolloongabba Substation | 28-30 July 2023, artists: Paula de la Rua Cordoba, Man and Wah, Georgia Walsh, Sean Williams
✿
Like the article? Make it a conversation by leaving a comment below.  If you believe in supporting a platform for culture-makers, consider becoming a subscriber.
Tags