Our August laurel goes to Objects of Mass Distraction, a Singapore collective whose series Punk Rocks features precious jewellery made from found materials ​​
OOMD's founder, Charlene Kuah, explains: 
I had the idea and approached Abigail (through her account which I found on Instagram, all hail IG!) to see if she was interested in working together to bring it to life, and she agreed. I knew I wanted to work off classic ring designs—that was my only requirement and we discussed and came up with ideas together. What rock for what design, with what stones, in what colour? She gave a lot of input in terms of the details of each ring—how thick the shank should be, how many mm the stones should be, how each ring should be plated, what stones to use and how to set them etc..
It was a learning process for me, frankly, as I have limited fine jewellery-making knowledge and required her expertise to flesh out the idea fully and beautifully. Most of the time, discussions took place over Whatsapp. We also had conversations around the ethical aspect when it comes to the source of the stones, which is a complicated subject as gem sellers usually sell stones that are sourced from all around the world, making it hard to pinpoint the exact and specific location the stone is from. Because of the message I was trying to communicate, it was an important and conscious decision to avoid "conflict stones", like rubies, sapphires or diamonds, but still stay true to the idea of spoofing fine jewellery. To do this, we used less popular but equally brilliant semi-precious stones like spinels.
The Overall Process
I came up with the brief and the first step was to brainstorm and discuss designs together. After we finalised the designs, it went to CAD, using a software called MatrixGold. But because the pebbles were extremely difficult to model in CAD, we ended up hand making the settings for all the pebbles. They needed to have very specific profiles for the stones to sit snug in the rings.
For the CAD drawings, we printed them in resin using a very high definition 3D printer—the kind that can be used for dental work modelling. So while we cast the pieces that we could CAD in silver, all the settings were handmade. All the rings were either fully handmade or a combination of CAD and handmade.
When everything was more or less there, we did a final test to make sure all the stones could fit in their settings before sending them to get polished (without the stones). After polishing the silver, we set the faceted stones. Then it was off to plating.
The pebbles are porous so we couldn't set it before plating. It could have absorbed some of the chemicals. So we plated the rings with the faceted stones set, and finally, the last step was to set the large pebbles.
About The Hope Pebble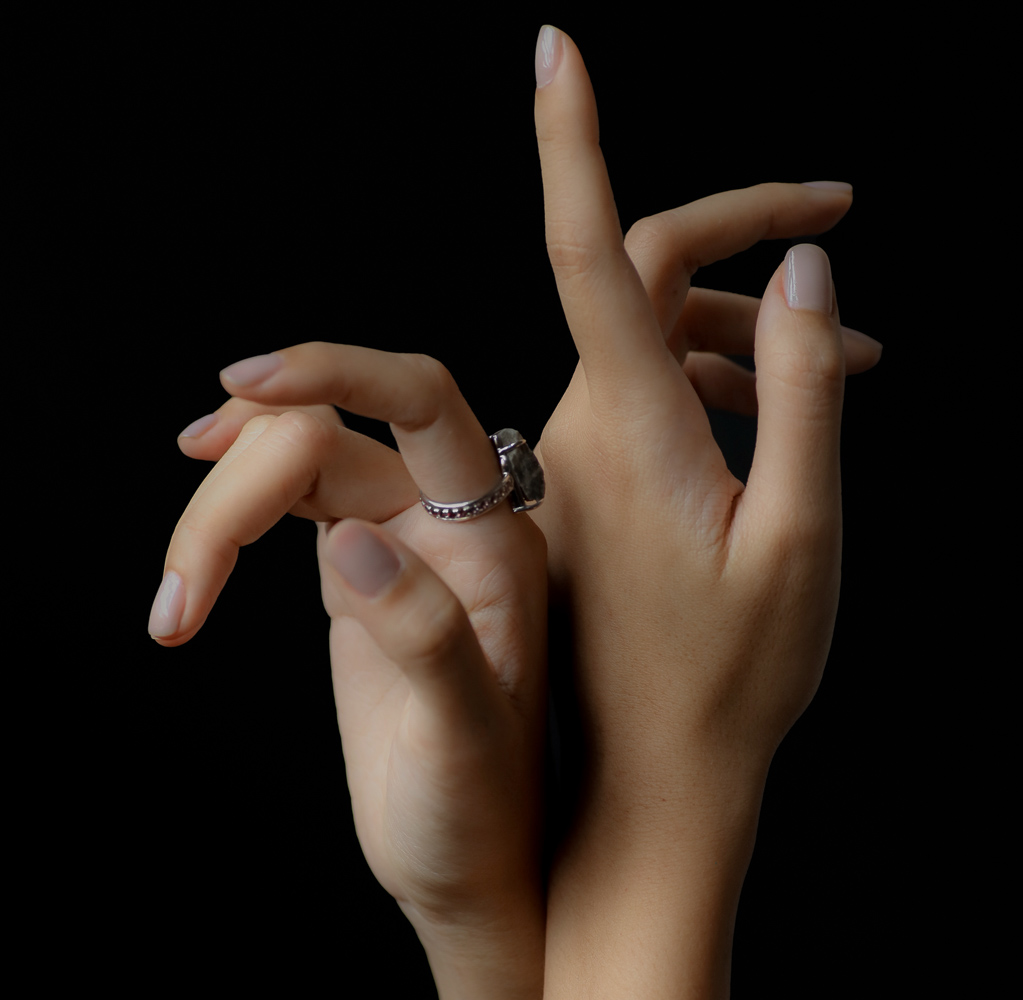 The Hope Pebble gets its name from "The Hope Diamond", the largest known blue diamond in the world. Except, it has no illustrious history or much-admired rare colour to shout about. Instead, a nondescript, found rock sits unapologetically as a solitaire, a classic ring design that emphasises the beauty of a single stone. On the shank, a line of gradient spinels in different shades of pink are pavé-set, enhancing the beauty of the rock and ring.
This deliberate placement invites us to rethink what we deem beautiful or valuable, question the marketing fairy tales we have been told and sold, and consider the influence of our consumption habits on unethical and unlawful practices in the gem trade.
The ring is white gold-plated silver and measures approximately 17mm in diameter.
About Objects of Mass Distraction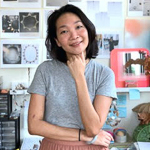 Charlene Kuah is the founder of OOMD. She considers herself an explorer, collector and tinkerer, and is interested in foraging for, assembling, and combining natural and manmade materials to synthesise new ways of seeing and thinking. Her intention is to elevate the ordinary and connect with nature, materials, people and ideas.
OOMD is an ever-evolving and experimental space that explores making and being in relation to the themes of nature, aesthetics, beauty and spirituality.
Abigail Chui is a gemologist-in-training, 3D designer, current bespoke jewels production manager, and basically all-round gem and jewellery enthusiast. At the moment, she is occupied with all things gemstones, from the common to the rare.
Sam Soo is a stone-setter. While he initially trained as a goldsmith, he discovered precision stone setting before the technology was available in Asia. So he taught himself the basics, before importing the tools when they were available.
The main silversmith (prefers to remain anonymous) for this project is a goldsmith by trade. He likes working with silver far more than gold, but is happy to work with either. Patient and meticulous, he will sit and work away tirelessly at the bench till everything fits perfectly.
Visit oomd.co and follow @objects_of_mass_distraction
✿
Like the article? Make it a conversation by leaving a comment below.  If you believe in supporting a platform for culture-makers, consider becoming a subscriber.
Tags