Our March laurel goes to Jane DuRand for an epic installation of tiles that evoke the myriad dimensions of the landscapes she loves to walk through.
Green, red and black is a collective installation that aims to capture my interpretation of the ever-evolving Australian natural landscape. My inspiration and exposure have been gathered from spending extended periods of time hiking and in nature. I have chosen to represent three specific aspects of the Australian landscape as they have either delighted, excited, or awed me in some way. These landscapes have inspired a feeling within me to look carefully and examine my surroundings, which has caused me to forge a connection with the land that felt so alien to me nine years ago. The installation is broken into three factions, each representing a different cross-section of flora and fauna in the Australian natural landscape. I have chosen to categorise the components of this installation by colour, as that is how I reflect upon the different landscapes.
Green, represents the rainforests and bush lands in southeast Queensland that I've spent extended periods of time immersed in, including extended multi-day hikes as well as regular weekly bush walks in Mount Coot-tha and other national park areas around Brisbane and Ipswich. Whilst I am aware that these areas have a range of different colours such as browns and yellows, green is the colour that overwhelms me and leaves the most significant impact in my mind.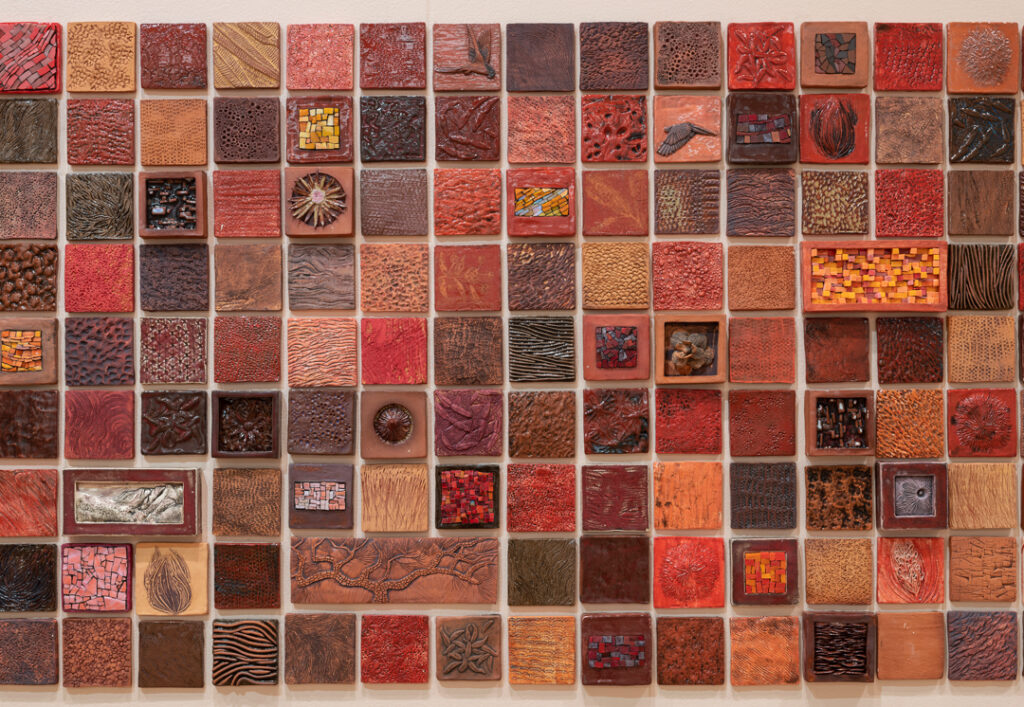 Red is my artistic response to spending two weeks accumulatively in both 2021 and 2022 hiking the Lara Pinta Trail in the Northern Territory, immersed in a red desert landscape, and discovering a range of different plants and wildlife. In addition to the multi-day hikes, I also spent a week walking around Uluru following my section of the trail in 2022. The landscape surrounding Alice Springs does contain a wide variety of colours including olive greens, blues, and yellows, however the red earth and rock formations take visual precedence due to their vast and expansive presence, which is what I hope to represent in the red component of my installation.
Black, the third component of the installation explores my experience of the natural landscape following the black summer bushfires in late 2019, whilst staying on a cattle station with my family in Northern New South Wales. The station had been ravaged by the bushfires in both September and November of that year leaving the surrounding landscape in a post-apocalyptic state.
I spend a great deal of time bushwalking and hiking, with regular weekly walks in Mount Coot-tha as well as daily walks with my dogs in the Blackstone Bush reserve in Ipswich. In addition to that I regularly embark on extended day hikes in Southeast Queensland as well as a range of multi-day hikes around the country.
Bushwalking has been my way of finding a connection to the Australian landscape, as well as finding a sense of home and belonging since immigrating in 2014. An integral part of forming a connection to the landscape has been to recreate the things I see including plant life, geological landscapes, and wildlife. Whilst bushwalking I am able to witness the natural landscape from many different perspectives, including textures of bark on trees, shapes of leaves and seedpods as well as a panoramic view of the trail ahead.
It is through these perspectives that I have been able to approach my ceramic process and the composition of each tile that makes up this installation. Some tiles are simply an impression of textures or patterns I have witnessed through my immersion in the natural landscape whilst others are detailed studies of birds and other creatures I've seen. I have also incorporated my visual perspective into the tiles, including scenes from the top of mountains and lookouts, as well as the path ahead or the view up into the tree canopy.
Jane du Rand: Green, Red and Black is at Ipswich Art Gallery (4 March – 14 May)
Visit https://www.durandmosaic.com/, like JaneduRandCeramicMosaicArtist and follow @jane_du_rand 
Tags