Saiful Islam shares memories of Jasleen Dhamija, an always charming legend of Indian craft
The blue-turquoise gleam of glass in the unboxed sunlight would have caught anyone's eye. It certainly caught mine. The graceful table had been neatly arranged, its antique inlaid wooden top from Kashmir burnished brown with signature carvings around the edges, a plate of roasted pistachios, ('they are from Iran, a friend brought them, the best in the world' said Jasleen) and two glasses of chilled limbu pani (sweet lime water) resting on it, served by her ever loyal staff, as the pet dog pushed its muzzle in-between us.
Winter was on the retreat in Delhi, I thought, like the Mughal forces in the first Battle of Delhi against the Maratha army, an early entrant amongst a long list of invaders that finally brought the great empire to its knees. Pallid daylight filtered through the rough hedges around the boundary of the back garden and Jasleen wished to make the most of it during my third visit in 2017. It was an opportunity to sit, speak and reflect on my efforts with muslin, (Bangladesh's fine high count cotton cloth) revival, or on textiles in general.
Our introductions had been made by mutual friends, Darshan Shah the dynamic founder of Weavers Studio in Kolkata, (Late) Ruby Ghaznavi, the legendary founder of Aranya in Bangladesh and Ruby Pal Chaudhri, the sweetest lady to walk the craft talk in Kolkata, founder of Artisana. All in unison had said to me two years earlier that if I wished to delve into the history and practice of sub-continental textiles, Jasleen must be my multiple resort of call. They were, of course, right.
The blue glass, bounded by a matted silver band on its puffed circumference softly cupped the hand, as I sipped and glanced over the changes in her house since my last visit. Not much…the striking tapestries and bold wall hangings were all there, the smaller soft sculptures on side tables, collectibles from a lifelong interest in crafts, the pile of books in her study and on the central table on display as was Jasleen's remarkable memory, warm-hearted strength and gracious hospitality. It was difficult to see beneath the surface of her twinkling eyes and large smile the illness she was struggling with. 'The glass is from Iran too' she mentioned, 'when I was there. You like it?'. I did and remembered how her journey to that country had also led to the fifth of her dozen or so publications, this one being the 'Living Traditions of Iranian Crafts'.
She embraced both Indian and Central Asian culture, lecturing, penning, revealing and collecting their carpets, fabrics, clothes, always making the aesthetic connection between their patterns and its influence on Indian designs and dresses. Jamdani's (the fine handwoven cotton cloth from Bangladesh, with its unique supplementary motifs) electric, geometrical patterns are often thought to have been formed in Persian workshops and ateliers, ushering a new and unique way to represent Bengal's flora and fauna onto its fabled fabric. In 2015, when I first met her and wanted to know more about muslin, (of which jamdani was a central variety) she started with the immortal words, ' It was spun from our breath and woven in our hearts'. When I later interviewed her in 2016 during the making of our film 'Legend of the Loom', along with Shahidul Alam the celebrated Bangladeshi photographer-activist, those words were repeated on celluloid as an ever-lasting introduction to the subject for the audience, said this time from her heart.
Born and raised in Abbottabad, in the Hazara region of eastern Pakistan, its citizens living at an elevation of 1,256 m (4,121 ft) and two hundred kilometres west of Kashmir, India's disputed 'paradise on earth'. Abbottabad itself was founded in the early 1850s, by a British military officer in the Bengal Army of the British Raj, James Abbott. Jasleen as she mentioned, was herself a Sikh (followers of Guru Nanak) Rajput (a martial race) and one of four sisters; 'a famous singer was one of them'. They moved across to Delhi, India after the Partition in 1947. In her words the Delhi experience was about, '…liv(ing) in the Civil Lines, at Khyber Pass, in an old family house built during the time of the Raj when the Old Secretariat was the seat of the colonial government. Beyond was…the terminal for Bus No.9, which travelled from the New Secretariat and carried many of the lovers of Delhi University.' Love was central to her way of life, her observations and descriptors.
By the time I met her again in Malvya Nagar, Gurgaon (a booming city, southwest of Delhi) though moving around was difficult, her love for Delhi had congealed into '…a rich experience and despite all its drawbacks, I have come to love this city… as one can only love an impossible lover.' However, her piercing gaze could jilt potential suitors, as she once described Dhaka (where I had grown up) as a city, 'sliding backwards into the pits, women restricted in their movement….where are the green streets and parks, the Bengali poetry that I look for?' based on her last visit in the late seventies.
Many years later, over lunch in London, we met Rani, an expat like us. Hearing of my muslin exploits, Rani mentioned Jasleen as her cousin. I asked about her and Rani's assessment was not off the mark. 'Brilliant, stubborn and independent', she said in three perceptive words. Jasleen's scholarship was deep and pioneering, ranging from the heritage of Himachal to the crafts of Gujarat, from the magic of Indian silks to the drapery of Indonesia. In between she curated at home and abroad, describing her exhibition in Australia as being up there with the best. And there was the teaching of course, a faculty member at both the NID, Delhi and the University of Minnesota, USA, leading discussions on living traditions, searching for the synergy between human passion and cultural practices, the vital life-affirming creative connection that transforms our daily art into craft.
I was a junior entrant into her colourful, varied world but received a treatment no different from her lifelong circle of connoisseurs. As her energy waned she catalogued part of her unique personal collection of textiles, readying them for an international auction. She contacted me and mentioned that I should glance over the items and the descriptions, especially the muslin pieces for which she said I should recommend the pricing. It was the least I could do.
Having no knowledge of her culinary reputation, I was once invited for lunch and she autographed her book, Discovering the Exotic and Erotic in Food, resplendent in a black sari and matching accessories. I mentioned that she was looking great, 'going somewhere?' I asked and she replied, 'I dressed up for you dear', warming my heart and our supper. I enjoyed all the dishes immensely, but baulked from eating the bitter gourd (I had always stayed away from this vegetable) with mincemeat, until she said, 'You have to eat it, Bengali's can't do without it', thus forcing me to establish racial credentials over personal aversion.
During my film show, 'Legend of the Loom' at the India International Center (IIC), Delhi, I invited her and she mentioned that it would require a huge physical effort on her part to attend. The film show started without her, but the lights came on to reveal her with two assistants, sitting amongst the audience. The head of the IIC swiftly handed over the mike to 'Jasleen ji' for her comments and none disagreed with her praise.
It was pre-Covid, mid-2019, and I was making a trip through Delhi to Bangalore and back to Dhaka. I stopped over to see her, sip a little duty-free scotch in her company while readying myself for a scolding for not having visited her earlier. Her friend, Paola Manfredi, the Italian textile researcher was stopping by too and I showed both of them, the four hundred count 'new muslin' sari that we had lately woven. The smiles on her creased face said it all as she inspected and complimented our effort. I couldn't stay much longer, therefore had a quick drink of water….from the turquoise glass that she had reminded the staff to serve me in – the last time I drank from the deep blue.
Yesterday I looked up, imagining stars in the foggy English sky, knowing hers had started to glow too and yet thinking that an earthly deficit had been created, as the heavens lit up more brightly with her larger-then-life presence while our lands had gone a little darker…sleep well and thank you, Jasleen ji.
Saiful Islam worked in a number of multinationals and is the MD of Majority World. He has led the muslin revival in Bangladesh.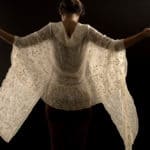 Muslin. Our Story - Saiful Islam
An extract from a new book by Saif Islam about the most diaphanous of fabrics, muslin.
✿
Like the article? Make it a conversation by leaving a comment below.  If you believe in supporting a platform for culture-makers, consider becoming a subscriber.
Tags