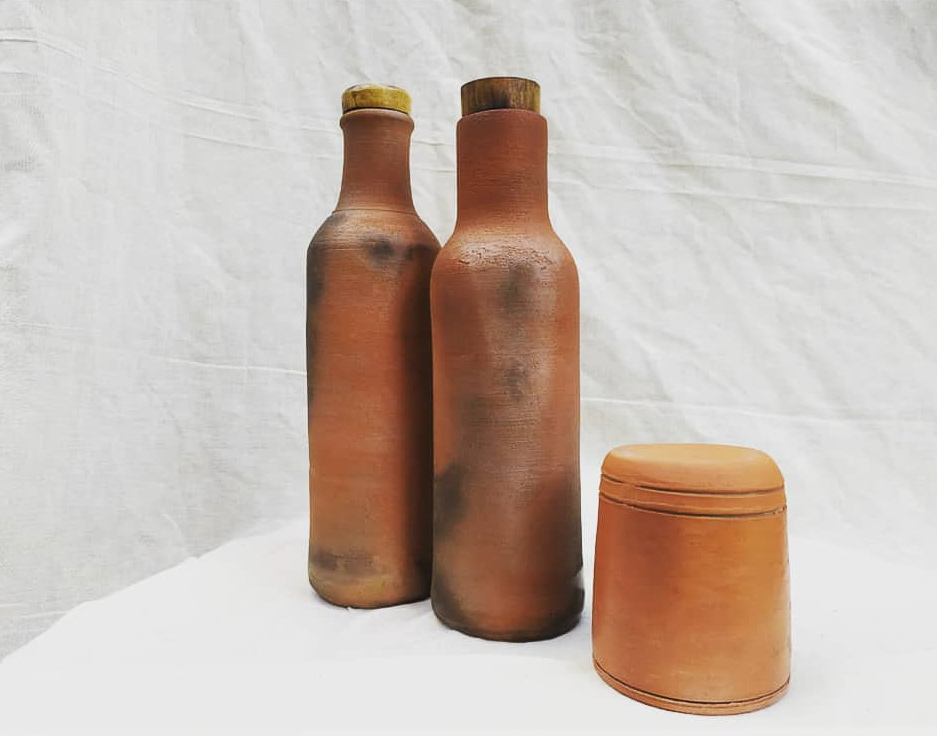 Khushbu Mathur celebrates the latest evolution in Indian terracotta craft: the clay bottle to keep your water cool.
Did you ever drink water from a terracotta pot? Well, if you haven't then you missed out something wonderful in life. 
Terracotta is an Italian word for baked earth and the art of moulding earth into utility products. In India, terracotta craft has been passed on from one generation to another and adapted over time. In India, you can find terracotta artists in almost every village and city, but there are some states which are particularly famous for their distinct terracotta art. Rural areas of the West Bengal are known for creating beautiful terracotta pots, collectibles like attractive horses, household, and decorative items. Famous towns in West Bengal known for terracotta art are Murshidabad, Jessore, Birbhaum, Digha, and Hooghly.
A two years old startup based in Shantiniketan, West Bengal "The Design Studio, Bolpur" co-founded by Koushik Ghosh and Prodip Polley which is completely dedicated to Indian handicraft and the upliftment of the sector. 
Prodip is an alumnus of Shilpa Sadana, Visva-Bharati University who has expertise in indigo cultivation and product development. Koushik is a Designer who has at least 18 years of experience in the design sector and has extensively associated himself to the fashion shows and design development projects, both of national and international importance.
Their organisation is deeply inspired by Rabindranath Tagore's vision of rural development and self-sustenance. The Design Studio, Bolpur, strongly believes that there is a need for a vehicle for marketing the vast and diverse craft traditions of rural Bengal as well as India and thereby help in fulfilling the need to provide and sustain employment. They blend indigenous craft techniques with contemporary designs to bring aesthetic and affordable products to today's consumers. They provide opportunities to the budding designers to come up with their unique concepts and ideas. A great number of employees are women, for whom they provide a value-added educational system.
The Design Studio, Bolpur works closely with artisans by providing various inputs including design, quality control, access to raw materials and production coordination. The vision continues to maximize the handmade elements in the products, whether it is handwoven textiles, hand block printing, hand embroidery, ceramic art or handcrafted wooden home decors. Their recent project includes dye extraction and product development using discarded flowers from various temple sites surrounding Bolpur, such as Kankalitala, Phullaratala, ‌etc. They also contact local flower sellers in order to collect the discarded flowers. Next, the flowers are processed and the extracted dye is used for colouring the yarn and fabrics pertaining to various upper garments. The project helps to reduce wastage through recycling, which is the need of the hour.
The duo has conceptualized a collection of revolutionary eco-friendly, handcrafted water bottles. The bottles are hand made using a special mixture of 100% natural red clay, which results in the natural cooling of water. Using a clay pot or clay bottle for water is not just a traditional and eco-friendly alternative to the steel, glass and plastic containers, but it's a healthy alternative as well. Clay is porous in nature. In the same way, a clay pot is also porous. When you store water in a clay pot, the evaporation happens. This process causes cooling as water particles gain energy in the form of heat, then change to gas and get mixed with air. A clay pot has small holes visible at the microscopic level through which water seeps out and gains energy to become gas and gets evaporated causing cooling. Heat and moisture circulate throughout the pot, quite opposite to the metal or enamel-lined crockery that we use today. Some pots are made of a special type of clay containing speckles of mica, colloquially known as 'micaceous' clay. Mica is a natural insulator.
Another benefit of clay water pots is the alkaline nature of clay. The alkaline clay interacts with the acidity of water and provides the proper pH balance. This water can help curb acidity and in turn provides relief from gastronomic pains. This nature of clay is quite useful and is one of the few well-documented benefits of drinking water from an earthen pot. When acidic food like meat or milk is cooked in an earthen pot, the clay helps to neutralize the overly acidic qualities of food as well.
I remember the summer vacations when we came back from the park after a nice game of football or hopscotch. Mum or Grandma would insist on drinking water from the matka (clay pot) rather than the water bottle kept in the fridge. This helped avoid a sudden temperature change, which could have made us sick. What we did not realise though, is that the water stored in an earthen pot is gentle on the throat. It is an ideal drink for people suffering from cough or cold. 
These are some of the benefits of drinking water from clay pots. The only important thing to remember is to clean these pots every alternate day and change the water regularly.
✿
Like the article? Make it a conversation by leaving a comment below.  If you believe in supporting a platform for culture-makers, consider becoming a subscriber.
Tags