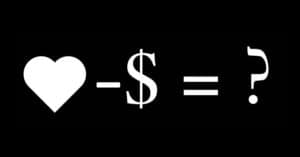 What happens when an artwork is specified as "Not for Sale"? What are the reasons for refusing to exchange the work for money?
Our June #7 issue we will consider not just what we make, but also why we make. Do we make to put bread on the table every day, with the prospect of fortune sometime in the future? Can we treat seriously something that is made with no economic value?
In this issue, we reflect on a number of trends that question the purely monetary purpose of making, including creative commons (3D printing), a mobile millennium generation, automation, post-capitalism and indigenous revival of customary values. In a world where worth is increasingly measured by the dollar, we want to find a way of valuing what we do for reasons besides financial gain. We're inviting artists to send in an image of a work that has been made for love, however, that might be defined. Please send this in with an explanation. Entries should be submitted by 12 May here.
See also What Daniel Blake won't sell. 
✿
Like the article? Make it a conversation by leaving a comment below.  If you believe in supporting a platform for culture-makers, consider becoming a subscriber.
Tags