Laura Carthew's exhibition Immortal flower (무궁화) reflects on the Korean national flower: the mugunghwa (무궁화). It follows the life cycle of three flowers growing, budding, blooming and dying. It was developed during her  2014/15 mentorship and residency in Seoul with South Korean Artist Yeondoo Jung. The exhibition was at [MARS] Gallery, 4 – 25 June 2016.
How did you come to learn about the mugunghwa?
When I arrived in Seoul, I starting living in an area called Gwanak-gu. I hadn't been to South Korea before so the flora and fauna were completely foreign to me. I would walk from my apartment to the studio and along the way I noticed a flower that held a striking similarity to a lotus flower or pink hibiscus. I was intrigued to know more so I asked my work colleagues about the flower species. I didn't expect for the answer to hold such significance culturally so was curiously surprised to discover it was the national flower of Korea, the mugunghwa (무궁화). I began researching and discovered it represented the tenacious, spirited and determined nature of Korean people and culture.
I started talking to Korean friends more in depth and they informed me of the mugunghwa's literal translation: immortal flower, or everlasting flower. It wasn't long before I started noticing images of the flower at significant ceremonial sites I was visiting such as monuments and cemeteries.  Flowers are a recurring motif used in my work to reference ritual, memorialisation and mortality so from the moment I knew this flower symbolised immortality, I was going to make a work about it.
How did the Korean performers respond to the idea of your work?
When I was looking for performers I still wasn't entirely sure how the work was going to come together. I planned fastidiously and once at a certain point where I could do no more planning, I needed to translate these 2D visuals (drawings, photoshop collages) into moving images. This process requires practice sessions with people. I put an add out through colleagues at Korea National University of the Arts and to a theatre company on the outskirts of Seoul. The 3 women I cast were very excited to work with an international artist on a project, inspired by Korea. The performers were arts and theatre students and they were enthusiastic about the idea's weirdness, mostly encapsulated by this custom made felt headpiece and large prop that they had to get in and interact with in a choreographed way. One of the aesthetics in Seoul that interested me is the slickness and HD, so the DIY non-traditional costume seemed subversive to that notion, and thus the most bizarre thing to the performers. They were also excited and scared to perform on a large green prop. The mugunghwa is everywhere in Korea, so for the performers it was fascinating that I had focused on something that was so normal it was almost invisible to locals. The reaction to the prop was similar as green is the most commonly used outdoor paint and is seen literally everywhere. I was using things that people who lived in Korea were seeing all the time, I was just warping existing elements from a fresh perspective. The support and collaboration was very generous from the performers, and all involved in the making of the work. I have got positive feedback from most of the people who were involved in the project who I have been able to show the final work to, but the final stage will be exhibiting the work in Korea.
Do you plan to continue engagement with Korean culture?
Absolutely.  I made friends there and that alone maintains my connection with and interest in Korean culture.
It is very important for me to exhibit this work in Korea, which is something I am in the process of organizing now. I have projects being developed in my studio in the western suburbs of Melbourne that began during my Korean residency, so my interest in and ideas that began there still flow through my working methodology.
Korean culture is a pulsating mix of modernity and rich historical and contemporary rituals. There are very old shamanistic practices still alive, alongside contemporary obsessions with things like plastic surgery. The co-existence of vastly different ritualistic practices makes Korea a fertile place for me to make work in.
I endeavour to get back to Seoul for another residency in 2017 or 2018.
Author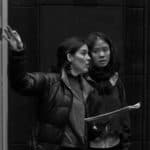 Laura Carthew is an visual artist based in Melbourne, working primarily with video and photography. Her practice investigates rituals, memorialisation and choreography within both cultural and spiritual practices. Recent exhibitions include: 'Immortal flower (무궁화)', MARS Gallery, Melbourne (2016), 'Video Stage', Art Stage Singapore, Singapore (2016) and 'Floating Grounds', The Ferry Gallery, Bangkok (2015-16).
✿
Like the article? Make it a conversation by leaving a comment below.  If you believe in supporting a platform for culture-makers, consider becoming a subscriber.
Tags