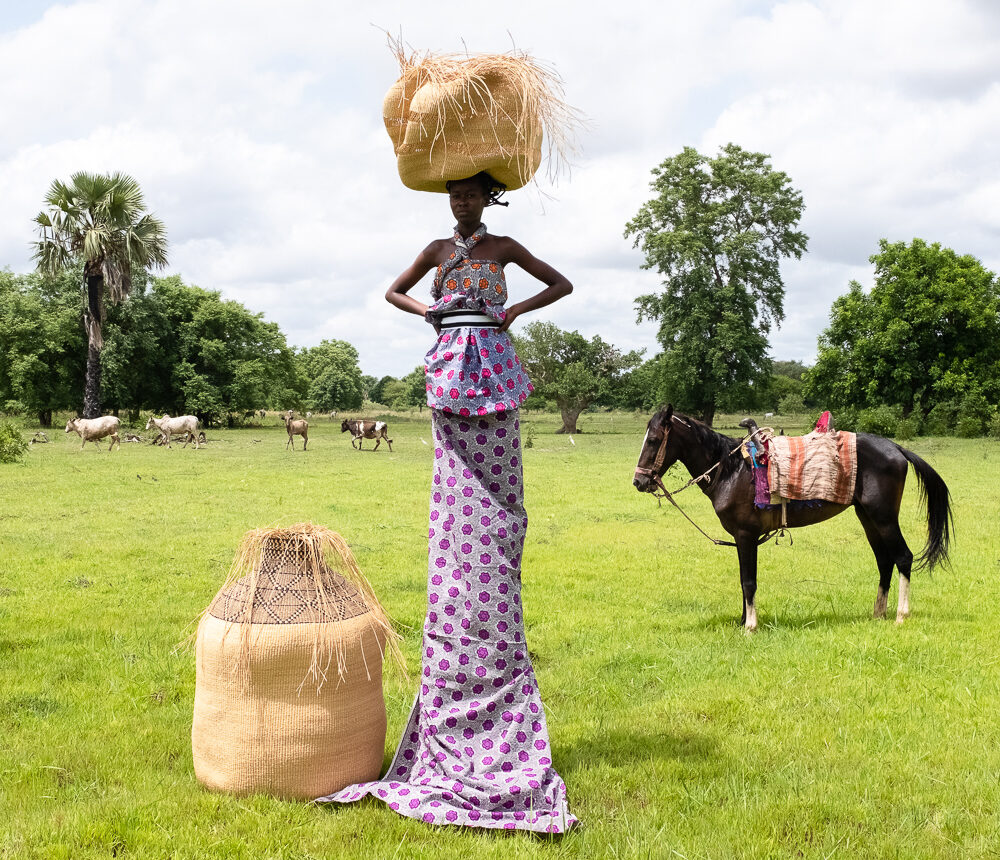 Awuni Ayine tells us about the fans she makes that were traditionally used for funerals.
Baba Tree is renowned for its eye-popping Instagram account, featuring magnificent baskets staged in dramatic scenes.
The business began with Canadian Gregory "Ayinedollah" MacCarthy who first visited the area in 1999, initially interested in learning to drum. It was named after a local baobab tree.
Baba Baskets is located in Bolgatanga, a region of the Frafra people. Frafra people, a subset of the Gurunsi people in northern Ghana. The name comes from "Ya fara-fara?" which means "How is your suffering?" The Frafra have little social hierarchy and are governed by a council of elders. Their homes preserve heirlooms which help connect with nature.
Their baskets are exported around the world. According to MacCarthy, Baba is not part of the "Saving the poor Africans" narrative. It is about empowering people in the marketplace. He is sceptical of Fair Trade as a practice, "It's easy enough to cook the books in order to dress the windows in a fair trade kinda' way."
While others try to knock off their designs, he is confident that no one can match them for quality
About 25,000 knots—where warp meets weft—are woven by expert, calloused hands in order to create a Baba Tree 16'' Round Market Basket. That doesn't include creating a very neat coil around the top of the basket, nor does it include the work involved in creating a neat and very strong handle that is going to be subjected to a stringent quality control process by the Baba Tree (as are all aspects of the basket).
As well as baskets, Baba also produce fans. We talk to one of the weavers, Awuni Ayine, who is 36 years of age and lives in a small traditional village called Gambibgo about twenty minutes walk across the river from the Baba Tree Baskets compound. She lives with her husband and three children in her husband's family compound, according to tradition.
Weavers produce about two fans a day, including the preparation time of splitting and rolling the straw in preparation for dying. The fans are created from Pennisetum purpureum or elephant grass, which is farmed in the south of Ghana.
✿ How long have you been weaving?
I have been weaving for only two years but I'm so happy for it! My mother and my brothers all weave.. mostly fans but also some baskets. I started to weave in the house for the Baba Tree and was coming to dye my straw every Saturday. One day I asked the Quality Control Manager who buys the baskets if I could come full time to weave that I was keen.. from that day I was welcomed into the community.
✿ What do you enjoy most about weaving with The Baba Tree community?
I enjoy the people. I have made some great friends and we laugh and joke together every day. I receive the money for my fans to take care of my family.
I have three children. Two boys and one girl.
✿ What do you enjoy weaving the most?
My favourite is the fans, the more fans I have to weave the happier I am because weaving enables me to look after my family and prepare a future for my children. The handles are the most challenging aspect of the fans as it is not weaving but more wrapping.
✿ Tell us more about yourself.
I am a businesswoman alongside my weaving work. I have a mobile shop selling local herbal drinks including Zonko and Sobolah also ground nuts and bread. I have been selling and roaming for four years now. Every morning I wake at 4.30 am or early dawn to prepare the drinks and then take to the compound. People always buy, especially the Zonko as it is good for digestion and energy. I live in the Bolga Estates. It takes me 40 minutes to walk each morning and then again at the end of the day.
The fans are traditionally used by women in funeral ceremonies alongside their shrill singing and to show appreciation of the men doing a "war dance".
The fans are not typically used here in everyday life, but still in ceremony at funerals.
Ayine doesn't find anything challenging about creating the fans: "Weaving fans makes me so happy there is nothing that I don't like about it."
Thanks to Francis Kokoroko at @accraphoto for the photos. The "muse" is Ayishetu Napari Yakubu at @napari_isha. And the stylist is Bettina McILwraith at @appetitefordecoration
You can find Baba Tree Baskets at their website babatree.com or @babetreebaskets.
✿
Like the article? Make it a conversation by leaving a comment below.  If you believe in supporting a platform for culture-makers, consider becoming a subscriber.
Tags