Rebecca Hoyes visits Segou on the Niger river to learn the secret of bogolan, mud cloth.
Viscous, soupy, gloopy and black. These are the words that come to mind when I recall my time working with the most uncompromising of natures' offerings-mud.
Exploring the wonder of materials through colour and textiles is how I investigate a narrative of place, person and material intrigue.
As senior designer for a global retailer, I was given the opportunity to collaborate with Boubacar Doumbia, a natural colour expert and social entrepreneur based in Segou, Mali.
This experience served to deepen my fascination with colour and ethnobotany. It awakened an interest in design anthropology that informs my current practice as a textile designer and colour researcher.
Segou, Mali's' third-largest city, lies upriver from the lively capital Bamako on the sleepy banks of the wide Niger river. In the strong midday sun, fisherman languidly move up the wide muddy waters dredging precious iron-rich mud.
Just back from the waters' edge lies the traditionally build workshop and textile atelier of Ndomo. The building formed from the rich red coloured earth in the traditional Malian vernacular style is a series of tall adobe structures with windows seemingly punched out of the walls.
The building is impressive, so too is the gently spoken Boubacar with whom I would collaborate on a collection of home textiles. Boubacar was experienced in traditional dye practices and I was a designer, complete novice and a self-confessed "colour hunter". We had just seven days to develop our collection. Together we would exchange ideas, patterns and techniques and stories using mud as our medium.
Bogalan, or "mud cloth", is an important part of the cultural landscape of contemporary Mali. Numerous and widely differing examples of the cloth can be found on the streets of villages and cities across Mali. This distinctly local art form continues to this day to be a source of creativity and expression for artisans and designers across the world.
Bogalan cloth is distinguished by highly contrasting black, brown and white geometric patterns. The fabric is produced in the traditional strip woven style from locally grown organic cotton. The fabric is comprised of a varied number of strips depending on the intended desired width.
The process itself is as beguiling as the materials. Ngalama leaves can be found along the banks of the wide snaking river. Rich in tannin, these leaves provide nature's secret ingredient. Used to mordant the fabric, they create a golden ochre colour when the fabric is dried.
The combination of the tannin from the leaves and the iron-rich mud produces the intriguing deep browny black for which these textiles are known. Once the fabric had been prepared, we discussed the traditional and contemporary applications of bogalan. Boubacar recounted the stories and meanings concealed in the motifs we were to explore in mud. Then, with the mordanted cloth spread out on the warm, baked ground with the liquid mud, we began the process of drawing the patterns out.
The design is applied with "a kala" a wooden stick or a brush dipped into the concentrated fermented mud in a reverse resist technique.
The feeling of painting mud which has the consistency of clay slip onto the handwoven cotton is quite counterintuitive. It somehow feels you are unlearning everything you had been taught.
Numerous layers of sensuous gloopy mud are applied, left to bake in the sun then washed out and reapplied again until the samples have reached the deep brown-black colour we desired. Two layers for a deep brown and three for an intense black. To whiten areas discoloured by the washing a traditional bleaching stone is ground into a chalky paste and painted on to brighten the graphic patterns.
The alchemic combination of fermented mud, leaves and tree bark produces a distinct range of colours from yellow to dark brown and black.
Despite its many contemporary transformations, Bogalan is still an art form associated with rich cultural meanings.
The colour classification of the cloth is as much a function as its patterns in determining its intended purpose, each colour having different associations, red an earthy colour associated with blood and transformation, black with fertility and purity.
Whilst the transition to "modern life" spurred on by rapid developments in urbanism, modern design and the global economy, has profoundly altered the ways in which craftsmanship is lived and experienced. The enduring appeal of Bogalan cloth negotiates and distils the traditions of Mali, carrying diverse yet connected meanings wherever it is found.
Boubacar works exclusively with mud cloth but now, through the social enterprise, Ndomo has established an apprenticeship programme providing literacy and numeracy alongside technical and cultural training to support many of Mali's unemployed.
The possibilities afforded by recontextualizing traditional techniques and material processes could not come at a more pressing time. A renewed consumer interest in traditional processes offers artisans a bridge to new markets and the opportunity to use their craft and heritage as a tool for social change. As designers, we are reevaluating the materials and systems we are using. Creating new product narratives exploring the materials and colours around us, allows us to create a deeper and more meaningful relationship with natures' most precious resources.
Author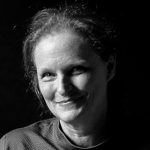 Rebecca is a London based textile designer with an extensive background creating innovative textile and product ranges for international retailers and NGOs. Rebeccas' work combines an interest in small batch production and handcraft techniques and explores the resonance between modernity and tradition. With a passion for craft and sustainable design, Rebecca collaborates with global artisan groups to innovate traditional skills and materials for the contemporary design market. Rebecca is currently supporting rug weavers in the Atlas Mountains, Morocco and is Senior Design Consultant with Turquoise Mountain working on projects in Myanmar and in the Middle East. Rebecca works as a material and colour consultant for trend forecasting companies. She is a Lecturer in Design at Central Saint Martins, University of the Arts, London.
✿
Like the article? Make it a conversation by leaving a comment below.  If you believe in supporting a platform for culture-makers, consider becoming a subscriber.
Tags