Sayali Goyal responds to questions about her project featuring handwoven textiles from across Indian in their raw beauty.
(A message to the reader.)
The Safed project involved collecting undyed textiles from across India to produce an exhibition that highlighted the simple beauty of the weaving process. We asked the curator Sayali Goyal about the background to the project.
✿ Are works in the exhibition all undyed, or does whiteness sometimes result from a special treatment on the fabric?
They are all-natural and have no treatment at all. It's KORA fabric i.e right off the loom.
✿ Did you purchase the works directly from the weavers, or did you sometimes commission specific textiles?
The pieces are from designers and collectives who work with weavers as they can communicate better and have a better understanding of the artistic concept and goals of SAFED.
✿ Is white worn for particular occasions in India?
White is actually a colour worn on funerals, however, I would keep that connection away from this as none of these fabrics are stitched garments. The idea is to not showcase them as worn textiles necessarily but just blank canvas.
✿ Can you explain what Kora fabric is and why you chose it?
KORA is a Hindi word for blank, so the untreated fabric, right off the loom is called kora. It is the state of fabric before dyeing/ other treatments. I chose kora because my concept of SAFED is to showcase the simplicity/ purity of just textile. I want people to appreciate the texture and the diversity of textiles hence there are no other distractions of colour, pattern etc. Also, khadi is misunderstood largely as a lot of people don't know that there can be a variety of it. All-natural, handspun and handwoven fabrics can be khadi (silk, wool, cotton). SAFED as a concept is multidimensional. It addresses the aesthetic beauty of simplicity, the diversity of weaving in our country, and also allows the viewer to understand the philosophy of Mahatma Gandhi's way of living. The way it is displayed is also inspired by a dyers workshop where white fabric is hung loose for natural bleaching (under the sun). I see this as an artistic concept that addresses crafts also and used textiles as a medium to communicate a philosophical concept.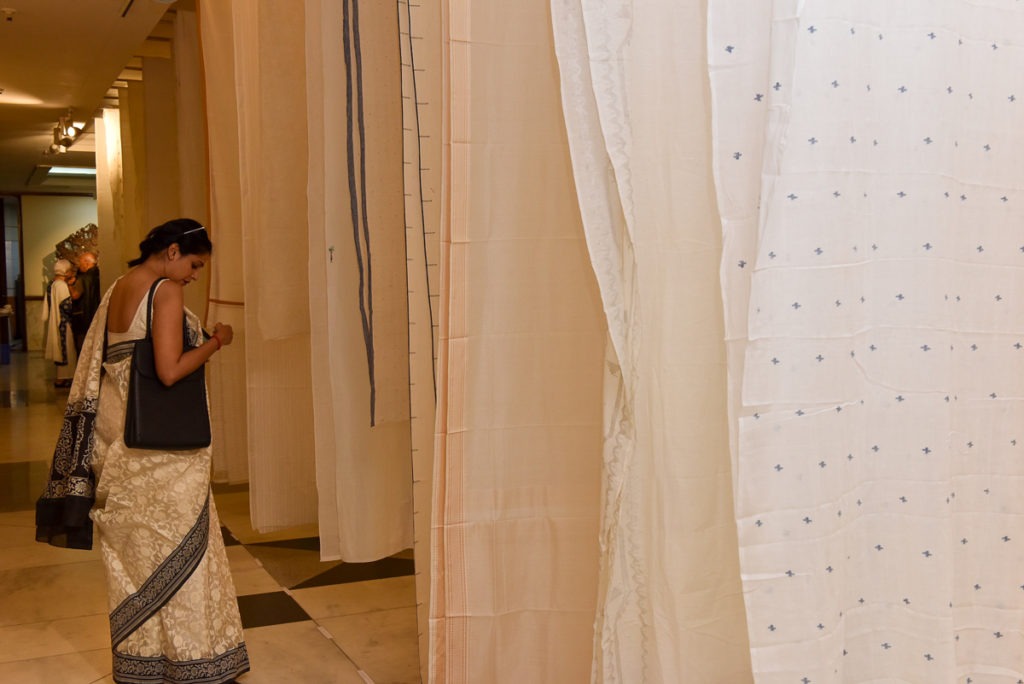 ✿ Can you describe the elements of the project – exhibition, parade, etc.?
The project started by research on various craft clusters across India and interviewing people who work with them. The second phase was to travel to these places ( Varanasi, Ladakh, Kolkata, Maheshwar, Jaipur, Ahmedabad). Thirdly, the concept was developed and the textiles were sourced. Fourthly, the exhibition with textiles happened in Delhi along with a photo exhibition that had images from all the six places I went to. We also held a panel discussion on contemporising Indian handloom textiles with renowned ladies from craft councils. The second edit happened in London where the goal was to present Indian textiles in a contemporary light during the London design festival. Now the third edit will happen in a gallery space in Delhi where there might also be natural dyeing or a colour workshop. I see the concept  growing and fluid and engaging more with the community.
✿ What were the criteria for the works: hand-woven, traditional technique, a particular size, etc.?
Criteria was to have a natural, handspun and handwoven fabric with no treatment. Most of the textiles are 4.5 to 6 meters as we wanted to create a large installation falling from the ceiling.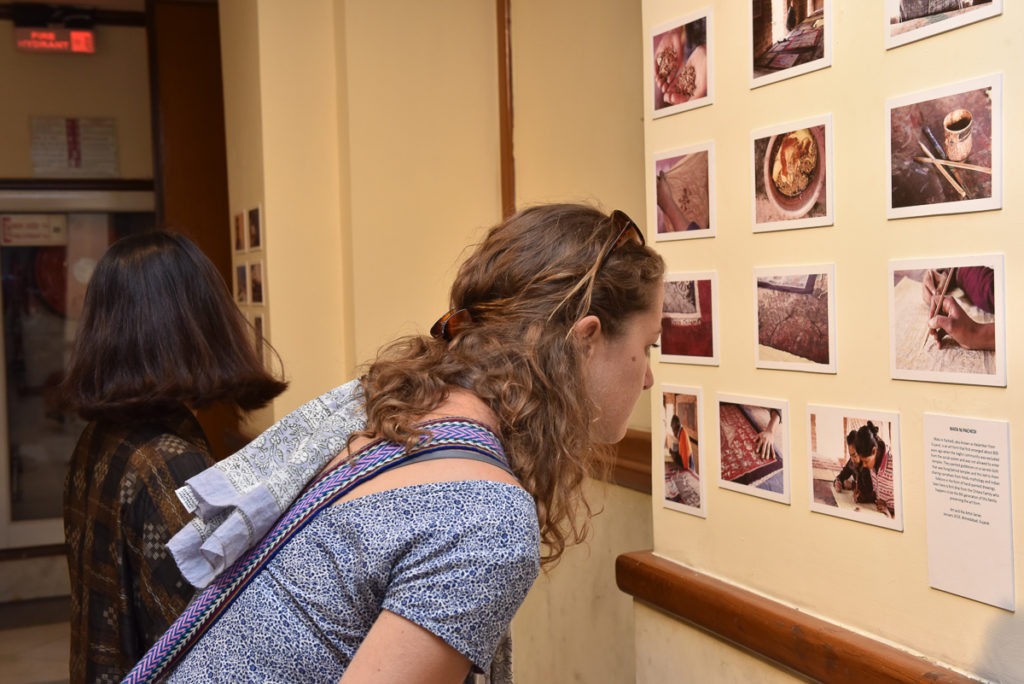 ✿ What's your understanding of the philosophy behind khadi?
So Khadi happened as a response to the socio-political movement during India's freedom struggle. The concept of swadeshi means something of our own nations, when Gandhi preached the idea of being self-reliant and reducing the consumption of imported goods. This is something I feel is so relevant today as well in social content and also environmentally. I also feel Khadi makes you feel a certain way, like the calm in the chaos. It is so much more than just an antidote to consumerism. As it's high in craftsmanship and timeless, people will buy less. But it is also a style statement that says certain values, thoughts and feelings about the community.
✿ Did the experience of realising this project bring any surprises? What was unexpected?
I did not have an end goal. As I took obvious steps on the path that kept opening for the project, it kept evolving, so in that aspect, everything was a surprise. I didn't think we would do London and then another one in Delhi. And now I see this more like an art piece/ philosophical concept than just a craft display. So it has a life of its own. Also, the viewers like different fabrics from the ones that were my favourite, which is nice to see.
✿ How is this project sustained? Did you have funding?
We didn't have any funding. I support the project entirely and somehow manage the expense because I run a creative agency. That's how my publication runs as well. However, during both the times, we got lucky as we got government venues, so we saved on that and some designers were generous to contribute the fabrics. But there are a lot of overheads of travel, marketing, production, printing and other materials for installation.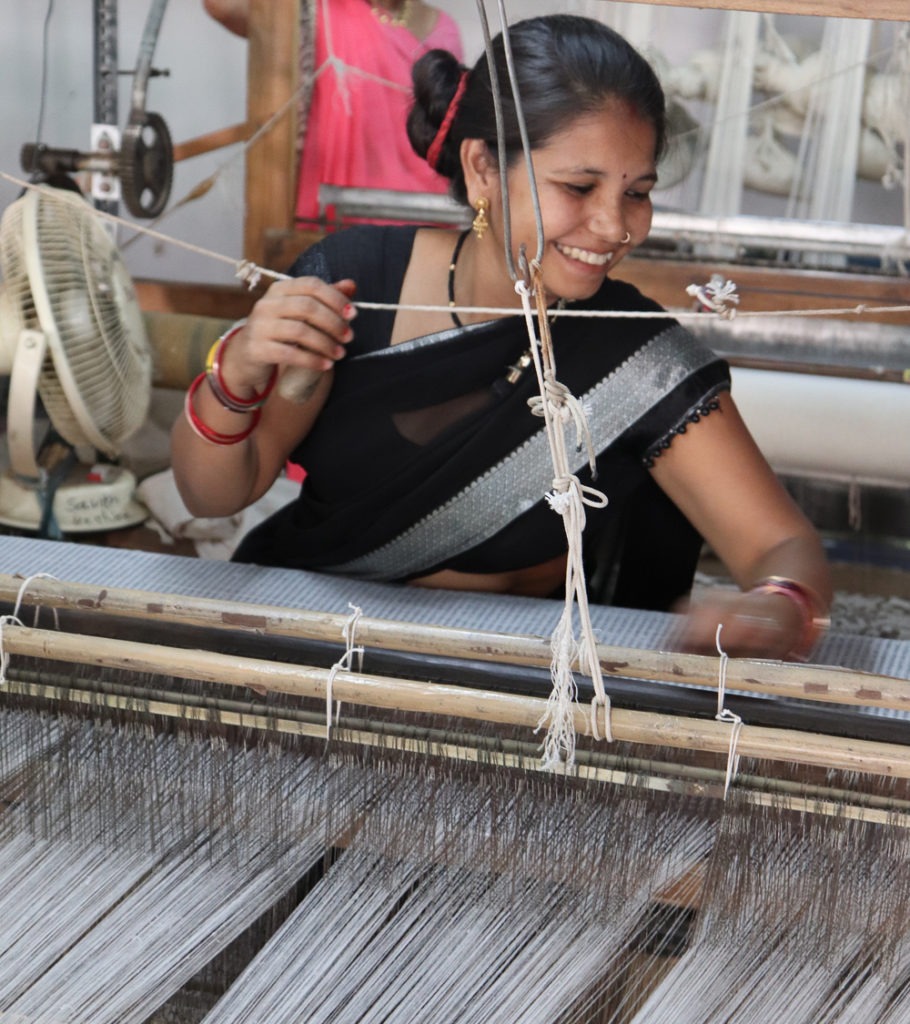 ✿ What is the state of khadi in India today? Is it economical for artisans?
It's difficult to make one general statement as khadi is made in different states by different clusters. Not every cluster is economically sustainable. The good thing is that there is more awareness in the consumers and designers are using these textiles, thus increasing the demand and value of khadi too. This obviously translates to economic sustainability as it has an added design value. This is true for the handloom sector in general. Also, there are organisations who represent them digitally and are trained to have them work with international designers, which makes it easier for people to give them more business.
Do you see a way to extend your project beyond the exhibition into products? I don't know about designing products yet, but I have just launched an art shop that curates minimalistic vintage objects. The idea is to share material, slow living and find beauty in handmade/not so perfect/ unique things. I feel the essence of the concept is very SAFED. I am also doing art prints from the SAFED collection after the third exhibition.
✿ And can you share your plans for future projects?
O there are so many! Cocoa and Jasmine has grown into a five-fold cultural platform that includes a publication, exhibitions, education (I have started to mentor students from London College of Communication as well as give workshop based cultural lectures in design school in India), travel experiences focusing on design and craft, ART shop and a consulting agency. I see more installations and material research coming out in the future. For my next print issue, I am going to Morocco and Mexico to research weaving and embroidery and I totally see some installation/ exhibition coming out of it in 2021.
All images are from SAYALI GOYAL of Cocoa and Jasmine. For more information, go to www.cocoaandjasmine.com and Instagram @cocoaandjasmine.
Author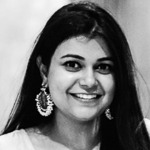 Sayali is a cultural curator and founder/editor of Cocoa and Jasmine, a cultural platform that facilitates multidisciplinary and cross-cultural collaborations through a publication and exhibitions. Sayali comes with a textile study background from the University of Arts London, and since then has worked in the field of design, communication, travel and now publishing. Sayali also mentor's independent publishing students at University of Arts London and contributes as a journalist to various publications.
✿
Like the article? Make it a conversation by leaving a comment below.  If you believe in supporting a platform for culture-makers, consider becoming a subscriber.
Tags