Stephanie Radok reviews a book about the recently departed Annabelle Collett, a legendary textile artist who signature work was The Museum of 20th Century Fabric.

(A message to the reader.)
I made two road trips out of Adelaide with the late great artist Annabelle Collett. When we drove to Mildura in 1999 to attend the second Mildura Palimpsest in which we both had artwork she insisted on stopping at every single op shop on the way where she collected glass, plastic, fabric and whatever else she wanted.
The most important of Collett's continually ongoing collections was what she called The Museum of 20th Century Fabric. It comprised lengths of fabric that had been bought in order to make something but never used. Each length of fabric told a poignant story about its era and its anonymous owner's intentions. Collett used the fabrics as social history, inspiration and raw material, and played with the languages of fabric design and clothing through exaggeration and juxtaposition.
When we finally got to Mildura the opening was already underway. The eminent artist John Wolseley was doing the honours while wrestling with an impressively large drawing on paper. Annabelle had previously installed her very ambitious work, Fruit Pickers Skirts, high up in the palm trees outside the Mildura Art Gallery. This striking work commemorated all the migrant workers in the Riverland and included recipes which were also handed out. I still have the sheet of paper with her drawing of the trees and recipes for Torte di Arance and Panvinesco.
In 2002 on the way to Melbourne Annabelle and I stopped at fewer op shops and delivered Collett's artwork The Re-Make – Great Leap Forward that had been acquired by the Ararat Gallery Textile Art Museum Australia. When we got to Melbourne we bought a bottle of gin to celebrate. In no time at all, we were buying another one.
It has to be noted that as well as being famous for her hardworking creativity Collett was famous for partying, living life to the full, being generous and encouraging. Fun was had.
In the new book Annabelle Collett: Creator and Catalyst written by labour, textile, fashion and social history scholar Kathie Muir timed to be published on the occasion of a Retrospective Exhibition at Signal Point Gallery at Goolwa curated by Eleanor Scicchitano, Collett's wicked smile reappears in the photographs of her and reminds all who knew her of the inspiring warm strong life force that she was. For this alone, I will treasure the book.
Collett was self-taught, coming from a family of makers. She was very young when she began earning a living from her artwork and continued to do so all her life. As any artist will know this is a great achievement requiring immense hard work, focus and discipline. Collett began with fashion, moved into interior design—the nightclub Limbo is a famous early 1980s work, and created many public artworks as well as numerous gallery pieces often critiquing feminine stereotypes in fashion, body image and social history.
She had important residencies in Paris, Milan, Sydney, Melbourne, Adelaide and most recently in Vietnam.
The book follows the format of Wakefield Press's SALA series of monographs on SA artists in being big, bright, beautiful, and having a substantial gallery of images.
The text is divided into five sections, each dealing with an aspect of Collett's practice –  YaYa Oblique Clothing and Ya Ya Designs; Gender and the Body; Plastic Fantastic; Innovations and Disruption: Subverting the Language of Textiles; and Catalyst in and with Community.
Annabelle Collette – Cape of Good Hope (detail), 1999, silk, turkey, chicken and other wishbones, embroidery thread, 120 cm x 110 cm. Museum and Art Gallery of Northern Territory collection. Photos – Michal Kluvanek
Annabelle Collette – Cape of Good Hope, 1999, silk, turkey, chicken and other wishbones, embroidery thread, 120 cm x 110 cm. Museum and Art Gallery of Northern Territory collection. Photos – Michal Kluvanek
The use of hand-embroidered text was an important feature of Collett's gallery pieces. Works such as Cape of Good Hope (acquired for the collection of the Museum and Art Gallery of the Northern Territory), Pretty Insane, Re-dress, and Modifying the Form place a feminist voice, an intimate and explicit woman's voice into the work. My favourite in Modifying the Form says: "Imagine being told you are not quite fat enough, that you must be round like the earth herself, for the earth holds so much".
Another lovely part of the book is the Tributes section at the back where curators based all over Australia remember this special artist. Michael Snelling's memories of his swimming pool desk painting by Collett is a high note.
The work was always decorative and often political, recycling materials way before that was common and taking plastic to new heights. Everything she made was well-made. No glue gun for this artist, states Muir, who also recounts how at one stage Collett had Adelaide divided into zones in order to be able to do the op shops in a systematic way every month.
The last ten years of her life were spent living at Clayton Bay near Lake Alexandrina in the lower Murray region where she embedded herself, not only making friends but artworks in and with the community as well as curating multiple exhibitions at Signal Point Gallery.
The book is a fitting tribute to the creative force that was Annabelle Collett who will live on in state and national collections and in people's hearts and thoughts.
Annabelle Collett: Creator and Catalyst, Wakefield Press, 2020.
Retrospective Exhibition, Signal Point Gallery, Goolwa until 29 March 2020.
Author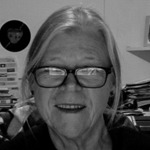 Stephanie Radok is an artist, writer and curator based in Adelaide, South Australia. Her survey exhibition The Sublingual Museum was held at Flinders University Art Museum's City Gallery in 2011. In 2013 her book An Opening: twelve love stories about art was longlisted for the inaugural Stella Prize for writing by Australian women.
✿
Like the article? Make it a conversation by leaving a comment below.  If you believe in supporting a platform for culture-makers, consider becoming a subscriber.
Tags