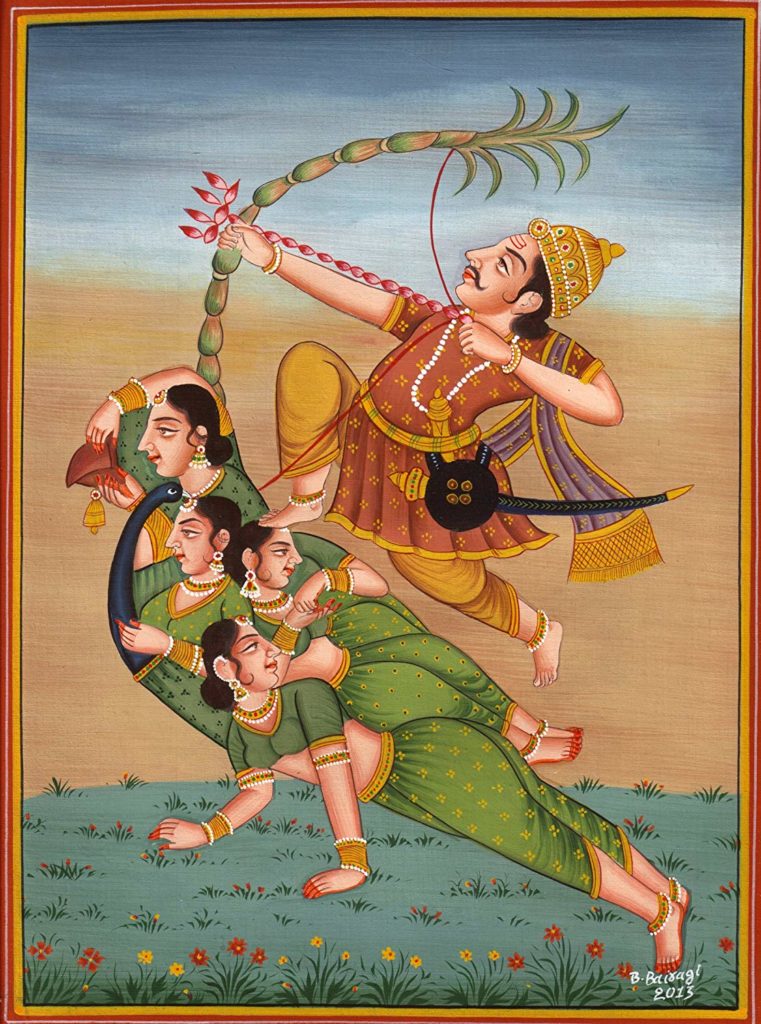 "Uphaar" is a Hindi word for offering or gift or any service done by heart for someone. How can objects bring us closer together? Indian culture is replete with rituals for binding beings, including the extravagant wedding celebrations and the ties made to connect brother and sister. We will explore the increasing diversity of this love, including feelings for nature. Read tales of wedding games, sari memories, jewels of vengeance and the love of making. Along the way, we will visit Tamil Nadu, Kerala, Bangalore, Sri Lanka, Mauritius and Australia.
Like Cupid, the Indian god of love Kamadeva shoots arrows of love: each arrow is decorated with ashoka, mango, jasmine, white and blue lotus flowers. In this issue, we share stories of the Indian craft of bringing people closer together through ornate devices. This is particularly evident in weddings, a variety of which feature in this issue. What can we make that will bring people closer together? Getting to know someone can be awkward and help is necessary to break the ice. When a lifetime commitment is made, we turn to objects that can represent our enduring bond.
The proof of this arrangement can be found in Mitraja Bais' Quarterly Essay, which invites us into the work of the Chittinars in southern India, who have a custom of a second marry when they turn 60 years of age. We are also given front-row access to Indian weddings by Manasee Jog, who highlights the objects used to playfully break the ice between a couple, and Veemanda Curpen, whose careful description of a Tamil wedding in Mauritius reveals a particular significance of the toe as a site of respect. Bony Thomas and Shirley Bhatnagar share particularly romantic stories from Indian history, while Aarti Kawlra and Pooja Kaul help us understand how the sari comes to hold such precious memories of love.
We gather other intriguing stories from India. LOkesh Ghai continues this hands-on experience with Rabari to identify song as a key element in their craft culture, reflecting Gopika Nath's story of the phulkari. Daniel Connell takes us to Kerala's annual bonfire ritual, Sarra Tjizan shares her encounter with outdoor metal casting. Sayali Goyal writes of her project to appreciate the simple beauty of khadi weave. Kaamya Sharma takes us on the road for dhurries in Rajasthan and Ruth Clifford presents a model of ethical tourism in Kutch. Shruti Agrawal shares the blessing of the scriptures ritual in the Himalayas, while Kriti Bhuju honours a Nepalese master.
A third set of articles expand love's boundaries. Vipoo Srivilasa's ceramics embody a love that does not discriminate by gender, inspired by a Thai folk tale. Eina Ahluwalia's powerful Wedding Vow collection re-makes jewellery for female empowerment. Lela Kulkarni, Palmesh Cuttaree, Varuni Kanagasundaram, Julia Raath, Alasdair Mackinnon and Eddy Carroll transport Indian craft to the diaspora around the world. Jules Christian counterpoints this with "vessels of love" make by her Indigenous Aboriginal community and Antonio Aricò offers an exuberate design that a performs Sicilian love story.
Elsewhere in the world, Maggie Baxter shares the vision of the Indian Ocean Craft Triennial, Gary Warner discovers an enchanted version of Indonesian Wayang in Sydney and Stephanie Radok pays tribute to a vibrant eminence in Australian craft history.
This issue coincides with a historical lockdown across the world due to the Coronavirus pandemic. This offers us a golden opportunity to consider what really matters to us, including the precious tokens that house our feelings for the object of our love.
✿
Like the article? Make it a conversation by leaving a comment below.  If you believe in supporting a platform for culture-makers, consider becoming a subscriber.
Tags