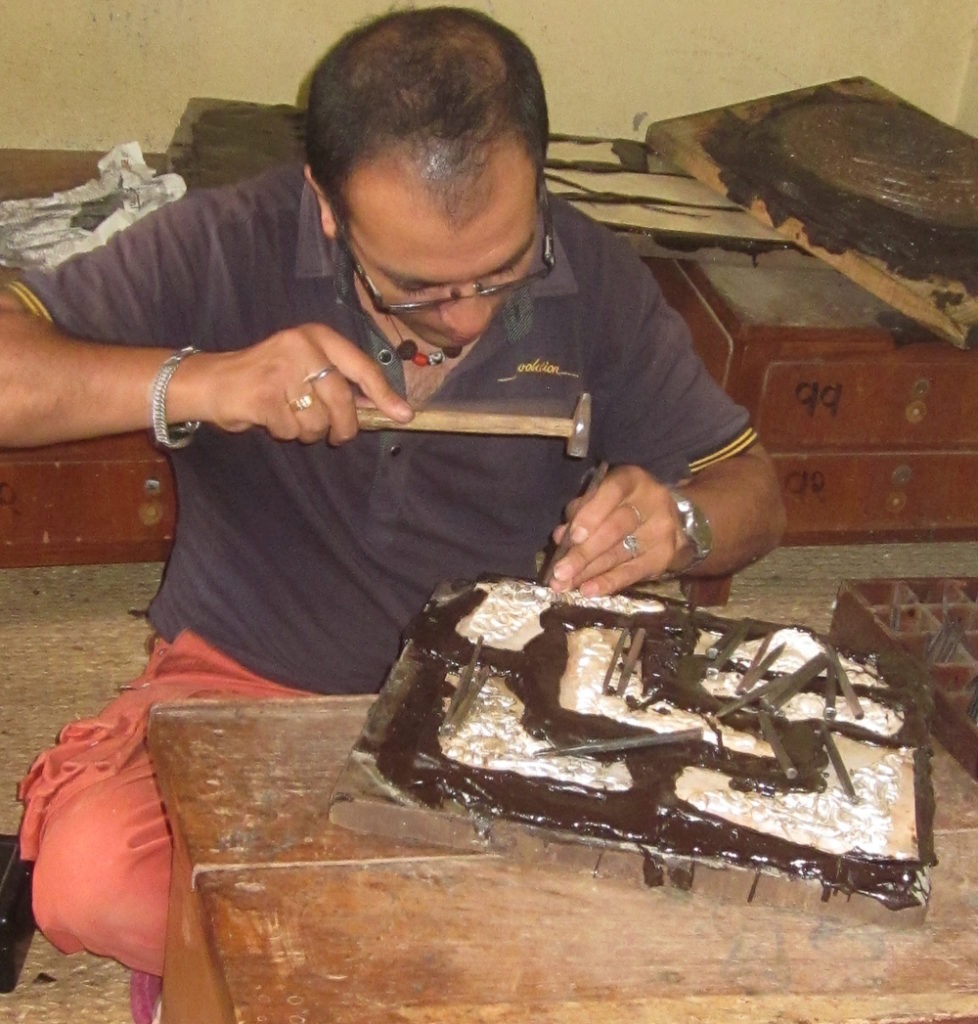 Kriti Bhuju writes about the craft master Prachanda Shakya and reflects on the condition of crafts in Nepal today.
On a warm Sunday evening in 2016, I met a man who was worried about handmade products being replaced by their machine-made versions. This man was passionate about teaching a new generation the art of making metal sheet handicraft and thankas. While I sat for four hours with this young man, I understood what it takes to be an artist, how they work and the importance of artist for a country and the world. I am grateful to Prachanda Shakya from Lalitpur, Bagmati Province, Nepal who helped me to learn about the life of artists and the nature of their work. I then decided to write about what I learnt from him which made my Sunday so fruitful.
For Shakya, handicraft is a piece of artwork where the artisan reflects their skills and knowledge that is either inherited or learnt. When I met him, he expressed his dissatisfaction telling that though handicraft is something that requires a lot of imagination, dedication and effort people lack awareness and look for cheap products that are machine-made.
Despite all his efforts to make people aware of differences in a "real" handicraft and machine-made products which confuses people, Shakya admits that there are lots of challenges in the field that need to be dealt with.
Using hands for survival and satisfaction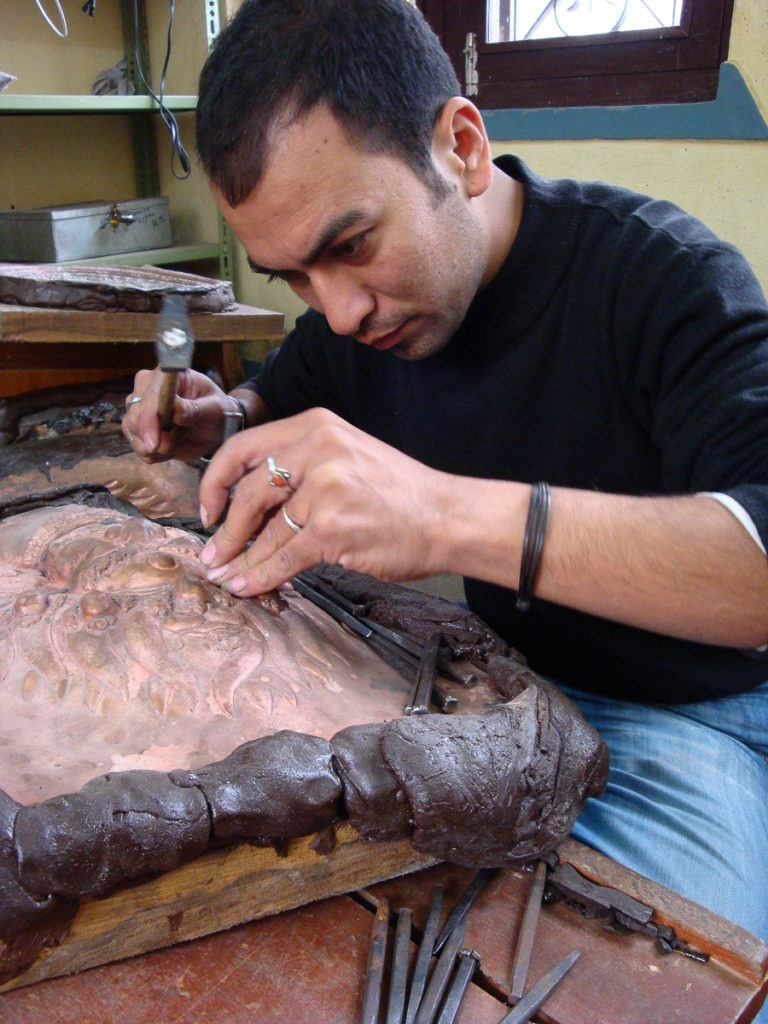 Any artisan creates art for two purposes, either it can be just their pastime or passion or it can be their profession and the means for survival. When I met Shakya, I found that all his family from the last five generations have been making the handicraft and this has been a means for their survival.
Shakya in his family is the fifth-generation artisan who has been in the traditional handicraft making especially metal sheet handicraft and thanka painting. Since then and till present those skilled hands have been the means of survival for the Shakya family.
For Shakya, both his paternal as well as maternal family has been making craft for many decades. Shakya explained to me that for an artist, any design for craft is created in mind and completed or materialised using hands.
The artisan gains experiences with passing time experimenting in his idea and vision of what he wants to create. Some artisans learn from the previous generation, some learn through training and some by just trying to reflect their mood and ideas into something artistic.
For Shakya, he learnt metal etching and thanka painting out of his enthusiasm to try what his parents and grandparents have been doing. Born in 1976, I found Shakya has established himself as a perfect artisan and a trainer who has exhibited his arts in various parts of the world. To name a few, he has exhibited his arts at Mandala Exhibition in Alchemy Festival in the United Kingdom and Hidden Treasure of Art at Kennesaw State University in the United States.
Shakya says that making a craft is not only his passion but he something he is born with. "I feel that I am born to create and explore craft, challenge the latest automated technology and to establish handicraft as a profession through which one can easily earn their living and at the same time enrich the social and cultural values of the society and the country," Shakya proudly said.
How he became an artist?
Shakya learnt the art, the craft and the ways of making from his enthusiasm to copy what his father and grandfather used to do. At a very early age of 11, he started learning metal etching. He used to sit in his father's lap, disturb him in his work and fight with him to try using the hammers and the chisels. Later on, his father used to catch his hand and they both used to beat the metal sheet together according to Shakya. I could feel his happiness when he shares how he learnt the art of metal carving. The smile in his face reflected how avid he was to learn the art of metal etching.
His ancestors learnt the metal etching and Repousse by helping other craftsmen in their work.
While metal etching was learnt by seeing and helping his father, Shakya took training for thanka painting.  He took traditional art training right after his School Leaving Certificate examination in grade 10. He then started painting thankas from the year 1995 at Aksheswor Mahabihar at Lalitpur district of Nepal.
Shakya's specialization is in metal carving and thanka painting.
Metal carving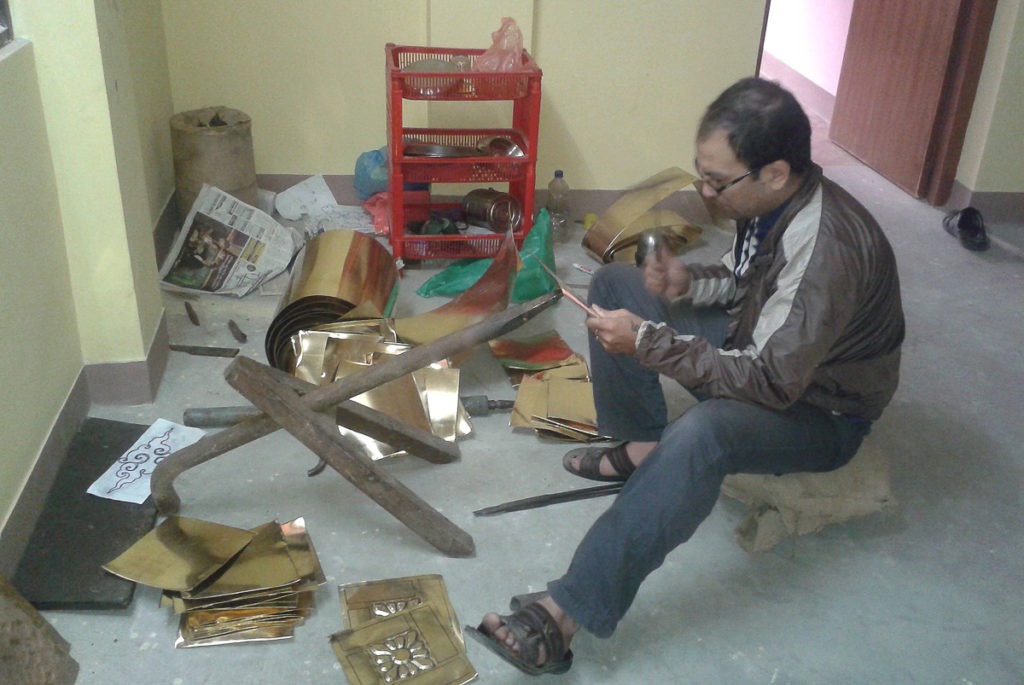 Metal carving is the art of creating lines and pictures in a metal sheet with very minute details. The final product that traditionally depicts the gods and goddesses.
Shakya's main strength lies in how excellently he carves the tiny little details in a copper sheet. He also carves in gold, silver and bronze sheet depending on the need of the craft lovers. He is perfect in Repoussé wherein he creates a craft by hammering malleable metal sheet from the reverse side.
When I visited his work station, I was surprised to see how by just using simple tools like hammers, chisels, steel, and iron rods, of different sizes, he makes an art that is so perfect. I spent four hours watching how he made a unique piece of art and I bet that anyone can spend hours seeing how he forms a unique piece of creativity.
Even though various electric metal etching tools are available in the market, Shakya never uses those and believes in the theory that simple tools can make great creations.
It takes lots of time doing it all by hand. One needs to have passion, dedication and vision for the final production of craft to be motivated throughout the making process. And once you get the final product in hand, only the artist can feel how much happiness and satisfaction it gives which cannot be otherwise felt if made by using modern automated tools.
Thanka Painting
Shakya explained that thanka painting has its history back to Tibet and is a Tibetan Buddhist painting on fabric either cotton or silk. It is usually about Buddhism: its deity, scene or Mandala.
Shakya started thanka painting from 1995 after taking training in Aksheswor Mahabihar and since 1998, he worked as a volunteer for management of thanka training. Later in 2001, he started teaching thanka painting and since then he has been transferring his knowledge of painting to others mostly the newer generations.
I was impressed by how he has been inspiring a new generation into thanka making by using simple tools like pencil, glue, painting brushes and scale. Though the tools are simple, while seeing the artists at his school learn, I realised that one requires a very imaginative mind and must know about Buddhism to excel in this field.
Giving birth to artists
As there is no one in his future generation who is interested in the handicraft making, Shakya was worried that the works carried out by his generations will come to an end. However, Shakya did not let it happen and founded Nepal Traditional Handicraft Training Center (NTHTC) in 2006 to transfer his skills and continue contributing to the crafts. Currently, Shakya is putting all his efforts to establish a traditional art college in Nepal.
Many people want to learn the art of making craft but the problem is they do not continue. Shakya motivates people into craft making by saying that, "Nobody is perfect, one makes mistakes in his first or second try but practising it and improving the creativity will sharpen your hands and one day you will be a master in your crafts".
Shakya's contribution to craft education
With a belief that, given the proper skills and opportunity for development, anyone who has the zeal to learn can become an artist, Shakya established NTHTC to provide platform for those interested in craft. Shakya is currently the managing director of the centre.
So far, the centre is the only school where one can learn the art of mastering craft. The two-year-long extensive course for the enthusiasts is a mix of theoretical and practical knowledge where Shakya and his team of six other trainers give birth to artisans.
Everyone who visits the training school can sense that Shakya is working hard to preserve the tradition of art-making, transfer the knowledge to the future generation so that the ritual is carried on and unique and creative products are being made.
By 2019, the centre has educated more than 1,000 art and craft lovers, but only around 60 artists have completed the two-year course and mastered themselves. Those artists who have completed the course are training their family members and relatives and transferring skills. More than 80 per cent of the students who have learnt have been contributing to the tradition of art-making as their passion, though they have not make art as their profession."Many come here just for passion, but they are not inherently passionate about it and hence they just learn the basics and do not actually consider handcraft making as their profession. But yes, there are some people who have the zeal for the craft making and they are doing perfectly well for conserving the tradition of handicraft making," Shakya said.
There are many institutes which train the craft thanka painting in Nepal. However, NTHTC is the only institute where one can master in various traditional handicrafts which includes Paubha painting, Wood Carving, Stone Carving, Repousse, Sculpture Clay Work and Traditional Graphic Design. This centre is privately-run and has not received any help or funding from government, non-governmental organizations and not even from the Federation of Handicraft Association of Nepal (FHAN).
Problems of the artisan in Nepal
There are lots of challenges in the field that need to be dealt with. In the case of Nepal, very less, almost nominal research has been carried out for the craft and of the craft makers. Hence the problems of the artisan are very rarely raised. The problems can be discussed in various topics.
Appetite for Handmade: There is an appetite for handmade products in the international market, but the problem is with delivery. The international market needs faster delivery but to make it completely by hand is not that easy as it takes time and requires much passion and dedication. Lack of mechanism to certify that the product is completely handmade has been a major problem for the artisans in Nepal.
Machine-made versus traditional handmade: In this era of industrialisation, though people want something very fast and opt for branded ones, there are people who opt for handmade products. Handmade products are unique and the design amazes people, but the problem is the same product can be copied and made using modern tools.  There are no criteria about how much use of machines can be considered to say it is handmade. These days' modern machines are used and final touching is done by hand and they are labelled as handicraft so this has confused the buyers and worried the artists.
Patent right and uniqueness: Handicrafts are unique products designed in the mind of an artist and produced using hands through passion and dedication. However, it is easy to copy one's creativity and make a similar craft if not the same.  Till date, the products of Nepali artisans are not patented.
Even though Nepali handicraft has amazed people around the world, the issue of patent right is not yet practised in Nepal for the handicraft sector. Even though there is a provision of registering their craft at the Handicraft Design Center, nobody has done so far mainly because it is expensive and the artist cannot afford and also because many do not know about it.
In an interview with Puskar Man Shakya, Vice President of World Craft Council, South Asia, he said that getting the patent right for his /her creativity for an artist is almost impossible as it is something that artists in Nepal cannot afford.
Lack of infrastructure: Lack of proper training centre, mostly for traditional handicraft making, infrastructure for innovative product designs for traditional as well as contemporary art and crafts has been a major challenge.
Self-employed but many unregistered:  Making your own craft and design helps eradicate the unemployment problem in Nepal. Learning handicraft and being self-employed is the best opportunity to explore the skills and talent and create one's own design. However, the problem is many artists who have started their own handicraft workshop are unregistered and have to obtain the help of other exporters to sell their creativity in the national and international market.
Lastly, I believe that, given the priority by the Government of Nepal, the art of traditional handicraft making can take the form of bigger industry in Nepal and fifth-generation artists like Shakya needs to be promoted.
Author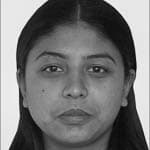 Kriti Bhuju, from Nepal, is a doctoral candidate at Communication University of China. She worked in an English Daily called Republica for six years from 2010 to 2016 where she wrote stories about artists, handicraft promotion and other business issues. When she joined Helvetas Swiss Intercooperation Nepal, she worked to provide skills training for employability in different sectors including handicrafts. She is passionate about listening to people and writing their voices to bring positive changes in society.
✿
Like the article? Make it a conversation by leaving a comment below.  If you believe in supporting a platform for culture-makers, consider becoming a subscriber.
Tags