Bali is inseparable from its ceremonies. Not a day passes without any kind of offering ceremony. It ranges from the highest in the majestic temple, to the most humble one such as everyday offering that is laid at every entrance of every house, or any significant spot that are considered sacred around the neighborhood. The offering ranges from the simplest canang sari to the enormous banten jerimpen that stretch towards the sky. Those ceremonies encourage creativity in every Balinese Hindu. It encourages them to always create an offering to be presented to the majesty of the Gods.
The consciousness of oneself sparks existential questions in the soul of human being. The questions about who are our true selves, who are our mother and father, who are the mother and father of our parents, who are the grandparents of our grandparents might be. We ask questions after questions until we find ourselves in indescribable state. When all of those questions lead to unexplainable plight, Balinese Hindu has one beautiful answer: nakmulaketo ("As it is"). This saying reflects the faith of Balinese Hindu in the existence of God as the Creator, whose names Sang Hyang Widhi Wasa, Sang Hyang Parama kawi, Sang Hyang Parama Wisesa, Bhatara Siwa, among others signify its omnipotence. Nak mula keto becomes synonymous with the Omnipotence of God that is absolute. Realising the transcendence omnipotence of God being the reason of our existence, among all living beings, nature and whole universe as it is, or nak mula keto, all Balinese Hindu nurture constant gratitude and giving praise in their life. The feeling of gratitude to God is manifest in the form of offering and one of its forms is banten.
According to the lontar (palm leaf manuscripts) writings of Bhuwana Tattwa Maha Rsi Markandeya,it was recorded that Maha Rsi with his followers came to Bali and established themselves here in 858 year of Saka (936 A.D) in Taro, Gianyar. In the beginning, Maha Rsi taught the locals to make various offerings to God, using flowers, fruits, water and fire. An offering is called "Bali" or "Banten". As time goes by, these people who worship the One and Only God using Bali or Banten are called People of Bali. This tradition of worshiping God using Bali or Banten endures the time until now.
Means of Worship
Besides expressing their gratitude to God for His grace,Balinese Hindu also manifest their gratitude by respecting and worshipping all of God's creations such as human beings, other living beings, nature, technology, arts, time,and all of other things. This gratitude is expressed by doing Panca Yadnya, or five sincere holy sacrifices. Panca Yadnya consists of Dewa Yadnya (holy sacrifice for Gods or Devas), Pitra Yadnya (holy sacrifice for ancestors of elderly), Rsi Yadnya (holy sacrifice for Rsior Gurus), Manusa Yadnya (holy sacrifice for human being) and Bhuta Yadnya (holy sacrifice for bhuta or nature). Every Yadnya subject does these holy sacrifices sincerely in various ways according to their capacity and understanding.
There are four ways of doing Yadnya which is called Catur Marga: Bhakti Marga (the way of using aid instruments); Karma Marga (the way of using deeds); Jnana Marga (the way of using knowledge)and Raja Marga (the way of using Yoga). The Bhakti Marga is a Yadnya in which Balinese Hindu use Banten and other aid instruments.
As the way of doing Yadnya, Balinese Hindu usually make use of plants, animals and other natural substance that can be found in surrounding nature. All of those objects are creatively arranged to be worthy to symbolise the love and gratitude of the people to God. The uses of these objects are according to the Hindu holy book Bhagavad Gita 9, 26:
"patra. pu.hpa. phala. toya. yo me bhaktya prayachchhati tadaha. bhaktyupah.itam ashnami prayatatmana".
This verse translated as:
"If one offers to me with devotion a leaf, a flower, a fruit, or even water, I delightfully partake of that article offered with love by my devotee in pure consciousness."
These diverse offerings were accepted by God according to Bhagavad Gita. It enabled Hindu people to freely use their creative artistic ability to produce various forms of offerings, which always develop along times. The creation of Banten is according to Desa Kala Patra (when and where it might be created), thus result in many various form. But there are two main concepts that signified by Balinese Hindu's Banten wherever they might be: as a symbol of the Omnipotent God and as a symbol of worship by human to God. Banten of Balinese Hindu has only three distinctive geometric shapes: a circle to symbolise God or Eternity, a triangle to symbolize Harmony and a square to symbolise a foundation for passing through life.
Banten Jerimpen
Among many kinds and forms of Banten that Balinese Hindu make, Banten Jerimpen is one of the distinguished and has many varieties. The name of Banten Jerimpen cames from the word jeri which means "finger"; and empen or empu which that means "Holy Guru". Banten Jerimpen could be translated as an offering to reach the transcendent universe, in this case, a symbol of the Omnipotent God. Materials to make Banten Jerimpen usually are leaves of coconut, enau (Arengga pinnata), lontar (Borassus flabellifer), or stalk of bamboo and wood. These materials are woven into a mat to be constructed into colorful cylinder tubular shape. This empty cylinder will then be filled with snacks, fruits, full rice meal, porosan (a mix of sirih "Piper betle" leaves, kapur sirih (concoction of limestone) and the fruit of pinang (Areca catechu)) and flowers. A circle shaped janur (intricate artistic arrangement of young coconut leaves) is arranged on the top of Banten Jerimpen. This ornament is called Sampien Jerimpen.
In every Yadnya, the minimal number of Banten Jerimpen to be made is two. More can be made but they should always be in multiples of two. This symbolizes the omnipotence of God which is both material and immaterial, both body and soul. This two Banten Jerimpens will be placed aside each other. The simplest form of Banten Jerimpen will use minimal material, but the most extravagant one will use lavish material and beautifully decorated. Its Sampian Jerimpen will also could be simple and humble, but Sampian Jerimpen also could be intricately decorated and enormous in size with cascading ornamental janur leaves.
The making of Banten Jerimpen provide a vast room of artistic creativity for Balinese Hindu to express their gratitude for The One and only God, as a creator of everything exists, that had been and might be. Banten Jerimpen is a way for Hindu people to reach the Transcendence Universe, the Omnipotence of God.
Translated by Frans Panjaitan. Photos by Wayan Gunayasa
Author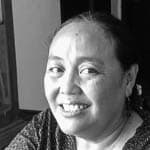 Anak Agung Sagung Mas Ruscitadewi was born and lives in Kesiman, Denpasar. She studied archeology at Udayana University Bali, S2 and is studying S3 at Hindu Philosophy Department, Institute of Hindu Dharma Negeri (IHDN) Denpasar. She was a the pioneer of the children's publication Latitude and Balinese speaking paper "Bali Orti". She is now a curator of Bali Art Degree Mandara Nawanatya, which is held all year in Denpasar Cultural Park, as well as builder of theatre.
Anak Agung Sagung Mas Ruscitadewi, lahir dan tinggal di Kesiman, Denpasar, belajar arkeologi di Universitas Udayana Bali, S2 dan sedang mengikuti S3 di Jurusan Filsafat Hindu, Institut Hindu Dharma Negeri (IHDN) Denpasar. Perintis tabloid anak-anak Lintang dan Koran Berbahasa Bali "Bali Orti", kini sebagai kurator Gelar Seni Bali Mandara Nawanatya, yang dilaksanakan sepanjang tahun di Taman Budaya Denpasar, sekaligus sebagai pembina Cak, Janger dan Teater.
Indonesian
Banten Jerimpen, Persembahan Mengapai Semesta
Ketika menyadari diri ada, berbagai pertanyaan berkecamuk dalam diri manusia. Pertanyaan tentang siapakah diri ini, siapakah bapak dan ibu dari bapak dan ibu, siapakah bapak dan ibu dari kakek dan nenek, siapakah kakek dan nenek dari kakek dan nenek, begitu seterusnya, sampai pada batas yang tak bisa dijelaskan lagi. Ketika semua pertanyaan tak bisa lagi dijelaskan, maka umat Hindu di Bali menjawabnya dengan kata "nak mule keto" yang berarti memang demikianlah adanya. Kalimat "Nak Mula Keto" ini mencerminkan keyakinan umat Hindu Bali akan keberadaan Tuhan sebagai Sang Pencipta yang disebut Sang Hyang Widhi Wasa, Sang Hyang Parama Kawi, Sang Hyang Parama Wisesa, Bhatara Siwa dan banyak sebutan lain yang bermakna kemahakuasaan. Kalimat "Nak Mula Keto" menjadi identik dengan Kemahakuasaan Tuhan yang bersifat mutlak.
Menyadari diri bahwa keberadaan manusia, mahluk hidup, lingkungan dan semua alam semesta ada karena kemahakuasaan Tuhan yang tak terjangkau dan memang demikianlah adanya atau "nak mula keto" maka umat Hindu di Bali diajarkan untuk selalu bersyukur dan mengucapkan rasa terima kasih dalam hidupnya. Rasa terima kasih kepada Tuhan diwujudkan dalam berbagai bentuk persembahan. Salah satunya berupa banten.
Menurut lontar Bhuwana Tattwa Maha Rsi Markandeya, dijelaskan bahwa Maha Rsi bersama pengikutnya yang datang ke Bali dan membuka daerah baru pada Tahun Saka 858 atau 936 Masehi di Taro, Gianyar, Maha Rsi mula-mula mengajarkan masyarakat setempat membuat berbagai bentuk persembahan kepada Tuhan mengunakan daun, bunga, buah, air dan api yang disebut "bali" atau "banten", sehingga lama-kelamaan orang-orang yang melakukan pemujaan kepada Tuhan Yang Maha Esa dengan menggunakan sarana itu disebut orang Bali. Tradisi melakukan pemujaan kepada Tuhan dalam bentuk "bali" atau "banten" dilanjutkan sampai sekarang.
Sarana Pemujaan
Selain berterima kasih kepada Tuhan atas anugrah yang telah dilimpahkan, umat Hindu di Bali juga memanisfestasikan rasa terima kasihnya dengan melakukan penghormatan dan pemujaan kepada segala aspek ciptaan Tuhan, seperti manusia, mahluk hidup lain, alam dan lingkungan, teknologi , kesenian, waktu dan lain-lain. Ungkapan rasa terima kasih itu dilakukan dengan melaksanakan lima yadnya atau pengorbanan suci yang tulus iklas, yang dikenal dengan istilah Panca Yadnya. Panca Yadnya terdiri dari Dewa Yadnya (pengorbanan suci kepada Tuhan atau Dewa-Dewa), Pitra Yadnya (pengorbanan suci kepada Leluhur atau orang tua), Rsi Yadnya (pengorbanan suci kepada rsi atau para guru), Manusa Yadnya (pengorbanan suci kepada manusia), dan Bhuta Yadnya (pengorbanan suci kepada bhuta atau alam). Pengorbanan suci yang dilakukan dengan tulus iklas ini dilakukan dengan berbagai cara tergantung kemampuan dan pemahaman pelaku yadnya.
Dalam melakukan yadnya dikenal empat macam cara atau jalan yang disebut Catur Marga yaitu: Bhakti Marga (dengan cara/ jalan menggunakan alat bantu), Karma Marga (dengan cara/ jalan perbuatan), Jnana Marga (dengan cara/jalan pengetahuan), dan Raja Marga (dengan cara/jalan Yoga). Yadnya yang dilakukan umat Hindu di Bali pada tahap Bhakti Marga inilah yang banyak menggunakan alat bantu atau sarana seperti banten maupun jenis-jenis sarana yadnya lainnya.
Sebagai sarana melakukan yadnya umat Hindu di Bali biasanya memanfaatkan tumbuh-tumbuhan, binatang dan alam yang ada di sekitarnya. Tumbuh-tumbuhan, binatang, dan alam itu dikreasikan sehingga mampu mewakili rasa cinta dan terima kasih umat yang besar kepada Tuhan.. Penggunaan sarana ini mengacu pada kitab suci agama Hindu Bhagawadgita IX.26, yang berbunyi:Pattram puspam phalam toyam/Yome bhaktya prayaccati/Tad aham bhaktyu pakrtam/Asnami prayatat manah. Yang artinya:Siapapun mempersembahkan kepadaKu daun atau sebuah bentuk, bunga atau sesuatu yang mekar, buah-buahan atau suatu perbuatan, dan air atau sesuatu yang mengalir, persembahan yang didasari oleh cinta dan keluar dari lubuk hati yang suci, Aku terima.
Berbagai bentuk persembahan yang diterima Tuhan menurut kitab Bhagawadgita ini membuat umat Hindu bebas mengkreasikan daya cipta keindahannya, menghasilkan persembahan yang beraneka ragam, yang berkembang dan terus berkembang seiring waktu. Banten yang dipersembahkan umat Hindu di seluruh Bali tidak sama antara daerah yang satu dengan yang lainnya karena sangat tergantung dengan Desa Kala Patra (Tempat Waktu dan Keadaan), tetapi secara umum ada dua hal yang sama diwakili oleh banten umat Hindu Bali dimanapun berada, yaitu: sebagai simbol Tuhan Yang Maha Kuasa dan sebagai simbol manusia dalam memuja Tuhan. Sedangkan secara bentuk sesungguhnya hanya ada tiga bentuk geometri khas dalam banten orang Hindu Bali pada umumnya, yaitu: bulat atau lingkaran yang mewakili Tuhan atau keabadian, segitiga yang melambangkan keharmonisan dan segi empat sebagai dasar dalam menjalani kehidupan.
Banten Jerimpen
Diantara sekian banyak jenis banten dan bentuk banten yang dibuat umat Hindu di Bali, Banten Jerimpen adalah salah satu jenis banten yang sangat menonjol dan memiliki keanekaragaman. Penamaan Banten Jerimpen berasal dari suku kata jeri yang berarti jari dan empen atau empu yang berarti guru suci.Sehingga Banten Jerimpen dapat dimaknai sebagai persembahan untuk menggapai kesemestaan, dalam hal ini sebagai simbol Tuhan Yang Maha Kuasa.
Bahan dasar Banten Jerimpen adalah alas yang berupa sebuah tempat yang berbentuk lingkaran/bulat yang meninggi (berbentuk silinder), bisa terbuat dari jalinan daun kelapa, enau, lontar, bambu, kayu maupun bahan lain, berisikan jajanan, buah, nasi, lauk pauk, porosan (sebuah sarana yang terbuat dari daun sirih, kapur dan buah pinang) dan bunga. Pada puncak Banten Jerimpen ditenggerkan sebuah kreasi daun kelapa yang masih muda (janur) yang berbentuk lingkaran yang disebut Sampian Jerimpen. Dalam setiap pelaksanaan yadnya, Banten Jerimpen yang dibuat minimal dua atau kelipatannya, yang menyiratkan kemahakuasaan Tuhan yang bersifat nyata dan tidak nyata, yang bersifat lahir dan bhatin, yang diletakan di kiri dan kanan.
Pada Banten Jerimpen yang paling sederhana, bahan yang dipakai bisa seadanya atau secuil, tetapi tidak menutup kemungkinan bahan yang dipakai dalam jumlah yang banyak dan ditata dengan indah. Demikian juga dengan Sampian Jerimpen ada kalanya dibuat sederhana dan bisa juga dibuat sangat besar,rumit dan meriah dengan irisan daun janur yang menjuntai. Pembuatan Banten Jerimpen memberi ruang kreasi yang sangat luas bagi umat Hindu di Bali untuk menunjukkan rasa syukur dan terima kasihnya kepada Tuhan Yang Maha Esa, sebagai pencipta segala yang ada, yang pernah ada dan yang akan ada. Dan Banten Jerimpen adalah salah satu sarana bagi umat Hindu untuk menggapai Kesemestaan, Kemahakuasaan Tuhan. (Mas Ruscitadewi)
Kett. Foto Berbagai Jenis Banten Jerimpen yang dibuat Umat Hindu di Bali foto karya Gunayasa
✿
Like the article? Make it a conversation by leaving a comment below.  If you believe in supporting a platform for culture-makers, consider becoming a subscriber.
Tags