Each year, the Thai craft organisation SACICT hosts the International Innovative Craft Fair in Bangkok. This is a bountiful destination for discovering the evolution of Thai craft. The coin purse inspired by the traditional Thai dessert is just one example of the new products emerging in Thailand from a fondness towards its everyday culture.
My inspiration comes from the individuality of Thai culture and decades of folk wisdom. I blend the creativity in leather design with original Thai dessert package using banana leaf. The result is the Thai dessert collection
I graduated bachelor degree in the Faculty of Architecture division of Industrial Design. And I like to eat Thai dessert and I was thinking about our enduring love of this food. I wanted to present something unique about our culture. The idea for this specific product happened when I ate Khao Tom Mud, a Thai dessert while I planning my work. I realised that I would make something "real" of this and decided then and there to quit my job and started the Kanita brand.
I bought my Khao Tom Mud in the floating market, because it no longer as easy to buy this traditional dessert. Most people are interested in new modern dessert more than Thai dessert. So, a Thai dessert shop is rarely found in town.
I'm use a leather premium grade from manufacture in Thailand, which is chosen for its qualities of thickness, softness, strength and colour. The design is based on the real dessert, using green as banana leaf and  brown as dry banana leaf.  Obviously, real leather helps it last longer!
I designed all the products, made the patters and bought all the material, such as leather and spares, before sending it to the specialist from the Samutprakarn Province. He has fifteen years experience in leather sewing and I've known him since I started out.
Thai dessert collection is a great idea to make people know Kanita because the customer remembers this characteristic of Thai culture.  Although the currently the slow economy will affect their purchase, I believe that the good product designed is valuable in mind of customer.
Designer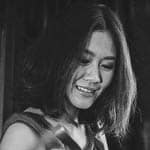 Kanita Kaniyomwakin lives in Bangkok and can be found on Instagram and her Facebook page,
where you can inquire about purchases. They are also available in outlets such as Kanita shop @ Asiatique the riverfront warehouse1 Trok2 (room1122-1123), BE-Trend @ DonMuang airport, Seen space shop @ hua hin and Craft space @ Amarin Plaza.
✿
Like the article? Make it a conversation by leaving a comment below.  If you believe in supporting a platform for culture-makers, consider becoming a subscriber.
Tags