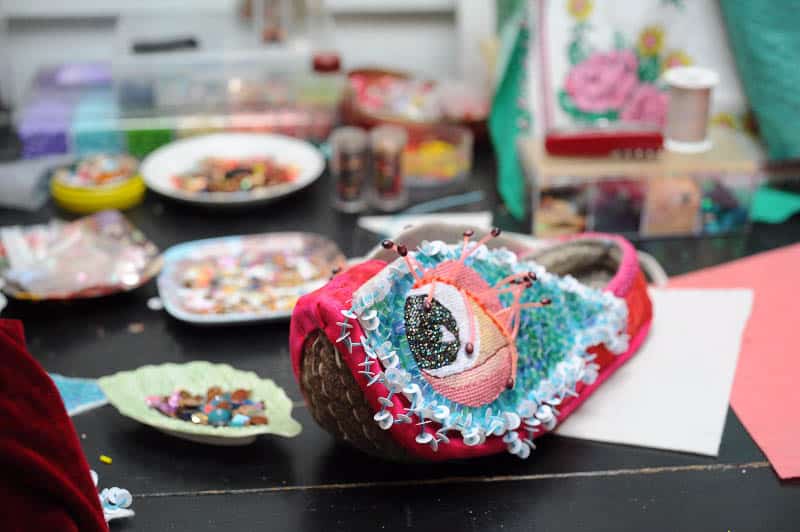 Double Happiness is a group exhibition at Pop Craft Studio of seven Australian artists working in contemporary textile practices. They worked in pairs to create adornments celebrating the folkloric textile traditions of the Peking Opera. It features works by Eddy Carroll & Pauline Tran, Cat Rabbit & Catherine Campbell, Isobel Knowles & Dell Stewart, Pauline Tran & John Brooks.
We speak with the curator and manager of Pop Craft Studio, Pauline Tan:
How did Pop Craft come about?
When I graduated from my textile design studies at RMIT I decided to jump into the deep end and bought enough yarn to start a retail business. I could have spent my savings on an inspirational overseas holiday, but instead chose to go on a professional journey. After all, I was behind on my life goal of getting my act together by the age of 30. I was 32 or maybe even 33. But sustaining a business purely on selling yarn can be quite a challenge. I needed to move the stock at a much faster rate than anticipated so I had to find innovative ways to push my business forward. This entailed numerous brainstorming sessions with friends who understood my vision, but also with people who were not necessarily in the industry but who were lateral thinkers. I knew that they would help me think outside of the box. I was able to run the shop for a few years tweaking it as I went along putting more and more emphasis on events and classes.
What does Double Happiness mean?
"Double happiness" is a Chinese character symbolizing luck, joy and prosperity. It is a notion that is embedded in the psyche of many Asian cultures. I have always been fascinated by the concept of "double happiness"—it just sounds so abundant! Visually the character for the expression has perfect symmetry. Also, it is hyperbolic and yet so perfectly balanced.
Why did you choose Peking Opera as the context for Double Happiness?
I must admit my fascination with the Peking Opera grew from my love of watching Jackie Chan movies as a child. His unparalleled acrobatic skills were the results of his Peking Opera training. The more I researched about it the more I fell in love with all the costumes and set designs. Highly intricate surface embellishments coupled with brilliant colours just transported me to another world.  When I was invited to be part of the Craft Cubed Festival this year I had already scheduled a series of surface embellishment classes at the Studio, so I thought, why not curate based on the Opera?
What would you recommend as an introduction to Peking Opera? (a film or book)
When we all began the project, Forever enthralled was featured on ABC i-view. Directed by Chen Kaige, it is a biographical account of Mei Lanfang who is China's greatest opera star. He was exclusively known for his female roles. He had exceptional grace particularly in his hand gestures. This characteristic was captured by the Isobel Knowles and Dell Stewart in their piece The hands of Mei Lanfang. Mei also succeeded in introducing the Peking Opera to a Western audience.
I am planning an excursion to the Regent Theatre to see The Warrior Women of Yang with the rest of the artists from the Double Happiness exhibition.
What kind of brief did you give the artists?
The brief was relatively open and simple: textile adornments inspired by the Peking Opera showcasing surface embellishments techniques. We had a fun day of going through a huge pile of fabric and yarn supplies I had amassed over the years. Each team was able to select materials that inspired them. It was a great opportunity to share our ideas about our pieces and discuss the overall desired outcomes of the exhibition. Also, one of the initial ideas was for each collaboration to be a fun creative project undertaken by friends, an opportunity to hang out.
How did your collaboration with Eddy Carroll come about?
My story with Eddy started long before we actually met in person. I remember being blown away by her work at a Craft Victoria exhibition quite a few years ago. After that, not a week passed without someone exclaiming "What?! I can't believe you haven't met Eddy. You guys would get on so well…" It was only last year that we came into physical contact at the Craft as a Career seminar. Of course, as everyone had predicted, we instantly became good friends. I could not believe my luck when she agreed to collaborate with me. Working with an idol is a humbling experience.
How would you like to take this further?
To be honest, i need a serious massage now that the exhibition is over. Despite my best efforts, I have fallen into the traps of an overcommitted mother of small children. Curating shows has always been a dream of mine and I am fortunate enough to be in a position to make it my reality. I am pleased to have put together Double Happiness and am both intrigued open to where it will take me next. Chinese traditional as well as contemporary art has always spoken to me. In general, the modern Asian art scene feels to me like a field of wild grasses. It is the combination of exoticism and potential that captivates me.
The artists
Isobel Knowles is an award winning new media artist whose installations blend stop-motion animation with physical objects and interactivity to create immersive experiences
Dell Stewart's work combines various processes often regarded as belonging to the world of craft (ceramics, textiles, animation) with a deeply embedded personal history. Dell has organised and participated in numerous exhibitions, with a particular interest in fostering new material connections and collaboration.
Eddy Carroll is a Melbourne based artist who makes soft sculptures. Her textile based practice employs methods of the artisan, the meditative repetition of the hand sewn including embroidery and beading to sublimate the emotional body. Eddy Carroll researches and uses the languages of textiles, costume and adornments to explore notions of the visceral, materiality and the sublime.
Catherine Campbell is a maker of paper and textile goods based in Melbourne. Her drawings are created using pen and ink on archival cotton rag paper, often with the addition of watercolour washes and paper cuttings. She also creates embroideries which resemble her drawings.
Cat Rabbit is a textile artist and designer whose expertise is giving a very unique personality to felt creatures. She appreciates anthropomorphism, unexpected colour combinations and pugs.
John Brooks has trained as a pattern maker at Melbourne School of Fashion, a weaver at RMIT and holds a Bachelor of Fine Art Honours at the Victorian College of the Arts and Monash University. An interest in craft practice, science fiction and interconnectivity drives his work, which evolves through a wide range of mediums, materials and methodologies. Recent solo exhibitions include To Shelia at Mailbox Art Space and Upward, Beyond the Onstreaming it Mooned at Bus Projects, Melbourne
Author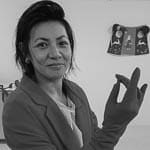 Pauline Tran, a graduate of the RMIT Studio Textile Design, works mainly with fibres. She explores the properties of raw materials and experiments with techniques old and new. An adept of atemporality, Pauline Tran likes to indulge in laborious, repetitious and hypnotising practices. She runs Pop Craft Studio.
✿
Like the article? Make it a conversation by leaving a comment below.  If you believe in supporting a platform for culture-makers, consider becoming a subscriber.
Tags