For any culture in any country, handicrafts serve as the symbolise social bonds and heritage. Handicrafts have been considered as being among what Pope in his book A Survey of Persian Art from Prehistoric Times to the Present called "the glittering art of earth and fire" whose sophisticated colours date back to 1500 BC.
Traditional arts embody the creation of works rooted in the authenticity, culture and rituals of the Persian lands. Through these arts, the beliefs, cultural and artistic traditions are transferred from one generation to another. These arts and crafts have been passed down based on master-apprenticeship model (which is the prerequisite for this form of art) over the passage of time.
Most experts regard Iran as one of the most important centres of arts and crafts in the world. Arts and crafts are also of paramount importance in terms of job creation, income increment, reduction of foreign currency outflow and augmentation of GDP. Unfortunately, despite its richness and potentiality, arts and crafts presentation and marketing has not received due attention.
Isfahan has always been the heart of Iran's handicraft industry. Isfahan province, with more than 9,000 independent and group workshops and more than 15,000 crafts workers and artists, also ranks first in terms of the number of people engaged in the crafts industry. According to the latest statistics announced by National Secretary of Traditional Arts and Crafts, there are currently 292 arts and crafts fields categorised into 18 groups (excluding carpet weaving) across the country. In Isfahan, more than 196 arts and crafts fields have been identified, which puts this province top in terms of number and diversity of arts and crafts fields in Iran. The most notable of these artistic fields are: meenakari, calico, filigree, marquetry, pottery, miniature painting, turquoise inlay, ceramic tiles and kilim weaving.
Let me focus on just one of these, meenakari (enamel work). Meenakari is the art of colouring and ornamenting the surface of metals by fusing over it brilliant colours that are decorated in an intricate design. Meenakari has flourished since Safavid era, when it was noted by Charden, a French tourist.
Meenakari is made from a unique combination of elements, including silicon and minium and potassium. It is a laboratory-based art made up of metal oxides combined with phosphite. Transparency of the enamel is due to the presence of tin, a perennial ingredient.
The flowering of meenakari occurred during the Pahlavi era (1925-79) when the development of the handicraft industry owed it all to Shokrollah Rafi Zadeh, whose students have paved the way for more and more artists within the last thirty years.
The main component of meena is 'copper', however, it can be made with gold and silver as well. A number of skills are evolved in its production. First and foremost, the coppersmith shapes the material into a contoured dish. Then the inlayer enamels the copper blank three to four times, each time heated about 700 celsius centigrade to come up with a fixed colour. Then it is painted and decorated with different colours to be returned to the kiln heated to 400 centigrade, when the final design is realised.
Three types of colours come to fore: herbal, mineral, and chemical. To complete the final inlay, different colours are extracted from alternative sources: red is made from gold, green from copper, yellow from umber, blue from a combination of metals and white from a special colour. Generally, meena products can be found in markets as jewellery, plates, vases, bowls, and water dispensers.
Author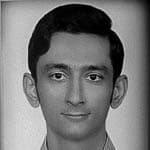 AliReza Jamalimanesh is a PhD candidate in Translation and Intercultural Studies at Bahar Institute of Higher Education. He has taught translation at Sheikh Bahaeei University and Chabahar University, where he won the Dean's Award for Excellence in Research for 2013 and 2014.
Tags