Maria Fernanda Paes de Barro writes about two Brazilian tableware makers who bring a particular creative energy to the rituals of everyday life.
Estudio Trindade
Estúdio Trindade began in 2017 when craftsman Wagner Trindade started to walk his new path in parallel with the Moroccan lighting workshop that he inherited from his father, Francisco Trindade. Since then, he has developed pieces in partnership with several designers and invested in his own creations, inspired by the handcraft he learned with his father and his daily life in Tiradentes, a historic city in the interior of the estate of Minas Gerais, where he was born.
In the Sima e Lança collection, created in collaboration with designer Rodrigo Ambrósio, the references come from the bells and chalices of masses in the city's churches, built in the Baroque and Rococo periods, and the spear that pierces the chest of Jesus Christ.
Wagner Trindade – Waguinho learned the art of making Moroccan lamps from his father, Muchacha, who learned from a Portuguese man, Mr Fernando. Muchacha opened a workshop in Tiradentes, Minas Gerais, decades ago.
He's one of the most intense people I've ever met. Intense in a good way, his anxiety comes from the desire to learn and apprehend everything possible. Tireless in his quest to always improve himself, dedicated in everything he does, a true fighter, extremely humane. There are countless qualities that come to mind when I think of him, but one of them still screams louder: friend, certainly for my whole life!
Every time I meet him he is waiting for me full of new products and ideas to show, eager to hear opinions, to exchange, to share. It's impossible to quickly get in and out of his workshop or home, where he always welcomes us for a delicious coffee with cakes, juices and cheese bread made with affection by Claudinéia, one of the most companionable women I've ever had the pleasure of meeting. She is the practical half of Waguinho, the person who brings him back to earth when needed, the one who organizes the commercial part of the workshop.
To visit him, you need time, at least three hours, and even then be prepared to leave with the impression that there is still much more to talk about, such is the excitement and desire to tread new paths that he has within himself.
His joy, dedication and commitment are also contagious to his employees at the workshop. He teaches them much more than just a trade. He demonstrates in his attitudes the importance of loving what he does, of studying, learning and experimenting, and of truly caring for his family and friends. It is moving to see him tell not only the story of his father, who taught him to work with brass, but also of the boys he brought as youngsters to learn a profession and find meaning in life, since living in the countryside sometimes doesn't provide many options for those who are young.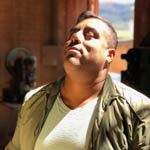 Entering the world of Wagner Trindade is the same as entering his soul. His story is written there. Each wall, each mould, each tool, and each finished or unfinished piece carries its strength and emotion.
Wagner Trindade photographed by João Bertholini. Follow @estudiotrindade
Rondinelly Santos
Rondinelly Santos has been working with sacred art since he was 14 years old. He learned the profession from his father, when he worked in a company and put him to help, teaching him to carve wood. He also took the opportunity to practice some drawings. He is passionate about what he does. All he needs is a chisel and a piece of wood to bring the drawings he creates to life, transforming them into art.
Curved lines, curves, asymmetry… Volutes, tendrils of acanthus leaves, flower garlands… details so present in the Rococo style paintings that we find at every turn of the stone streets of the historic city of Tiradentes, in Minas Gerais, and also in his work. It's beautiful to hear him say: "This took over my life,  I will never stop. I love what I do and if I were born again I would like to be a sculptor again." For him "carving is like eating candy, once I start, I can't stop!"
Rondinelly has the incredible talent to transform rigid wood into something soft. With gouges and chisels, he creates scrolls, tendrils of acanthus leaves and garlands of flowers with breathtaking ease. Watching him work is like embarking on a journey back in time. We go back to the second half of the eighteenth century, when rococo, coming from Europe, brought with it more light and lightness to Brazilian Barroco. It evoked the idea of joy in life, characteristics that appear in the softness and delicacy with which Rondinelly's hands carve the wood.
With him, I learned that there is no exact amount of hours to sculpt a piece because it depends. If a bird decides to land there in the window to sing, there is no deadline. Everything stops to listen for life of the song! For me, he will always be Nelinho, one of the most passionate people I know.
I had the opportunity to meet him during the first edition of the Tiradentes Creative Week (Minas Gerais, 2017), and I never let him go! I was received with a shy smile and a sweet look and I was enchanted from the beginning with the simplicity and passion with which Nelinho described his craft and drew, with firm strokes, and arabesques where we find neither beginning nor end. His shyness gradually gave way to the self-confidence of someone who knows what he's doing and was born with a gift. Among his many commissions for works of sacred art, he made room for the new.
He sculpted the Serra de São José (a local quartzite mountain), not just its outline, but its relief and the paths of ancient messengers. This freedom to create generated a result that was totally different from what he was used to, but was made with the same sensibility. Some days later I had to go back to São Paulo, where I was living at the time, but I returned less than two months later to find my heart that had stayed there, in love with everything and everyone in Tiradentes.
Tiradentes is a historic city in the interior of the state of Minas Gerais, that preserves a piece of the history of Brazil. Strolling through its cobbled streets is like gliding through the pages of a book, especially at dawn when the cars have not yet entered the city center. We find ourselves practically alone surrounded by São José mountains range and a breathtaking architectural complex, listed by IPHAN (Brazilian National Historical and Artistic Heritage Institution).
At first sight, it is not even necessary to visit the museums to get in touch with the beauties of the Brazilian colonial period, since the houses and churches are already a spectacle in themselves. But it is when we enter the museums that the richness displayed in the country becomes even clearer. Paintings, sculptures, clothing, everything glitters with the gold that flowed from Minas to the Portuguese Court during the colonial period.
For me, it shone. It showed me every detail of the craft traditions still preserved in that region. I discovered behind each technique a person passionate about their craft, who performs it with extreme care and dedication and who does not change his quiet life for another in the big city. I fell in love with the city, the stories, the people, and for me the true wealth of Minas Gerais. It is this richness that I sought to translate in 2018 into the pieces of the Artesãos collection, the gold that emerges through the hands. After all, the true gold of Brazil is still here, guarded by the hands of these admirable artisans who insist on not letting our traditions disappear.
The Rococó dresser, which is part of the Artesãos collection, highlights Rondinelly's sensibility and technique. Its fluid design came to life through the carving and permeated all the drawers of the drawers, subtly uniting them, uniting tradition and contemporaneity and also uniting the two of us.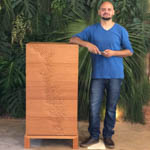 When I met him, his shyness tried to hide his enormous talent, but to our delight, it was unsuccessful. His talent is so enormous that it overflows. I still remember the day I walked into his studio with the solid pink cedar of the dresser for him to carve, our conversations, the search for what was inside him and the encounter with his essence, confidence and freedom. Since then, its volutes have gained prominence in the Rococo tray, in the Rococo hangers that create compositions on the walls, in the wonderful spoons created together with the designer Sérgio Cabral for the Unfoldings of theTiradentes Creative Week and a lot more, in partnerships with other designers, artists, creatives and whatever his own imagination desires.
Our last joint creation was the Rococo centerpiece that holds two tin bowls made by Imperial Estanhos, an artisanal workshop located in the neighboring town of São João Del Rey.
Image left: Rondinelly Santos and the Rococo dresser photographed by Maria Fernanda Paes de Barros. Follow @atheliersantos
About Maria Fernanda Paes de Barros
I was born and raised in the city of São Paulo, but the need to live closer to nature ended up making me move last September to the city of Jundiaí, 50 km from the capital, at the shadow of an Atlantic Forest reserve, with woodpeckers and hummingbirds as neighbours. My work as a designer and artist takes me to travel around Brazil to do immersions and research, but I also travel to work with carpenters (I do the finishing), which is situated even more in the interior of the state of São Paulo. Follow @_yankatu_
✿
Like the article? Make it a conversation by leaving a comment below.  If you believe in supporting a platform for culture-makers, consider becoming a subscriber.
Tags