The Go for Kogei festival invited Brian Kennedy to dialogue with Kutani ceramicist Masaru Nakada in developing a playful set of tableware.
Go for Kogei is a platform for Japanese craft in the Hokuriku region, including Kanazawa. Its recent theme was "Journey through the World of Craft" which reflects the concept of ikiteiru kogei, a "living craft" that is integrated with everyday experience.
In 2022, the Special Exhibition Curator was Yuji Akimoto, Professor Emeritus of Tokyo University of the Arts. For Akimoto, the festival aims to combine the perspectives of art and design on crafts.
One project from the design perspective was a tableware commission featuring the work of Masaru Nakada, from Ishikawa, which is known for its Kutani ware, a porcelain design that features gosai-de (五彩手):  bold designs in the five colours of green, blue, yellow, purple and red.  Kutani ware reflects the influence of English ceramics.
According to Akimoto, "Design in this context refers to objects that enrich real life, but while our eating habits have become more convenient in this day and age, food culture, in general, has become poorer. In particular, the tableware used in daily life lacks charm."
The 5 x 5 commission was initiated to develop designs using Kutani design for a European lifestyle. The curator Brian Kennedy was brought in as a collaborator to work with Nakada on a dinner set for use in London. After curating for the Irish Crafts Council, he developed exhibitions for Somerset House and the Royal Academy. He is involved in many events, including Taste Contemporary Art, in Geneva.
Kennedy and Nakada met online several times to exchange ideas. For Kennedy, it was not a matter of commissioning a predetermined design: "I was looking for somebody that would be true to his voice".
Kennedy was particularly interested in the way the edges of Nakada's ceramics were defined by a contrast between internal white and external colour. He also enjoyed the organic forms, often involving a slight angle.
The result is quietly subversive. The pieces were made to facilitate stacking, reflecting the sequence of dishes over the course of a meal. The stack is off-centre, suggesting a more natural flow.
At first look, the pieces appear to be quite plain. But there is much happening underneath. The underside of one plate is coloured red.
"I want this reflected colour. On a white tablecloth, what you will see is a red shadow. So then we have to have an elevated surface. If you're in a restaurant and you have a totally flat plate, the waiter can't pick it up. The elevation gives you a grip point."
The bases are decorated with Nakada's signature sgraffito pattern, an intricate series of scratches that create a fabric-like texture.
The inverted nature of this series was highlighted when the series was presented at a partner restaurant. The objects were turned upside down, so a cup became a stand and a bowl becomes a plate. Fortuitously called FIVE – Grill & Lounge, the work was exhibited at 5 x 5: five colours of Kutani with the five senses involved in a dining experience.
Nakada found it a positive experience:
"This was my first time collaborating with someone to create a piece. Through our conversations, it was possible to envision where we each wanted to take the set, and the creative process was enjoyable. I feel that this experience will be valuable for my future work."
Akimoto sees that it will become a classic:
"The tableware set is Kennedy and Nakada's answer to a request to create a set of basic, simple tableware that would become a classic set that won't get old in our daily lives. Without being excessive, the set carries a sense of richness and beauty."
Meanwhile, Kennedy has seen a growing demand for bespoke tableware. This is especially strong in China.
"In China, they're opening five and a half thousand five-star hotels a year. So that's just a phenomenal amount. People are ordering 600,000 pieces of tableware for a hotel because you have these elaborate banquets. If you've got banquets with 600, you need 600 of everything. That's 10 or 11 pieces by 600 Just for one meal. So that's where the intimacy of a small restaurant moves into a kind  of industrial scale."
A hotel is yet to commission a production run of Nakada's 5 x 5 dinnerware. For Go for Kogei, it offered a surprising way of engaging its audience in "art". This series shows how tableware helps the activity of eating to be more of a process of dining rather than simply consuming food. As Kennedy says, "Restaurants are about ritual and all meals are like a theatre."
About Brian Kennedy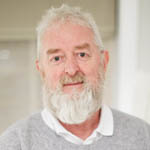 Brian Kennedy is an independent curator working predominantly in the craft and applied art area. Between 2002 and 2010 he curated a series of major exhibitions for the Crafts Council of Ireland. In 2014 he curated the critically acclaimed exhibition "Vase Vessel Void" for the Oliver Sears Gallery and in 2015/16 "In Residence I & II" for the same gallery in London. In October 2016 Kennedy was appointed Artistic Director for the TRESOR – Contemporary Craft Fair, Basel, Switzerland, which was launched in September 2017. In 2018 he curated a major exhibition 'Dialogues Through Time' for TRESOR, Basel, Switzerland. Visit www.briankennedycuration.com and follow @briankennedycuration.
About Masaru Nakada
Masaru Nakada graduated from the Ishikawa Prefectural Kutani Ware Technical Institute in 1997, and became an independent ceramic artist in 2004. He currently conducts creative activities at his own studio in Kawakita Town, Nomi District in Ishikawa Prefecture. After he won an award for excellence at the Kanazawa One Grand Prix "People, Vessels, and Encounters" exhibition in 2006, his works began to be displayed in the tableware sections of department stores in Tokyo. Follow @
✿
Like the article? Make it a conversation by leaving a comment below.  If you believe in supporting a platform for culture-makers, consider becoming a subscriber.
Tags