D Wood reviews a book about Yamanaka, a village in a "nether region" of Japan where beautiful traditions linger.
Hannah Kirshner Water, Wood and Wild Things: Learning Craft and Cultivation in a Japanese Mountain Town  (New York: Viking, 2021)
Saké, lacquerware, tea ceremony, handmade paper. These are some of the aspects of Japan that a tourist would hope to see and, perhaps, purchase a memento of, for the mantle back home. But imagine what it would be like to truly experience this culture, to make saké or learn the etiquette of chanoyu (tea practice) or apply urushi (lacquer) to a bowl you've turned. It could only be life-changing! But could it be expressed in words and still maintain the essence of the encounters as richly as when the author was involved? I heartily declare that it does in Water, Wood and Wild Things, Hannah Kirshner's account of four years in Yamanaka.
Yamanaka, which translates as "in the mountain", is a town of less than eight thousand people. It is located in Ishikawa prefecture on the Sea of Japan, an area known pejoratively as the backside of the country. Being in a nether region, however, has enabled traditions to be maintained—centuries-old agricultural, hunting and craft practices have, in recent years, made the area a tourist hot-spot, not only in the figurative sense. Yamanaka has been known for its hot springs since the 700s AD.
Hannah, who lives in New York and works in the food industry, hosted a saké bar owner, Yūsuke Shimoki, through connections she'd made during a cycling trip in Japan. She held a dinner party at which he served Ishikawa sakés with each dish. His enthusiasm for the beverage, translated for guests by Hannah's partner Hiroshi Kumagai, was infectious and prompted her to take up Shimoki's suggestion that she come to Yamanaka to work in his bar. Hannah's two-month apprenticeship extended on-and-off for four years, in the course of which she met master craftsmen and delved deeply into their artisanry. Hiroshi didn't accompany Hannah on her travels so she also had to enhance her collegiate conversational Japanese to understand and be understood.
The author recounts the craft of not only making saké but serving it: the proper attire, how to welcome guests, seasonal temperatures for the liquid, and the selection of cups. Her lessons include tasting and comparing. Hannah says, "only a week into my stay I could distinguish all sorts of subtleties and aromas of persimmon … kelp … pear … pine" (p. 21). She gets to know the customers—eighty-one-year-old Mrs Kobayashi (a name that conjures up the 1995 film, The Usual Suspects), Shimoki's soccer-paying mates, visitors from Tokyo and Takehito Nakajima, a woodturner to whom I will return in a moment.
As you might expect, Yamanaka has a saké brewery, operated by the Matsuura family since 1772. Although Matsuo, the spirit of saké, is female, a woman had never been employed in the sakagura (brewery) until Hannah came along. Fumiaki Matsuura, the owner and brewmaster, broke with tradition and dressed Hannah in a navy work jacket with Shishi no sato, his product's brand name, embroidered above the breast pocket. She worked alongside employees for each step of saké making: kōji (the secret mold that transforms rice starch into sugar), shubo (a yeast culture like sourdough starter), moromi (the mash of rice, kōji yeast and spring water), pressing and bottling. Hannah's description of the finished product, Muku (unpasteurized and unfiltered saké) gives an idea of her sensual writing: "the smell of forest floor that Muku's moromi had in the tank, evoking crumbling wet leaves beneath my feet, mushrooms growing among fallen pine needles" (p. 97). This handmade beverage, perfected by masters over hundreds of years, can viably be placed in the genre of craft.
Yamanaka is home to the Japanese vocational school for woodturning and lacquering techniques, Ishikawa Prefectural Institute for Yamanaka Lacquerware. It draws transnational students and turns out skilled makers like Takehito Nakajima. Nakajima learned woodturning techniques from his father and then enrolled in the Institute where he studied under Ryōzō Kawakita, the first kijishi (woodturner) to be given the honorific Living National Treasure.
Hannah speculates that Nakajima, whose woodturning warrants the accolade, may never be named as a Living National Treasure. Like awards everywhere, politics are involved and Nakajima is an outlier, eschewing the "rules" of Japanese craft traditions. But his outlier attitude extends to offering Hannah the opportunity to step up to a lathe using the handmade tools in his studio. She proves to be a natural and turns bowls to a standard that are deemed suitable for the application of urushi, lacquer made from the sap of the Chinese lacquer tree, a relative of poison oak.  Despite her acute allergy to poison oak, Hannah persuades a reluctant Nakajima to teach her urushi techniques.
I suspect that Hannah's willingness as a woman and a foreigner to have a go at a myriad of activities—dancing in kimono, rice growing, charcoal making, hunting for boars, experimenting with recipes with home-grown ingredients—earns respect in the village. In each of these endeavours, her aim is to experience them as thoroughly as she can to understand, feel and empathize with the makers, not to become a master craftsperson herself. It is this compassion with a range of characters and activities that makes Water, Wood and Wild Things such an enjoyable and immersive read.
Nakajima's "[e]xtreme precision, flawless finishes, thin edges and a graceful but hard beauty" (p. 123) are as esteemed as the work of Mushū Yamazaki, a Yamanaka lacquer artist and friend of Nakajima. His artistry is described by his apprentice: "on the level of the best pieces from the Edo period, when maki-e [sprinkled design] artisans were employed by military rulers to decorate their household items in exquisite designs" (p. 133). He specializes in delicate paintings of nature—for instance, life-like ants on a chestnut-shaped incense box—and his lacquerware incorporating dusts of glittering metal, gold leaf, and abalone shell is represented in international collections.
As her time in Yamanaka goes on, Hannah meets memorable denizens. She writes: "mountain meijin [experts] are mostly men in their sixties and older, who walk with their gaze fixed on the ground, or lingering into the trees, reading the landscape. They know the names and uses of hundreds of plants and not only which mountain to find them on but which bank of the river, which particular grove of trees they'll be sheltered among" (p. 257).  She is introduced to Yoshiharu Nishiyama, one of several meijin that she comes to know; she calls Nishiyama "sensei" (teacher). By this stage, Hannah has become part of the community and joins up with Mie Michiba to prepare a wild plants lunch during Golden Week, the Japanese equivalent of spring break (end of April/first week of May). Sensei takes them to his mountain village where they gather warabi (fiddleheads), leaves and tree leaf buds. On the day of the lunch, these are combined with cow parsley, dandelions, violets, mushrooms collected the previous fall, horse mackerel caught that morning, and pickled wasabi greens. Each of the nine attendees contributes to an overabundance of food that is distributed to friends afterwards. This episode demonstrates the extent of Hannah's involvement and her immersion in Japanese culture. The book is dedicated to the memory of Sensei Nishiyama: "may we continue his work for the children's children".
I don't want to spoil the delight of discovery that Hannah discloses as she delves into Yamanaka and herself. As stated before, the book engages the senses, including recipes at the end of each chapter. Each is inspired by events in that chapter and reflective of another form of craft: cooking. And while there are no photographs, Hannah's delicate black and white line drawings contribute the sense of sight.
Closing on a personal note, when I read the acknowledgements page I noticed that one of the people mentioned is Ann Hood. Hannah took a writing course from Ann at the Rhode Island School of Design, as did I several years previously. Ann inspired the craft of and passion for writing that we both share. For me, it is not only the craft in the book but the craft of book writing that makes connections among those dedicated to the handmade.
About D Wood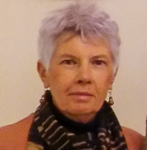 D Wood earned a Diploma in Crafts and Design in Canada and an MFA at the Rhode Island School of Design (2000). Her PhD addressed studio furniture and the contemporary craft movement in New Zealand. D has given presentations at international conferences and published extensively. She edited and contributed to Craft is Political (Bloomsbury 2021).
✿
Like the article? Make it a conversation by leaving a comment below.  If you believe in supporting a platform for culture-makers, consider becoming a subscriber.
Tags