Elliat Rich's Place won the 2017 inaugural Australian Furniture Design Award, organised by JamFactory Craft & Design Centre and Stylecraft. The piece consists of a concealed drawer, formed out of stacked and coloured dowel, which creates a graphic confetti-style collage from the front view. Place also features a curvaceous, and removable, storage unit and velvet-covered pivoting mirror, all perched atop light timber legs. Rich's writing about the piece reveals a very interesting reflection of landscape. It is based not on a literal rendering of the environment, but more a phenomenological experience of moving through it by car, the most common way in which individuals in Central Australia experience their environment.
We travel through the country, full of vistas and space. We know about distance, it takes days of driving to get to the edges. There is time to see. Closest is the speed-swept details, individual trees and shrubs, at this depth there is definition and form. Further back the landscape merges, becomes pattern and texture, shadow and light. In the far distance, where we are headed, the bulk and mass of ranges. There is no detail, only the collective vapour of eucalyptus leaves visible from afar, the distinct Australian haze that renders the land mute but vibrant.
Photos are taken from 2007 to 2017. I never travel explicitly for inspiration but inspiration always comes from travel! Place is a portrait of sorts—the translation of the different depths of field that slides along each other as you are driving. The foreground—all the individual elements, trees, shrubs, rocks become the draw, further back are the hills, with their shadow and light and texture—this becomes the jewellery box and then in the distance the ranges become the mirror.
This was a new working methodology for me, a move away from a rigorous (or laden) conceptual approach towards a freer more expressive mode. The abstraction of landscape is common in a fine arts context, and there are a few artists whose work I admire from a distance that does this; Jo Bertini, Jennifer Taylor, Neridah Stockley, and the Hermannsburg school of artists.
Artist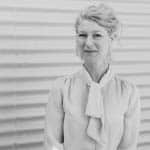 Elliat Rich is based in Alice Springs, Central Australia. She works across a broad-spectrum of design for a diverse client base, remotely, locally and nationally. All her projects align with an ethical imperative to increase equality between people and across species. In 2014 she and her partner launched Elbowrkshp, a studio, retail space and workshop that they share with other creative professionals. currently working in collaboration with other Central Australian makers and Estudio Campana on a commission for the NGV, developing work for exhibition and designing furniture to be made in Alice for elsewhere.
✿
Like the article? Make it a conversation by leaving a comment below.  If you believe in supporting a platform for culture-makers, consider becoming a subscriber.
Tags