Geraldus Sugeng describes the unique batik designs that come from the town of Jember and are now seen around the world.
Jember is a town of 360,00 in East Java, bordered by Lumajang (west) and Banyuwangi (east), as well as Probolinggo and Bondowoso (north).
Historically, Jember brings together the Javanese and Maduranese cultures in the spirit of the Pandhalungan people. They live together in an area divided by a river and according to the folklore "Selo Sasaka" also tells about the existence of two young men who are descendants of Madura and Java killing a giant dragon. On the shoreline, the shape of a pile of stones, resembles the shape of dragon scales whose tail leads to the city of Pacitan with the dragon's head leading to the city of Banyuwangi.
The name "Jember" means marshy area and it is very muddy. Sometimes in the drought season, swampy soil becomes very dry and cracked. It's difficult to cultivate.
Pandhalungan pursue various livelihoods: fishing, or cultivation of roses, coffee and cloves.  The batik motifs that are produced here are also diverse, such as beach motifs, dragons, coffee, cloves and roses.
Mrs Lestari and Mrs Nhora have different styles of batik. As the owner of the Reztis' batik house, Mrs Lestari draws on the philosophy of batik. While Nhora, as the owner of the Pangestu's batik, produces a more modern batik with a graduated motif.
The roses motif comes from Sumbersari village, where the flower is cultivated. The character of the rose motif with the gradient painting technique makes Pangestu's batik widely known. This blend of batik methods is the result of techniques that were previously brought by Gujarat traders.
I know many of these artisans through workshops held by Bank Indonesia, Jember. Artisans learn various techniques in design to increase their production. They learn how to paint with wax. They use natural dyes using plant materials around the house.
In the past two years, I have done research and training workshops to educate artisans to develop motifs and simplify the layout. The artisans are already good at drawing motifs but here they are taught to innovate through distortion or repetition. All these motifs are drawn and waxed with repeated colouring. The motifs are difficult to draw because all the outlines will be covered with hot wax.
If there are seven colours used, the dyeing process will be carried out seven times. This will be more difficult if the colour is obtained from nature because the process can be two or three times that of synthetic dyes: if the synthetic dyes can be dyed seven times, where if natural dyes are used, it must be dyed 21 times.
For natural colours, all the work will be much longer and repeated so that the result looks good. It is very difficult to cover small motifs with wax, eventually, the batik dye will leak. For certain carving motifs, it is very difficult to use natural dyes, because they are prone to leaking. Several kinds of motifs that show the historical philosophy of the city of Jember are the Story of Goddess Renggani, Selo Maeso, Selo Sasaka while the more contemporary motifs are chocolate, coffee, rose, lotus and orchid. All motifs have meaning and tell the daily life of the Jember people. Some parts of the batik motif are filled with edges, contents story and detailed layout decorations called "isen".  Everything covered by wax is of course very difficult if you are not an expert at doing it and your hands will be blister from being exposed to hot wax.
However, there are some motifs that are much better off using synthetic dyes to get nice and neat results such as geometric shapes or small details. The heating device used is called canting with sizes 1 to 3, each of which contains a hole. Each hole will serve as a place for the wax to come out. Canting serves to cover the field and outlines that will later be coloured. The variety of motifs grant Jember batik a different character from other batiks. In terms of sales, it is still difficult to sell their batik. Government assistance has not been sufficient to help them survive so there is no regeneration of artisans.
I tried to bring this Jember batik to Milan and did a photoshoot with my best friend, Miroslava Mirka and Robert Grey as a photographer. The result is very satisfying because the Jember batik has an international style. Many were interested in the clothes that were worn at the time and eventually the two batik gowns were sold by Maggygioia, a fashion influencer who lives in Milan. The photoshoot went smoothly and provided a good benefit to the artisans where they could sell the remaining batik cloths.
My next step is to bring this Jember batik to participate in a digital fashion show in New York. Their enthusiasm for the Jember batik motifs is very appreciative because so far fashion people in New York only know batik from Indonesia, even though in every region there are excellent motifs.
Designers are very enthusiastic about using Jember batik because it has a modern motif. However, designers cannot provide continuity for artisans to continue to produce due to lack of funds.
Lack of strong artisan resources to make batik sold also varies, some are good or bad. Some artisans make their own motifs and finally have character in their design but cannot promote their names, so they struggle to survive. Many young people have chosen to work in shops or coffee factories instead of making batik. My workshop aims to give confidence and so boost sales of batik.
Certainly even if the process takes a long time with this repeated colouring process, it all adds value as Jember Batik.
About Geraldus Sugeng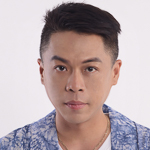 Geraldus Sugeng is a fashion lecturer at Universitas Ciputra Surabaya. He is an Indonesian fashion designer and founder of his brand "Geraldus Sugeng" for the evening gown collection and concerned for local artisans' development for many years. He is on the advisory board for Indonesia Fashion Chamber, a local fashion organisation. He is also a writer with two books about the elegance of cocktail dresses and evening gowns.
Tags