Songül ARAL writes about the traditional pine jug that captures the bracing air of the Taurus mountains. 
In Turkey, there is an idiom "be holy like water". Figuratively speaking, it means to be fertile like water in the societies you meet, to be remembered, not to see less or more, to adapt to the container you enter. Water is the source of life, the partner of the earth and the companion of the tree. It is everywhere at the same time
In 2014, for the summer vacation, we took a long journey on the Antalya-Adana highway, took a break to breathe and watched the extensions of the Taurus Mountains in the lap of nature. We drank ice-cold water from the iron boat of the cold passenger fountain… While my mother and relatives were sitting, I climbed the steep cliffs and stood on a plain, facing the wind that blew the waterfall and the pine green cover. I listened to the wind blowing the pine forests with the towering branches of the Taurus Mountains and the light and dark embroidered waterway patterned cover.
I closed my eyes before the aromatic taste reached my lungs as I inhaled the abundant oxygenated breeze that took my breath away with its fresh smell.
While the sound from the wind, then its smell and spiritual taste covered my face, I took my hair that was blown in the same direction from my eyes and touched the wind with my hands… The magnificent natural feast of life.. .
I was teleported to the book section where Yaşar Kemal talks about the words flowing in the light while passing through the highlands and the desolation of the Adana plain in the threshing floor, and photographed every scene in the Western Taurus with my eyes. sad happiness…
✿
To know the forests of the Taurus highlands like the back of your hand, to look at and touch the dried trees and to classify them. Tahtacı Turkmen, who live by collecting them to be burned in the hearth and used in the construction of food, doors and drinking water, are among the most beautiful examples of life in nature. Tahtacı Turkmen women, on the other hand, weave the wooden loom, which their husbands made from the forest and shaped by shaping, leaning against the trunk of a tree.
She washes the wool obtained from the sheep he feeds, combs it on a wooden comb, spins it in wooden spinning, dyes it in a wooden boat, leaves the threads that she dried on the tree branches on the hem of her dress. and she would spend time weaving the warp wires of the loom she made with these threads.
With the stylized motifs and patterns in these weavings, she used her daily life and dreams as a silent, non-verbal communication language in weaving. While thinking about which motif and how to weave without using pen and paper, she made a model of weaving with her own hand: "May my grain sack be full of abundance, my bread to cover my tablecloth. My hand is in my pocket. The waist, the tree of life is there, there is a waterway here". What does the story of the patterns created by these motifs tell? … Who was the origin of this name, when and from which weaver was it born? The watercourse motif there is a description of what stream? That tree of life, known as the pine tree in Taurus instead of the olive? The sacred pine tree or the olive? How did these words come about?
A small observer who watches her grandfather's friend shape a dry tree stump with her calloused hands, records what he tells, and a writer who remembers today and the next…
What do we think about the authors of books whose characters are unknown? Our professional knowledge combined with admirable drawings, artisanal works on which the drawings are conveyed and the expression of an intermediary spirit…
In the book Motif and Pattern Language in Anatolia, which I got from the Ministry of Culture's sales office, the meanings and different uses of the ornamental elements seen in Anatolian handicrafts and used in the objects produced by the manufacturer knowingly or unknowingly are explained. The year is 1996, time flies like water…
You begin to recognize the decorations made by the craftsmen as well as the regional geographical indications of carpets, hand-woven covers, woods, textiles and other craft products. This book has grown with new information and additions in subsequent editions.
The author Mine graduated from Ankara Technical Teachers' School for Girls, worked as a teacher in various cities, and was eventually assigned to Adana, where she was born. She goes to the in-service training course of the Ministry of National Education, where she meets her husband, Güran Erbek, who is a civil servant in the ministry of culture. They record nearly forty thousand motifs in a project where they record the names of motifs and patterns by going from village to village next to Güran Erbek. While listening to the story of each craftsman and villager, they collect the written ethnological expression of each motif in a book.
"Pine jugs of Adana Tahtacıs"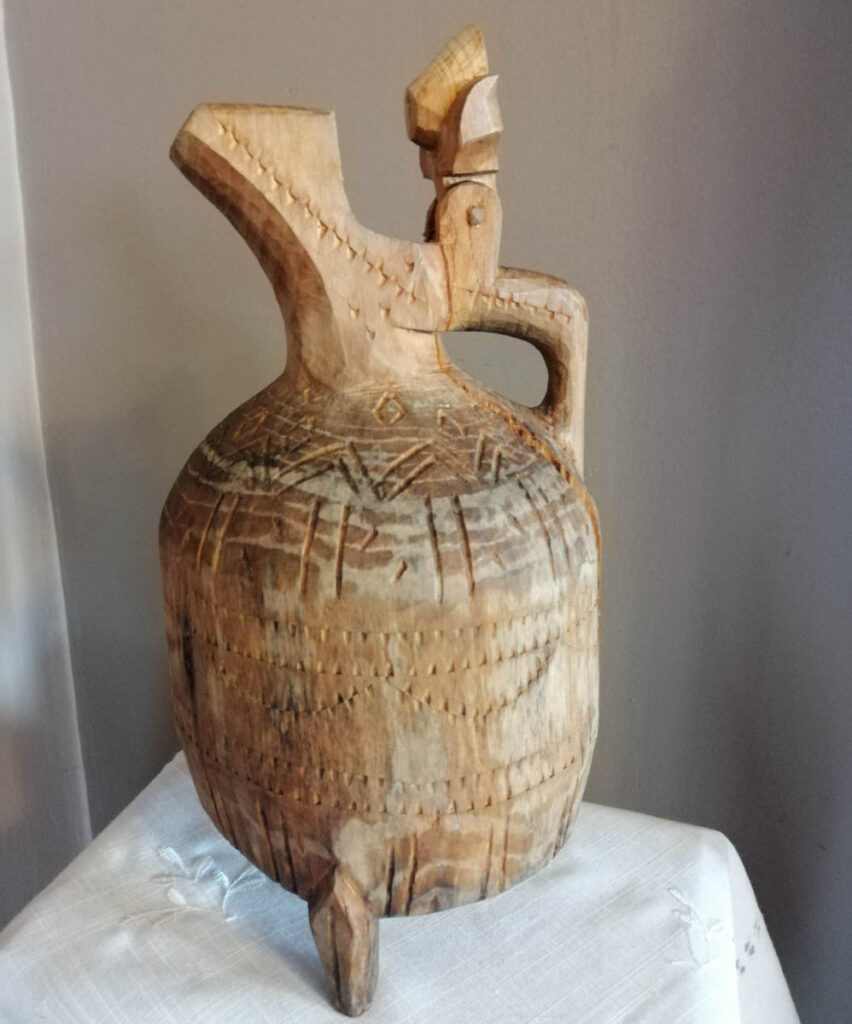 Turkey's Adana province, the birthplace of Mine and master writer Yaşar Kemal, has three separate mountain ranges, starting from the west, on the Bolkar Mountains, Aladağlar and Tahtalı Mountains and the Central Taurus Mountains.
The high points of the Taurus Mountains exceed three thousand meters and are considered one of the valuable natural habitats of our country with its plant diversity and animal species. As the name suggests, lumberjacks living in the Taurus highlands have come to the fore in woodworking. They used the uniquely beautiful works they produced as a part of their daily lives and aroused admiration with the examples that have survived to the present day.
The Tahtacı Turkmen of Adana Taurus used to spend the hot summer months in their highlands. In the steep rocky pine forests, where there is no electricity and therefore no refrigerator, they made water flasks -desti-pine jugs, which they described as "pine jugs", which they produced as one piece by carving the logs they obtained from the tree. . from the trunks of pine trees.
This pine-scented water bowl not only cools the water in the hot summer months, it also leaves a pine flavor in the mouth, removes sediment from the water and starts the day with a drink in the morning.
Mine remembers how a master carved pine logs when she met her grandfather, who was the village lord in her childhood. Although there are many registered water bowls carved from pine, Adana pine jugs have not been written down yet.
She states that he takes very good care of the two pine jugs left over from his grandfather's house. While she was away from home after his long journeys, one of the pine windows was cracked because there was no water in it, and the other remained intact.
We filled the jugs with water as a living natural material, examined their bodies with our eyes and drank from these pine jugs.
There was an attempt to commemorate the past in the office where we had coffee with Mine's invitation…
She told how it was made by putting water in a pine jug, with the traces she remembered from her childhood. It is a very nice feeling to meet the master of the plateau by touching them.
In the words of Ms Mine:
"Incisions and chisels are two iron chisel tools. With these, the master would clamp the old pine log between his two legs like a vise, rotate it, hold it with one hand and shape it with a hammer held with the other hand. Master forester Seyit was telling my grandfather,

"These are pine branches, these are waterways".
With Ms Mine, I shared the longing for childhood in her eyes while listening to the making and carving techniques of the pine goblets he saw from the Taurus carpenters he went to in his childhood.
It gets very hot in Adana, especially in summer, and you take shelter in the highlands. The frosty mornings and the sunny afternoons of the Taurus Mountains are heart-wrenching. In the morning, she would take the jug from the pine branch it was hanging in front of the door, fill the small jug with water and drink it.
There was a jug made of pine wood in every house, it was always taken out on frosty nights and used in the morning. The water left outside at night will be cold and then hot during the day and will have a different taste in your mouth, refreshing the taste in your throat while sipping the water. The feature that distinguishes this drinker from others is that it has been developed with a natural craftsmanship.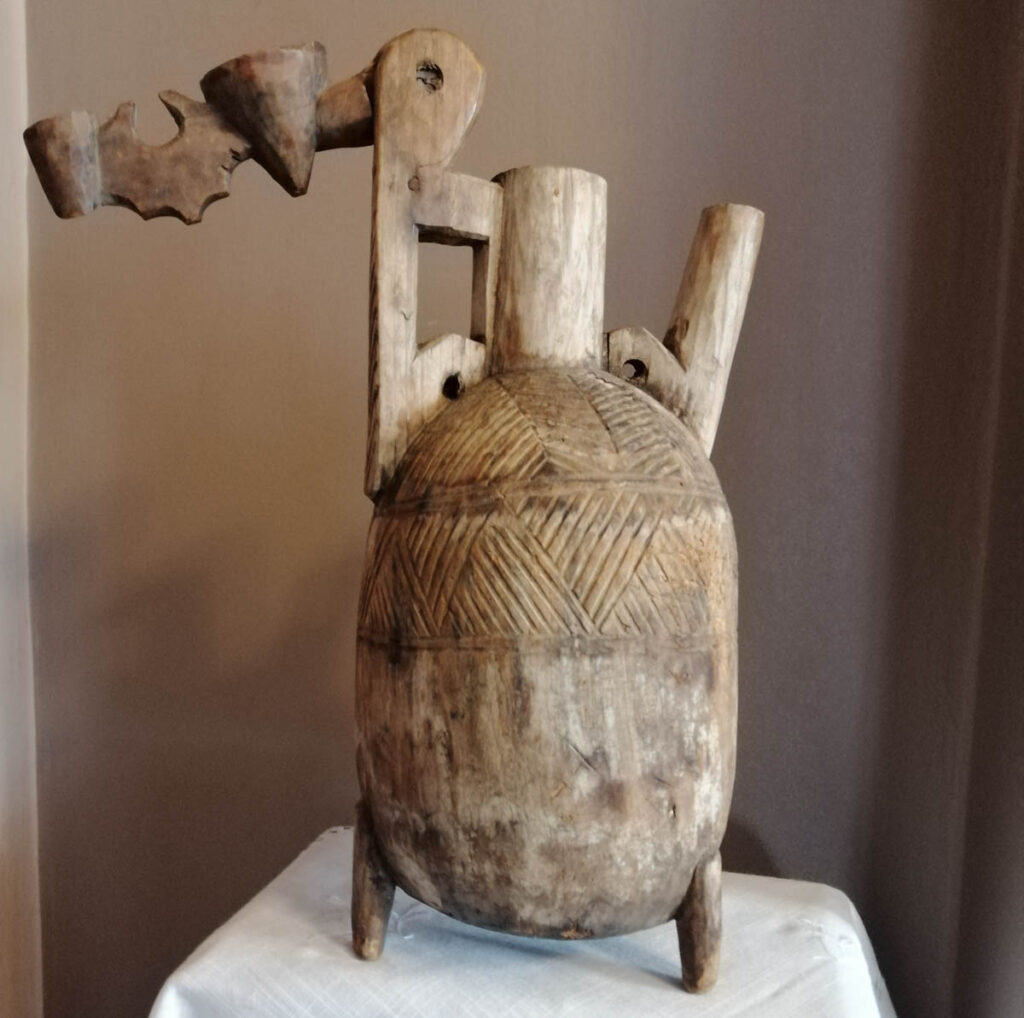 Carving in the log is done by hitting very long iron rods with chipped ends from above with a hammer. The ends of the iron rods were variously sharpened, with curved ends, rounded ends, and scoop-style cutting tips. He makes a hole in the middle of the tree trunk, this is the bottom part of the pine jug, and the master places it between the legs of the back side and compresses it, first he hollows it out and then cuts it into it. gives a rough shape and then shapes the carving with short precision movements.
In some places there are cavities and these are closed with wooden nails made from the tree itself. Its wooden hinge and movable lid cap and the round lid underneath are carefully carved; one of them was known as the eagle-headed pine jug and the other as the dragon-headed pine jug. There are diagonal lines describing the tree on which it comes to life, namely pine branches, and its hats are the stylized form of the eagle and dragon, which are symbols of power and might. the downward curved and upward radiating lines are the lines of the schematic waterway motif through which the stream flows. In the night frost of the Taurus highlands, the cold water on the tree branch was drunk early in the morning, the day would start fresh, we drank the water with an irresistible taste.
Two jug-carved pine thermos made of pine wood, which can be considered the ancestor of today's plastic thermoses, were made and carved with the task of cooling the plateau water on a frosty night. Unfortunately, there is a level of craftsmanship that emphasizes its function and ergonomics instead of regular lines or shapes, by carving the work done by the masters with the handwork and technique of the tree stump.
Ms Mine, who recorded the craftsmanship technique that brought two examples of a forgotten member of a forgotten community to the present day in her own eyes, also expresses the pleasure of bringing together the motifs and patterns used in Anatolian handicrafts on a common denominator. book. She describes the canteen in her hand. It was very pleasant to talk to her and the time passed like water. Nowadays, Ms Mine continues to draw and produce while taking care of her newborn grandchild.
In the traditional Anatolian highland culture, water pots and flasks were produced from various materials and completely handmade in the past. We would be happy if we could meet in the village houses. Leather drinkers, metal drinkers, wooden drinkers and the weavings that adorn them have not been able to carry their crafts to the present day with burning-scraping workmanship. It is possible to examine various sheltered water containers in Turkey, especially in Adana museums.
People and craftsmen, as passengers of the same ship, continue to feed us with the skills they left behind with their hands and tongues… Thank you Güran and Mine ERBEK
Songül ARAL ✿ Nourishing the tree of memory
✿ Songül ARAL is a Garland Perennial who draws on a deep well of memory to find the words that nourish her beloved Turkish crafts.
TÜRKÇE
SONGÜL ARAL Okul Yıllarında Elinden Düşürmediği Bir Kitabın Yazarının 
Çalışma ofisine konuk oluyor ve el sanatları koleksiyonunun parçalarından olan 
"Adana Çam Bardağı" nı yakından tanıyor…
*****************************************************
Elinizdeki bir kitabın sayfalarında, yazarın zihninizde oluşturduğu hayali mekanları gözlerinizle gezer, kahramanları ile dost ya da düşman olur, kurgusu içinde geçici bir rol veya empatik bir yaşam bulursunuz… 
Şanslıysanız zamanı gelir, ayaklarınız sizi kitabın kurgusu olan mekanlar da gezdirir, gözleriniz ve ruhunuz tüm boşluğu dolduran çeşitli nesnelere takılır, anlamlandırırsınız?
Su gibi akan zamanda gerçeklik ile kurgu arasında bir yolculukta kaybolursunuz…
Türkiye'de günlük dilde "su kadar aziz ol" deyimi mevcuttur. Su gibi bereketli ol, hatırlanır ol, mecazi olarak tanıştığın toplumlarda onları eksik hakir veya fazla görme, girdiğin kaba uyum sağla anlamındadır. Su yaşamın kaynağı, toprağın eşi ve ağacın yoldaşıdır. Her yerde, tek zamandadır…
****************************
Yıl 2014; Antalya – Adana oto yolunda  yaz tatili için uzun bir yolculuktayız, soluklanmak için mola verdik, doğanın kucağında Torosların uzantılarını seyre daldık. Soğuk yolcu çeşmesinin demir oluğundan buz gibi suyu içtik… Annemler otururken sarp kayalardan tırmanıp bir düzlükte durdum, Torosların sıralı yükselen dalları ile açıklı koyulu işlenmiş suyolu desenli çam yeşili örtüsünü havalandıran rüzgarına yüzümü döndüm. 
Yüklendiği taze kokusu ile soluğumu yarım kesen bol oksijenli esintiyi içime çekerken, aromalı tadı ciğerlerime ulaşmadan gözlerimi kapadım. 
Esintiyle gelen ses, ardından kokusu ve ruhsal tat yüzümü kaplarken aynı yönde savrulan saçlarımı gözlerimden alıp rüzgara ellerimle dokundum… Yaşamın muhteşem doğal şöleni…
Hayran olduğum yazarlardan biri; Yaşar Kemal'in yaylalardan geçerken bir ışık içinde akan su gibi cümlesi ve Adana ovasının, harman yerinde ki yalnızlığını anlattığı kitap bölümüne ışınlanıp, hüzünlü bir mutluluk ile batı Toroslarda her manzaranın anlık fotoğraflarını gözlerim ile çektim…
*******************************
Toros yaylalarındaki ormanları avuç içi gibi bilen, bakarak ve dokunarak kuru ağaçları seçip sınıflandıran; yakılacak, yemek konulan kap olacak, su matarası yapılacak gibi toplayarak yaşamını sürdüren, kökleriyle bağlı, gövdeleriyle ayrı, bu yaradılış harikası eserleri(Ağaçlar) isimleriyle tanımlayan ve yapısal özelliklerini kavramış Tahtacı Türkmenler. 
Tahtacı kadınları ise, eşinin ormandan elde ettiği ve şekil vererek yaptığı ahşap tezgahını, yine bir ağacın gövdesine dayamış halde dokumalarını yapar… Ağaç kütüğünü tezgahın hemen önüne koyar, üstüne küçük minder halısını bırakır ve oturur. 
Beslediği koyunlarından elde ettiği yünleri yıkar, ahşap tarakta tarar, ahşap döndergeçten büküm verir, ahşap teknede boyar ve ağaç dallarında kuruttuğu ipliklerini elbisesinin eteğine doldurur, kurduğu tezgahın çözgü tellerine bu iplikler ile dokuma yaparak zamanını değerlendirirdi.
Günlük yaşamını, hayallerini, bu dokumalarda ki stilize motif ve desenlerle sessiz sözsüz bir iletişim dili olarak dokumada kullanırdı. Kalem kağıt kullanmadan hangi motifi nasıl dokuyacağını zihninden çizgilerle geçirirken, "tahıl çuvalıma pıtrak ile bereket girsin, sofra bezime ekmek örtüme eli belinde dokunsun, şuraya hayat ağacı buraya su yolu olsun" dokumanın tasarımını eli ile üretmiştir. Bu motiflerin oluşturduğu desenlerin hikayesi ne anlatıyor… ilk çıkış noktası kim, bu isim hangi dokuyucudan ne zaman doğdu? Şurada ki su yolu motifi hangi derenin betimlemesi? şu hayat ağacı Toroslarda zeytin yerine çam ağacı olarak mı bilindi? Kutsal olan çam ağacı mı zeytin mi? kimden nasıl türedi bu sözcükler?
Bulduğu kuru bir ağaç gövdesini nasırlı elleri ile şekillendiren dedesinin arkadaşını izlerken, anlatılarını kaydeden küçük gözlemci, günümüzde onları hatırlayan bir yazar…
******************************************
Kahramanlarının kim olduğu belli olmayan betimlemelerin yer aldığı kitapların, yazarları için ne düşünürüz? Hayranlık uyandıran çizimler, çizimlerin aktarıldığı zanaat eserleri ve aracı bir ruhun anlatımı ile bütünlük kazanan mesleki bilgilerimiz…
Kültür bakanlığının satış ofisinden aldığım bir kitap "Anadolu'da motif ve desen dili"  başlığı ile Anadolu zanaat eserlerinde görülen ve üreticisinin bilerek veya bilmeyerek öğrendiği ürettiği nesnelerde kullandığı bezeme unsurlarının anlamlarını ve farklı şekillerde kullanımlarını anlatmaktaydı. Yıl 1996,su gibi akan zaman…
Kitapta; Anadolu'nun çeşitli bölgelerinde kırsal alanlarda, üretilen zanaatların üretim yerine ait bilgiler ve zanaatkarın yaşam ortamına ait ip uçlarını yansıtan motif ve desen dilinin keşfi yer almaktaydı. Motiflerin kendi anlatım dili, yöresel bölgesel biçim ve şekil farklılıklarının şematize görselleri ile desteklenmekteydi. Halılar, el dokuması örtüler, ahşaplar, dokumalar ve diğer zanaat ürünlerinin bölgesel coğrafi işaretleri ile zanaatkarın elinden çıkan süsleme öğelerini tanımaya başlarsınız… Onları bizimle buluşturan kitabın yazarı Mine'yi ilk olarak kitabın ön sözünden ve yazdığı biyografisinden tanıdım. Bu kitap sonraki basımlarda yeni bilgileri ve eklemeleri ile daha da büyüdü. 
MİNE anlatımıyla; 
Ankara Kız Teknik Öğretmen Okulu resim bölümünden mezun olur, öğretmen olarak çeşitli kentlerde görev yapar, sonunda Adana'ya doğduğu yere de atanır. Milli Eğitim Bakanlığının bir hizmet içi eğitim kursuna katılır ve burada sonradan eşi olan kültür bakanlığında görevli Güran Erbek ile tanışır. Güran Erbek' in yanında köy köy dolaşarak motif ve desenlerin isimlerini kayıt altına aldıkları bir projede yaklaşık kırk bin motifi kayıt altına alırlar. Her zanaatkarın her köylünün hikayesini dinledikleri gibi her bir motifinin yazılmış etnolojik tanımını bir kitapta toplarlar.  
*********************
3-"Adana Tahtacılarının Çam Bardakları"
Yöresel bir deyim ile ilintili bir el zanaatı; "Eski Çamlar Bardak Oldu"
Mine ve usta yazar Yaşar Kemal'in doğduğu yer olan Türkiye'nin Adana ili, Batıdan başlayarak Bolkar Dağları, Aladağlar ve Tahtalı Dağları ile Orta Toroslar üzerinde üç ayrı dağ sırasına sahiplik etmektedir. 
Torosların Yüksek noktaları üç bin metreyi aşan ve barındırdıkları bitki çeşitliliği, hayvan türleri ile ülkemizin değerli doğal yaşam alanlarından sayılmaktadır.  Toros yaylalarında yaşayan tahtacılar adından anlaşılacağı üzere ahşap işçiliğinde öne çıkmışlardır. Günlük yaşamlarının bir parçası olarak eşsiz güzellikte üretikleri zanaat eserlerini kullanmış günümüze kalan örnekleri ile hayranlık uyandırmışlardır. 
Geçmişte Adana Toroslarının Tahtacı Türkmenleri yaylalarında yazın sıcak aylarını geçirmektedir. Elektriğin ve haliyle buzdolabının olmadığı sarp kayalıklı çam ormanlarında yine çam ağaçlarının gövdelerinden elde ettikleri kütüklerin oyulması ile yekpare olarak ürettikleri "çam bardak" olarak tanımladıkları bir su matarası –desti-çam bardak yapmışlardır.
çam koklu bu su kabı yazın sıcak aylarında suyu soğutmakla kalmaz çam aromalı bir tad bırakarak suyun tortusunu almakta ve sabah saatlerinde içilerek güne başlanılmaktadır.
Mine çocukluğunda köy ağası olan dedesi ile karşılaştığı bir ustanın çam destileri nasıl oyduklarını hatırlıyor, birçok kayıtlı çam oyma su kabı olmasına rağmen Adana çam bardakları henüz yazılı hale getirilmemiş.
Dedesinin evinden kendisine kalan iki adet çam bardağına evinde gözü gibi baktığını ifade ediyor. Evinden ayrı kaldığı günlerde uzun süren geziler sonrası çam bardaklardan birinin içinde su kalmadığı için çatlama meydana gelmiş, diğeri sağlam.
Bardakları yaşayan doğal malzeme olarak gören Mine'nin davetiyle, kahve içtiğimiz çalışma ofisinde çam bardaklara dokunmak ve su içmek geçmişi anmak adına güzel bir denemeydi…
Çam bardak içine su koyarak onların üzerinden yapılışını çocukluğunda aklında kalan izleri ile anlattı, tanıttı, su konulduktan sonra etrafa hafif bir çam kokusu yayıldı, yollarda gözlerimi kapatıp içime çektiğim Torosların yayla kokusuna uzandım. Onlara dokunarak yaylanın ustasıyla buluşmak muhteşem bir his.
Mine anlatımıyla;
"Keser ve murç iki demir keski aleti ile eskimiş çam gövdesini usta iki bacağı arasında mengene gibi sabitleyerek döndüren, bir eliyle tutup diğer eliyle salladığı çekiçle şekillendiren usta ormancı Seyit dedeme anlatıyordu, "bunlar çam dalları bunlar su yolu". Mine'den; çocukluğunda gezdiği ve aklında kalan Toros tahtacılarından gördüğü çam bardaklarının yapımını ve oyma tekniğini dinlerken onun gözlerinde ki çocukluk hasretine de ortak oldum.
"Adana çok sıcak olur, hele de yaz aylarında kaçarak sığınırsın yaylalara, Torosların sabahları ayaz, öğlen saatlerinde ise güneşli havası teninizi yakar…bu çam bardağını ninem gündüz akan ırmağın gözünden su ile doldururdu, geceden kapının önündeki ağacın dalına asardı. Asıldığı çam dalından sabah bardağı alır, içindeki suyu yine çam oyma küçük bardağa doldurur ve içerdi. Çam desti her evde vardı, mutlaka gece ayazında dışarıya konulur sabah alınır kullanılırdı. Bir gece dışarıda kalan su önce soğuk sonra gündüz sıcak ile aromalı hale gelirdi, ağzınızda farklı bir tad bırakırdı, suyu yudumlarken boğazınızda ki tadı ferahlık veriyordu"  doğduğu ve çocukluğunun geçtiği yaylaların doğallığını ışıltılı gözlerle anlattı ve devam etti;
"Bu su kabını diğerlerinden ayıran özelliği doğal bir işçilikle geliştirilmiş olması. Çok uzun ve uçları keski olan demir çubuklara üstten çekiç ile vurarak kütük üzerinde oyma işlemi yapılıyor. Demir çubukların ucu çeşitli şekillerde keskinleştirilmişti, kıvrık uçlar, daire uçlar, kepçe tarzında keskin uçlu. Ağacın gövdesine orta yerinden bir delik açıyor burası çam bardağın popo kısmı ve usta tersten bacakları arasına yerleştirip sıkıştırıyor oradan önce içini oyuyor, sonra dışına keser ile kaba bir şekil verip ardından oymayı kısa kesin hareketlerle şekillendiriyor. Tamamen yekpare ve el oyması. Bazı yerlerinde yuvalar var oralara da ağacın kendisinden yapılma ahşap çivi ile kapatma yapılır. Ahşap menteşesi ve oynar kapak başlığı ve altındaki daire şekilli kapağı muntazam bir şekilde oyulurdu, bunlardan biri kartal başı diğeri ejder kafalı çam bardak olarak tanınırdı. üzerinde hayat bulduğu ağacı yani çam dallarını anlatan verev kesik çapraz çizgileri var, başlıkları ve kapakları kartalın ve ejderin stilize hali, güç ve kuvvet sembolü Torosların kuşu kartal ve alt kısmında kıvrılan yukarı doğru yayılan çizgiler ise derenin aktığı şematik suyolu motifinin çizgileridir. Toros yaylalarının gece ayazında ağaç dalında soğuyan su sabah erkenden içilir güne dinç başlanırdı, dayanılmaz bir lezzetle suyu içerdik"
Mine hanımın elinde tuttuğu iki çam bardak, yani günümüz plastik termosların atası sayılabilecek oyma işçilikli çam termos, yayla suyunu gece ayazında soğutma görevi ile yapılır, oyulurmuş. ağaç gövdesine eserini oyan ve muntazam hatlar veya şekiller yerine fonksiyonu ve ergonomisini öne alan bir işçilik düzeyi ile ustaların yaptığı işçiliği ve tekniğini kullanarak yaşatan kalmamış ne yazık ki…iki örneği günümüze ulaştıran unutulmuş bir topluluğun unutulmuş bir üyesinin işçilik yapım tekniğini çocuk gözlerine kaydeden  Mine, Anadolu el sanatlarında kullanılan motif ve desenleri ortak bir kitapta buluşturmanın lezzetini elinde tuttuğu su matarasını anlatırken de dile getiriyor. Onunla konuşmak zevkli ve zaman su gibi geçti. 
Anadolu geleneksel yayla kültüründe geçmişte su kapları- mataralar çeşitli malzemelerden ve tamamen el yapımı olarak üretilmiştir. Köy evlerinde rastlayabilirsek şanslıyız. Deri su kapları, metal su kapları, ahşap su kapları ve üzerlerini süsleyen dokumalar ve yakma-kazıma işçilikleri ile zanaat eseri olma özelliklerini günümüze üretimleri ile aktaramamışlardır. Adana müzeleri de dahil olmak üzere Türkiye'nin korunan çeşitli su kaplarını günümüzde incelemek mümkündür. 
İnsanlar ve sanatkarlar aynı geminin yolcuları olarak elleri ve dilleri ile geride bıraktıkları hünerlerle bizleri beslemeye devam ediyor… Teşekkürler Güran ve Mine ERBEK 
✿
Like the article? Make it a conversation by leaving a comment below.  If you believe in supporting a platform for culture-makers, consider becoming a subscriber.
Tags