Carla van Lunn received a batik master's meticulous indigo fabrics which she helped fashion into clothing for Western bodies.

(A message to the reader.)
---
My first journey to Indonesia where I met the charismatic batik and indigo master, Zahir Widadi, came very much out of the blue. Likewise, our reunion Down Under, eight years later, was equally unexpected.
My home city of Brisbane is a subtropical place with a very relaxed fashion culture. In 2014 I was invited as a fashion lecturer to visit Semarang, Brisbane's Indonesian sister city in Central Java, to learn more about batik. Like a sister you never knew you had, back then, like many Australians, I knew very little about Indonesia or batik.
I was only there for a brief few days for an international batik seminar but it turned out to be a very seminal trip where I fell in love with this beautiful double-sided printed fabric—its fluid organic patterns full of symbolism and history, meticulously drawn in wax by skilled artisans. I even love its waxy smoky aroma. Whenever I receive a new delivery of batik from Indonesia I press it to my nose and inhale the smell which is rich and exotic like Java.
I have vivid first impressions of Semarang, much hotter and more humid than Brisbane. I arrived at the hotel around sunset, and like a typical Australian, plunged into the swimming pool. The Muslim call to prayer filled the evening air as I was in the pool alone. Maybe it was inappropriate to be swimming but the moment was thrilling and otherworldly. What I've come to learn and love about Indonesia is its remarkable diversity and pluralism, and generous hospitality towards foreigners. It seems you can't go wrong diving into an Indonesian adventure with an open heart and a willingness to build friendships.
Zahir Widadi is from the famed batik city of Pekalongan. He's an innovative craftsman and passionate knowledge worker, heading the Batik Faculty at the University of Pekalongan, while also getting his hands dirty with indigo and batik at his home workshop.
He was one of the key speakers at the event in Semarang in 2014. An entertaining orator, he brought members of the audience on stage to analyse their batik shirts and explain traditional Javanese motifs and meanings. He taught the international audience how to recognize an authentic batik versus a screen-printed imitation, and to understand the different tools and methods involved in the process.
His talk was complemented by an extensive display of indigo dyeing and batik making that he had set-up, everything from an indigofera tinctoria plant, right through to his finely finished batik fabrics with their intricate, hand-drawn patterns.
It's customary for batik artisans to draw wax over a design marked on the fabric in pencil. However, Zahir's female artisans work freehand, filling the fabric with fine "Tanahan" designs (meaning earth). Tanahan motifs were traditionally used as background patterns behind the main motif, but Zahir has brought the Tanahan to the centre stage, like quiet little stars of his heavenly dark blue batiks. His artisans use the finest of batik pens (canting) and decorate the fabric with little flora from their own creative and local knowledge, generally little plants and flower buds from their area.
Since these inspiring few days spent in Semarang, I've returned to Indonesia several times and forged more links between Indonesia and Australia in the fashion and textile space. However, I hadn't yet made it to Pekalongan. Zahir and I only kept in touch with a rare email here and there.
And then earlier this year, his collaborator, Felicia Nugroho, in Jakarta reached out to me on Instagram. I learned that Felicia had founded a social enterprise called, "Kelir" meaning colour, to promote Zahir's work. She explained that Zahir was writing a book and they wanted to do a launch in Australia and collaborate with a fashion designer. Was I interested?
I didn't know Felicia and it was unusual for me to reply to an Instagram message from a stranger, but I decided to dive in once again, and I said yes.
Felicia sent me a couple of packages of breathtaking indigo batiks. There were a variety of designs with little explanation and she gave me carte blanche to create some garments. I invited a couple of my best fashion friends in Brisbane to join me in the project, designers and makers who I knew would appreciate the craft and character of the material.
Batik is a commanding fabric. Its labour-intensive production, as well as its beauty and history needs respect. On the other hand, the work of a fashion designer is to translate fabric in a new way so that it appeals to a contemporary audience and lifestyle. A Western customer is not going to wear a sarong except when she is poolside. The challenge was to honour traditional craft and reinvent batik.
I began my design process as I normally do, researching and sketching. I selected a piece of cotton voile batik with a motif called "Sinaran" (ray of light). I later found out this was Zahir's favourite pattern and Felicia had no idea what to do with it. While sketching outside one morning, I hung the batik over my balcony to study the design and was struck by how spectacular it looked with the sun shining through, like a large piece of lace.
I sketched a lot of garment designs but I ended up throwing them all aside and started to work directly with the fabric. It was a bold, large-scale batik motif which did not want to be cut and it needed to be showcased in its integrity.
I wanted the Sinaran motif to hang from the body and allow the light to shine through. I opted for a sheer fabric on the back that would provide that stained glass window effect for the front, and also solve the construction issue of a mismatching front and back, because no piece of batik tulis (hand-drawn batik) is the same! I oriented the fabric so the curves and large inverted triangle shape highlighted and flattered the female body.
There was an unusual little slash motif that I positioned on the left chest to become a symbol of an open-heart. The straight geometric border of the end of the batik piece became the neckline. The border had a regal Greco-Roman flavour that went with the goddess style of the dress.
When the dress was later unveiled in Brisbane, Zahir recognised the perfect use of the batik to capture the ray of light concept, and confirmed that I had positioned the motif to symbolise openness and power.
Fellow Brisbane designer, Carla Binotto, chose a piece of Tencel batik with another unusual pattern that featured several indigo lines running along the length of the fabric, separating the white Tanahan motifs. Carla designed and redesigned, turning the fabric every which way on the body, with some trepidation as she contemplated the skill and time that went into making the fabric. We wanted our designs to honour the work of the artisans.
Carla's final dress used the vertical lines to elegantly lengthen the body, and Zahir commented that this placement of the print signified firmness and courage. The asymmetrical design was once again a zero-waste approach, with minimal cutting. The elegant drape over the shoulder, decorated with the batik border, was a connection to Antiquity and also more Eastern ways of wrapping cloths like saris and sarongs. Zahir described this draped feature as a sign of splendour. He also commented on the symbolism of the fine shoulder strap. It echoed an aristocratic style, of both European and Javanese women, and represented the light of beauty shining on the dress.
The third designer, Mark Neighbour, used another piece of cotton voile with an all-over Tanahan motif, to create a men's shirt. This batik had an unusual wavy border that we later found out was a new experiment for Zahir. Mark chose to feature this as the hem of the shirt, leaving the raw edge and displaying Zahir's signature. Instead of a brand logo or designer name, Mark's shirt honoured the name of the textile creator.
The garment pieces were thoughtfully cut to balance the print across the body, sleeves, and collar. Zahir admired the fine quality of the sewing and the matching of the left and right of the shirt showing consistency and flow. He liked the confidence of the design and the natural look of the raw hem.
Like my first trip to Semarang, Zahir's visit to Brisbane in October 2022 was only for a brief few days but his time here had a big and lasting impact. Zahir spoke to rapt audiences at The Gallery of Modern Art and The Queensland University of Technology. His trip culminated in the official international launch of his book, Javanese Indigo Batik: Discovering the ancient wisdom of the indigo natural dyeing process.
Textile and fashion lovers swooned to see Zahir's indigo batik come to life, in an alchemy of form on the body. The book launch, hosted in Brisbane's fashionable neighbourhood of James Street, was a beautiful community event, and a celebration of Indonesian-Australian creativity and collaboration. Each designer spoke about their creative process, and Zahir provided insight into his craft and life's work. The event brought his batik to an international stage, and gave depth to the fashion presentation beyond the image of a model in a garment.
Zahir was impressed with how we had interpreted the spirit of the batik cloths. It was unusual we had chosen to showcase the borders of the fabric, something that is normally cut off and discarded by dressmakers in Indonesia. Zahir explained that the border design called, untu walang and tambang manis acts as a holy boundary line, repelling evil spirits and danger, and he liked how we had each chosen to incorporate it prominently into the garments.
While Zahir is dedicated to preserving and teaching traditional Javanese batik culture and craft, he is equally a creative visionary and innovator. He understands that batik needs to be "fashionable" and "international" if it is to remain relevant and appreciated by a new generation and a foreign market. It was an honour to be trusted with such sacred fabric and to bring this ancestral wisdom to a new audience and a new frontier. Brisbane might look very different to her Javanese Sister City but perhaps there is a soul connection to be cultivated like little flower buds of the Tanahan waiting to blossom.
About Carla van Lunn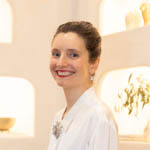 Carla van Lunn is a fashion diplomat and designer based in Brisbane, also known as Meanjin to the Traditional Owners of the land. She teaches in the School of Design at the Queensland University of Technology.
✿
Like the article? Make it a conversation by leaving a comment below.  If you believe in supporting a platform for culture-makers, consider becoming a subscriber.
Tags