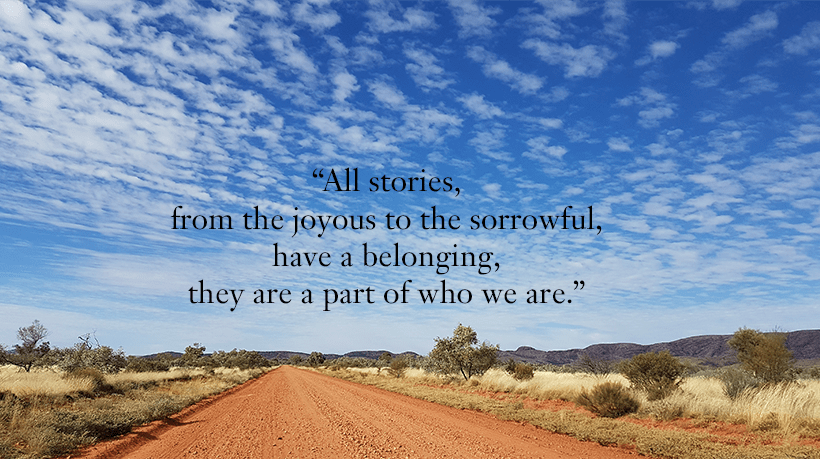 Glenn Iseger-Pilkington takes us on a journey to Ngaanyatjarra Country, to work with people whose sense of home seems timeless. The writer thoughtfully considers the meaning of this for someone of mixed Aboriginal identity. This generous story contains a profound message for settler colonial nations in the search for guidance from their Indigenous cultures.
The smell of coffee fills the room, afternoon light is pouring in through the window. A small Nyarapayi Giles painting stares back at me from behind my computer monitor, a painting of her home, of Karku. I am sitting in my home office, beginning to write an essay about what 'home' means for Ngaanyatjarra people. My home, one of many I've had through the course of my life, is just a stone's throw from Fremantle in Western Australia. On almost every wall in my home, you will find pictorial and cultural representations of other peoples' homes, from North-East Arnhem Land, to the Western Desert to the South West. The artists who created each work, are custodians of their Country, they care for and belong to the places they paint, sculpt, draw and photograph.
Lately, I've found myself reflecting on how close our home is to Wadjemup (Rottnest Island), where Captain Stirling first anchored his ship, where all the changes started, well, in a more recent chapter of the story of this place. I've also been thinking about all of the places I've lived, my connections to these places and how they are connected to each other. Right now, it is just a few days out from Survival Day/ Invasion Day / Australia day, or, simply, January 26. Every radio show, every TV program, every conversation I hear seems to include a dialogue around changing the date, around whether it makes any difference, the usual rhetoric from government representatives, yet there seems to be a little more support this year, a little more compassion. The commentary, particularly in the media, seems to be missing something quintessential: the voices of Indigenous people.
January 26th is a date of great contestation here in Australia, and rightly so. This contestation emerges from how people relate to their home, Australia. For many Aboriginal and Torres Strait Islander people, this is a day of great sadness. For some Australians, it is a day of celebrating Australian culture, their experiences as 'Australians' and their pride for our nation. It's a day for heading down to the fireworks on the South Perth foreshore. There is, of course, another group of people, who see this day as a celebration of colonisation, of the great achievements of empire. The problem here is that January 26 commemorates a colonial narrative, the invasion of Australia and the great atrocity inflicted upon First Australians soon after, including the imprisonment, massacre and torture of entire societies, the rape of women, the introduction of disease, and the dispossession of land and language, just to name a few. Beyond these are of course the legacies of this invasion, the continued and systematic removal of children, alarming rates of Indigenous deaths in custody and the intergenerational trauma passed down across generations, which manifests itself in a multitude of ways.
The more I think about it, at the centre of this are our relationships to our "homes", to our land, to our rightful place in the world. Often, we think of home as being a singular place, perhaps a particular property or a house. Beyond that, these concepts of home extend to a town, a city, a state and a nation. This belonging we feel is central to our sense of self, and defines who we are. So, in the instance that our homes, cities, states and nations were forged through the colonisation of an existing society and their land, or in an Australian context, an entire continent, it is inevitable that our homes will be the subject of great debate. If our homes, suburbs, towns, cities and states sit on the stolen lands of Indigenous peoples, shouldn't this be a part of a reflexive national discourse, a part of our truth-telling as a Nation that considers itself as a leader within the developed world? Shouldn't our collective awareness, and social consciousness, as inhabitants of an imposed colonial nation-state be one that considers this dark history, and pre-colonial society as a part of its identity? The erasure of truth and history, and the silencing of voices, continue to pervade this nation, while our communities seem to take solemn steps into an uncertain future.
This isn't an essay that will interrogate the discourse around Australia Day or changing the date, as this particular debate is not central to understanding the homes of Ngaanyatjarra people of the Western Desert, a vast expanse of desert Country that sprawls across Western Australia, the Northern Territory and South Australia. Rather, this text acts as a reference point by which to understand the reasons why so many Indigenous peoples continue to fight for their land, for their homes, which always were, and always will be, Aboriginal land. Ngaanyatjarra people, unlike so many communities across southern coastal Australia, whose lands were invaded during the earliest periods of the colonial adventure, have retained their language and their cultural, social and political structures. Although white people ventured into the interior of Western Australia in the late 1800s, it wasn't until the 1930s that the Warburton Mission was set up. Mission times, of course, had a great impact on Ngaanyatjarra people. However, the return to homelands movement, which for Ngaanyatjarra was mostly self-initiated, saw a revitalisation of culture, knowledge and a pure determination to never be moved again, to always remain on Country.
The rest of this essay is available to subscribers here. If you are not a subscriber, please consider becoming one to support writers like Glenn Iseger-Pilkington. 
✿
Like the article? Make it a conversation by leaving a comment below.  If you believe in supporting a platform for culture-makers, consider becoming a subscriber.
Tags